Review of ASUS Transformer AiO P1801

Have you ever thought of buying an all-in-one dual OS PC, which can be used as a desktop and a tablet? You can read here, the review, features, specs and price in India of ASUS Transformer AiO P1801, a dual OS PC cum tablet. With 18.4 inch HD detachable display, ASUS Transformer AiO runs on both Windows 8 and Android 4.1 Jelly Bean. ASUS Transformer AiO is powered by Intel i3, i5, i7 processors, when run as a desktop and NVIDIA quad-core Tegra 3 processor, when running as a tablet.


Introduction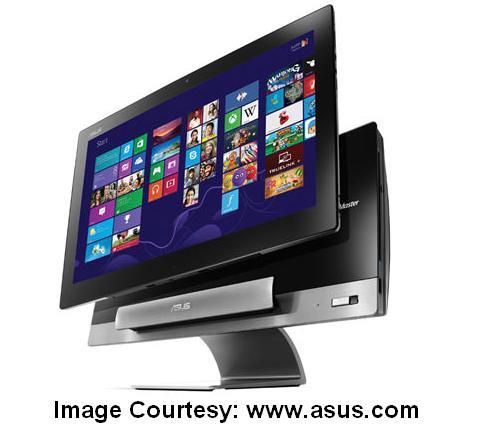 The name ASUS comes from Pegasus. Pegasus is the winged horse in Greek mythology. In common language, it signifies wisdom and knowledge. Therefore, ASUS is the Taiwanese company, which has kept up to the philosophy of the meaning conveyed by this winged animal. The company has soared to new heights with every new product, it brought out into the market. Taiwan is in the forefront now in the information technology. ASUS made its humble beginning in this country, when it started manufacturing motherboards with only a few employees working for it. Today, the same company has entered almost every field of information technology. Its products now include PC components, peripherals, notebooks, tablets, servers and smartphones. The company created many milestones on its journey towards innovative technology. The unveiling of its PadFone in 2011 is known to all. Once again, it introduced TAICHI Ultrabook with its unique double-sided multi-touch display, which allows users to instantly switch between a tablet and a notebook. ASUS's Transformer convertible Ultrabook does the work of both of a notebook with a hard drive and a multi-touch SSD tablet. ASUS is proud to give to the world several exciting Windows RT and Windows 8 tablets. ASUS never got tired of giving multi-purpose products. The company has now launched the world's first dual OS All-in-One PC, called ASUS Transformer AiO P1801 on May 22, 2013 in India, after its successful operation in the US, Japan and Australia, where it was launched in October last year. This innovative PC runs on world's two advanced operating systems Windows 8 and Android 4.1. The product is priced between Rs. 86,999 and Rs. 1.07 lakh in India.


Display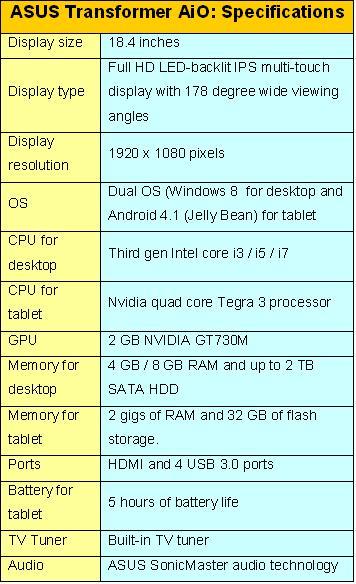 The display size of ASUS Transformer AiO P1801 desktop is 18.4 inches. The display supports full HD resolution of 1920 x 1080 pixels. The display type is LED-backlit IPS touch screen display and it allows the user a 178 degree wide viewing angles. The display is quite gorgeous, that has 10-point multi-touch control. The beauty of this display is that, it is detachable from the Transformer AiO desktop, when you want to use it as tablet screen. Just detach your display screen from the desktop and make it your Android 4.1 based portable tablet.


Dual OS

ASUS Transformer AiO runs on dual OS. You can run your desktop with the usual Microsoft Windows 8 operating system. If you so want, you can turn your ASUS Transformer AiO into a portable tablet, for running on Google's Android 4.1 Jelly Bean OS. You have only to detach your 18.4 inches display from the desktop and carry it wherever you want to. Windows 8 OS of your ASUS Transformer AiO desktop is available with touch friendly user interface for instant access to apps.


CPU and GPU

The desktop of ASUS Transformer AiO has three options for its power. It can be powered by one of the 3rd generations Intel i3 or i5 or i7 processors. When Transformer AiO has to be used as a tablet, it is powered by NVIDIA quad-core Tegra 3 processor. The all-in-one dual OS PC has 2GB NVIDIA GT730M at the GPU.


Memory

The on-board memory for the desktop of ASUS Transformer AiO has the options of 4GB RAM or 8GB RAM. There is a 2TB SATA hard disk used for the desktop. The memory for the tablet is 2GB of RAM and 32GB of flash storage.


Ports and Battery

ASUS Transformer AiO is provided with HDMI port and 4 USB 3.0 ports. The battery for the tablet has a life of 5 hours.


TV tuner and audio

The all-in-one PC Transformer AiO has a built-in TV tuner. The audio enhancement is by ASUS SonicMaster audio technology. You can use the TV tuner to watch your favourite TV shows. The audio technology of ASUS SonicMaster gives the user high fidelity sound.


Conclusion

Although, the all-in-one has good features like the dual OS, dual processors and detachable display, the high price of about Rs.87,000 onward, might detract the common computer users. Of course, ASUS has created a novel all-in-one product, which might attract the corporate executives, information officers of companies, architects and the high income group people, who might be attracted towards the product. There is news of getting good response for the product from the US, Japan and Australia. The product was launched in October 2012 in these countries. The all-in-one stylish package is suitable for PC users, both at home and at office.

Read Best 5 budget voice calling 3G tablets under Rs 10,000