Samsung Galaxy Tab 3 Review | Features, Specifications and Price Information

Samsung has announced the next tablet Samsung GALAXY Tab 3. In this article, you can find the features, specifications, release date, price, availability and all details. Basically, the Samsung Galaxy Tab 3 design and look has been inherited from the Samsung Galaxy Tab 2. Read below to know more about the Android Jelly Bean tablet, Samsung Galaxy tab 3.


Samsung announced the Samsung GALAXY Tab 3

Today, Samsung Electronics Co. Ltd, giant of digital media and digital convergence technologies has added a new tablet in the line of Android-based Samsung Galaxy Tab. After the great success of Samsung Galaxy Tab 2, Samsung has introduced Samsung Galaxy Tab 3, a 7-inch tablet to bring better performance and experiences to your fingerprints. The Samsung Galaxy Tab 3 is the successor to the original Samsung Galaxy Tab, so obviously the basic structure is same. The device has got brilliant large display and sleek design.


Features of the tablet

Talking about the features of Samsung Galaxy Tab 3, it has easy hand grip and portability because of the sleek and stylish design, which encompasses thinner bezel. The device has enhanced user experience, stunning clarity and resolution, but the camera is not very good (it is just 3 MP). It's powered by a 1.2GHz Dual Core processor, which makes it faster in terms of download, sharing, accessing videos/games and other activities. The Samsung GALAXY Tab 3 tablet features stylish sleek design and enhanced capabilities, that bring capabilities to provide better performance and multimedia experiences with taps and swipes features.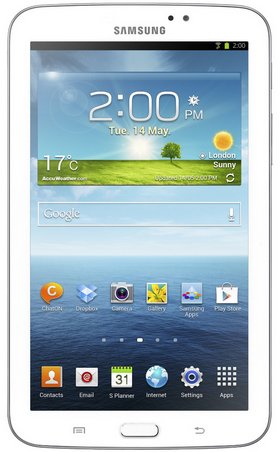 Specifications of the Samsung GALAXY Tab 3

If we compare GALAXY Tab 3 with its preceding device preceding Tab 2, the screen resolution has not increased, but the weight has decreased (from 345g to just over 300g). This 7-inch tablet displays 1024×600 resolution and is capable of Full HD video playback with a 1.2GHz dual-core processor. A 3 megapixel rear camera and a 1.3 megapixel front camera is not such a big thing. It includes 8GB or 16GB of internal storage with an option to expand up to 64GB with microSD card. Besides, we can find WiFi 3G, Android 4.1 (Jelly Bean), Bluetooth 3.0, USB 2.0, a 4000 mAh battery and HSPA+ connectivity. A 111.1 x 188.0 x 9.9mm package that weighs 302g for Wi-Fi version, or 306g for the 3G-equipped version.


Price and Availability of Samsung GALAXY Tab 3

According to the official updates, "The exact price and availability will vary by market and will be rolled out gradually". After reviewing all the features and specs, we can just assume the price of the device. Indeed, it's lacking many apps and features, which has been recently launched in Samsung S IV. The Samsung GALAXY Tab 3 7-inch tablet Wi-Fi version will be available in May 2013 and the device with 3G-equipped version will take a few more days. So the 3G model might be available from June. The pricing has not been revealed yet. So we can't be too sure about it. The price and the exact date of release will be updated here as soon as the officials reveal it.

I don't think the device has got much to be appreciated like other products of Samsung. Recently our experts have explained features and specs of Samsung Galaxy Tab 2 and similar tablets. Definitely, we don't have much new features and functionality in the Samsung GALAXY Tab 3. Now I think only the price of the Samsung GALAXY Tab 3 can decide the scope and demand.