Digital Storm x17 - Review of a laptop designed for serious gamers

Are you looking for a great laptop for playing the latest and the most powerful games in the market? Here is the Digital Storm x17 laptop which is designed just to make your gaming experience more fun. The amazing technical specifications of the laptop including the i7 processor and the 8 GB RAM will make your laptop perform with lightning speed. Read on to know more about the laptop.


Introduction:

The Digital Storm is perfectly designed for computer users who are into serious gaming. A laptop designed for extreme gaming purpose is definitely a great laptop for any other activity that you want to perform with the laptop like your business works, multimedia, or home use. So, for all the users thirsty for a laptop with a high performance, the Digital Storm x17 is obviously going to be a great choice.
The Digital Storm has the latest processor from Intel that is the 3rd generation i7 processor along with 6 MB of cache and 2.3 GHz of clock speed. The 8 GB RAM will make multitasking as easy as pie. The 3 GB of graphic memory will be of a great help for you in easing the memory load on the main memory and letting you play the latest games on the highest graphics settings without any problem. This laptop lacks a bit in design but scores all the points in its durability as it goes through a 72-hour stress test to make the laptop the most durable one for gaming.
The even better thing is that it has a great customer support. There are options of email, phone and even live chat. It comes with a lifetime customer care and a 3 year limited warranty. So, got any problem with the new device, just contact the customer care right away and get the feedback instantly.
So, let's take a look at the technical specifications of this laptop.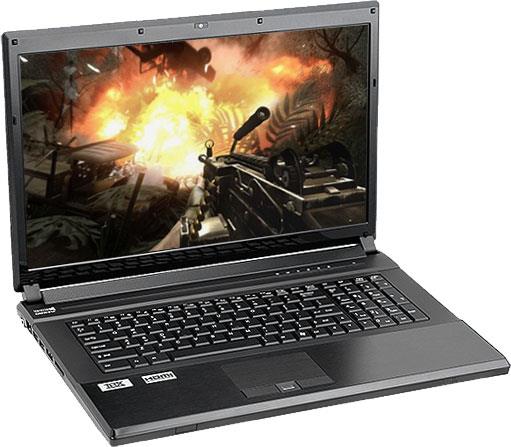 Technical Specifications:


Processor:
The laptop offers the latest processor from Intel, the 3rd generation i7 processor 3630QM. The CPU speed of the laptop is 2.3 GHz which can be boosted to 3.4 GHz with Turbo mode. There is also a 6 MB cache memory to adding much more to the speed of the laptop. With Intel' Hyper-Threading technology you can effortlessly switch between lots of applications.

Memory:
This laptop features an 8 GB DDR3 1600 MHz RAM. Almost all applications and games can be easily run on the laptop with 8 GB of main memory.

Display:
This laptop offers a 17.3 inch LED-Backlit Display with Super Clear Glare type screen. It has a screen resolution of 1920 X 1080 pixels. This will make pictures look stunning whether you're playing games or watching full HD videos.

Graphics:
This laptop comes with NVIDIA GeForce GTX 670MX 3GB with NVIDIA Optimus. With the NVIDIA Optimus technology you can achieve great battery life because it adjusts the graphics performance according to your need and thus saves battery to a great extent. The graphics clock is of 600 MHz. It supports OpenGL 4.1 and is also certified for Windows 7.

Storage:
There is a 750 GB hard disk (3 GB/s) to store all your important data, especially games in the laptop. It has a 7200 RPM. The laptop doesn't have a secondary hard disk like some of the other gaming laptops.

Operating System:
This laptop comes with Windows 7 Home Premium 64-bit edition version of Windows OS pre-installed with it. It will make it easy for most of the computer users to perform tasks on their laptops.

Connectivity:
Intel's advanced-N 6235 Wireless LAN + Bluetooth Combo Module allows connectivity at 2.4 GHz to access older 802.11b/g networks and 5 GHz for higher speeds and greater network capacity. It also supports Bluetooth to help you connect your wireless mouse or keyboard to the laptop.
It also has an HDMI and DisplayPort technology to experience your video or games in a bigger screen. It also has USB 3.0 port to make data transfer fast.

Optical Drive:
It has a CD/DVD drive with maximum 8x write speed. It has a S-ATA interface and also is equipped with Buffer Under Run Protection.


Pros and Cons:
Pros:
The graphics card of the laptop is a great one with 3 GB graphics memory. It also uses battery smartly, so battery lasts longer.
The customer care is very supportive and has many options for the user to contact them one of them being live chat which is a great way to solve the issue instantly.
Every laptop that you order undergoes a 72-hour stress test which makes it more durable.
Cons:
The design of the laptop is not so attractive comparing some other gaming laptops.
Conclusion:

The laptop is a great device for those interested in gaming because it provides such great experience to play games with it. The technical specifications are great and they make the laptop to be included in the list of best gaming laptops. If you are interested in buying a great gaming laptop, this might be a perfect choice. There are also options to customize the color of the light on the keyboard according to the games that you play. You can choose from 7 instant effects or you can also customize the 3 different sections of the keyboard with the built-in application for the same. It makes playing games much real and interesting.
Digital Storm has a very supportive customer care. It has received an A+ from U.S. Better Business Bureau for its dedication to customer service and quality.
This laptop costs $1,530 which is an affordable price for a laptop with this configuration.

Read Best 5 Laptops in India under Rs 50,000 in 2014