Asus FonePad vs Nexus 7 – products from same brand fight for Android Tablet crown

Are you looking for the latest tablets in the market that are Google Asus Nexus 7 and Asus FonePad? Both of these tablets were launched with featured specifications. Read the review and comparison between both these tablets in terms of their features and specifications.


Google Nexus 7 and Asus FonePad tablets came in the most bizarre fashion. Asus FonePad and Nexus 7 are the two tablets, which are recently launched and both tablets are manufactured by Asus. Both the tablets have different features and specifications but have similar price tags in the market. Both the tablets are now available in Indian stores for sale. The features of both tablets have been liked by the people. Asus has tied up with Android and launched FonePad to challenge its own tablet Nexus 7. It is very good to say that the tablets have many features that users often look for, in a tablet.

Both the tablets are going to hit the market and even thrown iPad from its high position in the market. By the announcement of Nexus 7 the tablet manufactur tried their best to beat iPad in their own way. The Android tablets are spread all over the tablet market and the manufactures wish Android platform for their device for faster performance. One can see varieties of Android powered tablet made available in India. Now Android has made its mark in the tablet market against iPad. The maker of Nexus 7 has come up with a 3G based voice calling tablet. They are set to launch Asus FonePad tablet at Rs 15,999. It would be an interesting comparison, as both devices come from the same brand. If you are looking for buying a tablet then read this article and get informed about the features and specifications of both tablets. In this article, I am going to compare Asus FonePad and Google Nexus 7 that might help you to decide which one might suit you.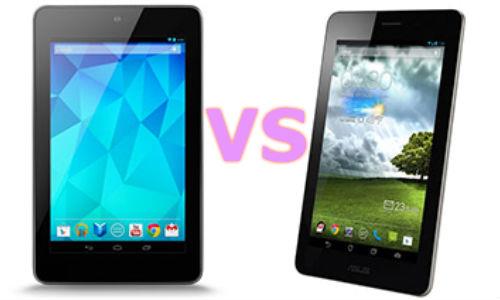 Comparison of Asus FonePad and Google Nexus 7

Design and Aesthetics - The FonePad carries a dimension of 196.4 x 120.1 x 10.4 mm and weighs 340 grams. On the other hand, the Nexus 7 measures 198.5 x 120 x 10.45mm, and weighs around 340 grams. The rear back of the FonePad is shinny and looks classic. The Nexus 7 indeed looks very dashing - thanks to its rugged look. It feels solid to hold Nexus 7 due to rubberized back. Overall, the Nexus 7 has an edge over the Asus FonePad.

Display - The Asus manufactured FonePad featured with a 7-inch WXGA IPS display with resolution of 1280 X 800 pixels. In comparison to the Nexus 7, the latter tablet device packs a 7-inch IPS display with resolution of 1280 X 800 pixels (216ppi). There is nothing special here in display feature, as both devices have similar screen sizes.

Processor - The Nexus 7 tablet is powered by Nvidia Tegra 3 Quad -Core based processor coupled with 1GB of RAM which makes its performance fast and smooth. Naturally, being powered by Quad Core processor offers more juice, when it comes to multi tasking and playing heavy games. The Asus FonePad offers decent performance, but way below the Nexus 7. It packs 1.2-GHz Intel Atom single core processor coupled with 1GB of RAM.

Camera - If we talk about the camera feature of both tablets then we found that Asus made FonePad scores over the Nexus 7. The Asus FonePad comes with 3-mega pixel rear camera and 1.2-mega pixel front facing camera. On the other hand, the Nexus 7 comes only with a VGA quality front facing camera for long video chat. The rear camera is missing from the Nexus 7.

Storage - FonePad comes with expandable storage option. Asus is launched with 16GB/32GB version of the tablet device in the market. On the other hand, the Nexus 7 comes with 16GB/32GB of internal storage, which cannot be expanded with microSD card.

Operating System - The Nexus 7 is powered by Android 4.2 Jelly Bean mobile OS, the latest, and the most efficient version released under Android. On the other hand, the Asus FonePad is powered by Android 4.1 Jelly Bean mobile OS

Battery - The Asus FonePad comes with 4,270mAh battery fitted inside. Asus claims that the device can be easily run up to 9 hours on a single charge. The Nexus 7 offers a slightly bigger battery - 4,325mAh.

Price - The Nexus 7 is available in 16GB and 32GB with or without 3G connectivity. The range starts from Rs 15,999, and goes up to Rs 21,999 for 32GB version with 3G. While, the FonePad is available in 16GB internal memory capacity, and can be yours for Rs 15,999, it will be available in the market from April 30.

Other features - The other special features Asus FonePad offers is SonicMaster Audio Technology. It comes with Asus WebStore storage for free, which enables users to view, create, edit and share their documents anywhere anytime via the cloud storage service. On the other hand, Nexus 7 offers ULP GeForce graphics controller model, Slate form factor, IEEE 802.11b/g/n WI-Fi standard and shared memory accessibility.


Verdict

Asus made FonePad can be used for calling due to the built in 3G connectivity. Asus FonePad is a better option for those who are looking for tablet that can make voice calls. Whereas, Google centered Nexus 7 too comes with 3G connectivity, but voice calling is missing from the device. Wi-Fi connectivity and Bluetooth are some as the common features found inside both the tablets. In the end, I leave the decision to the readers on which is better tablet on the basis of specs, features and price.

Also Read Asus FonePad vs HP Slate 7 - would 3G telephony of former wins over cheap price of latter