Asus FonePad vs HP Slate 7 - would 3G telephony of former wins over cheap price of latter

Are you thinking of buying a 7 inch phablet with 3G telephony support or do you like to buy a cheap 7 inch tablet without 3G telephony supports? This article gives you comparative features, specifications, reviews, price and availability of Asus FonePad and HP Slate 7 to make your decision easy. Both the devices are likely to be available this month.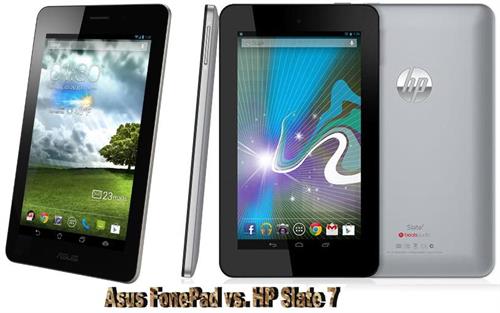 Introduction

Asus tied up with Google and had released Google Nexus 7 tablet in the market in July 2012. This tablet is without 2G or 3G support and does not have a provision for SIM. It does not have even microSD card slot to expand memory. It was initially released with 8/16 GB onboard memory. There was only a single 1.2 MP camera in this tablet. Of course, Google has now released 32 GB Wi-Fi variant of Google Nexus 7 with a price tag of Rs 18,999, but the device has yet to hit the Indian stores. Along with the new variant of Google Nexus 7, Asus has also released its latest entry Asus FonePad phablet this month. It is priced at Rs 15,999.

Asus FonePad phablet has features like 3G telephony with a microSIM, 3 MP and 1.2 MP dual camera, 8 /16 GB onboard memory, a microSD card slot to expand memory up to 32 GB and Intel Atom Z2420 processor. The rest of the features including 4.1 (Jelly Bean) OS are almost similar to that of Google Nexus 7. Asus FonePad has to face competition not only from its own product Google Nexus 7, but most importantly, from HP Slate 7 which has been priced very low. Now it has to be seen, whether the 3G telephony feature of Asus FonePad can beat an extremely low price of HP Slate 7 or not. To arrive at the correct picture, let us discuss the salient features of both these tablets, which are going to hit the Indian offline showrooms and online retail stores this month.


Dimensions, weight, CPU and OS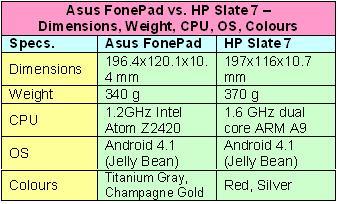 FonePad announced by Asus has similar features as that of HP Slate 7. Both the tablets will be pitted against each other, in spite of the price differences between the two. FonePad comes with dimensions of 196.4 x 120.1 x 10.4 mm as against the measurement of 197.1 x 116.1 x 10.7 mm of HP Slate 7. The former is slightly slimmer than the latter. Similarly FonePad is lighter with weight of 340 g as compared to 370 g weight of HP slate 7.

FonePad is powered by a 1.2GHz Intel Atom Z2420 processor when compared to a 1.6GHz dual-core Cortex-A9 processor of HP Slate 7. The hyper-threading technology of Intel Z2420 chip used with the processor of Asus FonePad gives an impressive performance for fast web browsing and a great enjoyment in multi-media performance. ARM Cortex A9 used in HP Spate 7 gives an equally good performance coupled with power. Cost sensitive manufacturers use this processor in their devices.

FonePad runs on 4.1 (Jelly Bean) operating system. HP after having failed to try its own webOS operating system finally decided to use Android OS in its tablets. They, selected Android 4.1 (Jelly Bean) for use in Slate 7. Since both the tablets run on the same Android 4.1 (Jelly Bean) Os, both enjoy the capabilities and features provided by this operating system. Both the tablets will enjoy software features including Project Butter. This will offer both the tablets a faster, smoother and responsive performance. The on-screen navigation buttons, expandable and contractible Android notifications, resizable App Widgets functionality and Android Beam apps will be equally applicable to both the tablets.


Display size, type and camera features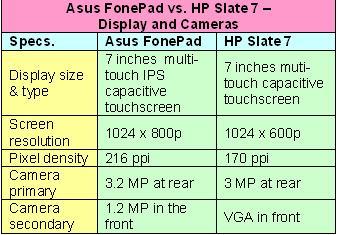 FonePad has a 7 inch multi-touch IPS capacitive touchscreen display. It has a screen resolution of 1024 x 800 pixels. The pixel density in FonePad screen is 216 ppi. On the other hand, HP Slate 7 has a 7 inch multi-touch capacitive touchscreen. Its screen resolution is 1024 x 600 pixels. The pixel density in its screen is 170 ppi. So, Asus FonePad is the sure winner in the display features with a display, which can resolve issues like slow response time, small viewing angles and more. Moreover, the former has a better screen resolution and pixel density than the latter. The higher pixel density in FonePad will deliver good quality images on the screen as compared to Slate 7.

FonePad is equipped with a 3.2 MP primary camera at the rear. It has features like the Autofocus. There is also 1.2 MP secondary camera in the front for video calling. In comparison, the primary camera at the rear of HP slate 7 is 3 MP. There is a VGA camera in the front of HP tablet for video chatting. So, comparatively, Asus FonePad has a slight edge of its rival HP Slate 7 in camera features.


Connectivity, Memory, RAM and battery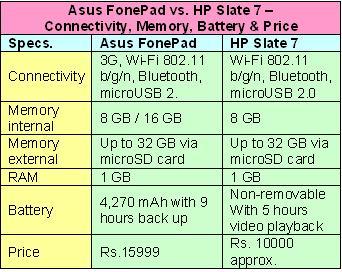 FonePad has connectivity features like Wi-Fi, 3G, Bluetooth and micro USB 2.0, GPRS, EDGE and is provided with a microSIM facility. On the other hand, HP Slate 7 does not have a 2G GSM support; neither does it support 3G connectivity. It does not have a SIM. So, the main advantage of 3G telephony is enjoyed by Asus FonePad as far as connectivity features are concerned.

FonePad has options of 8GB or 16 GB onboard storage facility. Compared to this, Slate 7 has 8GB internal storage only. Both the tablets enjoy the same 1GB RAM. Similarly, the additional external memory in both the tablets is the same. It can be expanded up to 32 GB using a microSD card.

FonePad comes loaded with a 4,270 mAh battery. This battery is supposed to deliver up to 9 hours backup. On the other hand, the battery in HP Slate 7 is a non-removable battery delivering 5 hours of media usage.

FonePad is launched in India at Rs 15,999, but the tablet is yet to hit the retail stores. On the other hand, HP Slate 7 is yet to be released in India. The estimated price quoted at the HP website is around $170 onward. Based on this fact, we can expect this tablet to be released in India at an approx price of around Rs 10,000 or so.

Some other features of Asus FonePad are that the tablet is provided with SonicMaster Audio Technology with the award winning Maxx Audio processor by Waves to ensure clear and well rounded sound quality. Also, FonePad offers 50GB lifetime Asus WebStore storage space. At the same time, the HP Slate 7 is provided with a high-aperture-ratio Field Fringe Switching (HFFS), which offers wide viewing angles even in outdoor lighting conditions.


Final word and review

We can conclude that both Asus FonePad and HP Slate 7 users will enjoy almost equal features that are provided by Android 4.1 (Jelly Bean) since both of them run on the same operating system. However, we must admit that when it comes to 3G telephony, people would like to go for Asus FonePad. Asus FonePad also provides a better display and better battery back up than HP Slate 7. But if the consumer is price conscious, then he will definitely like to buy HP Slate 7 which is available with quite good features like dual core processor of high speed.

Read Xiaomi Redmi Note and Xiaomi Redmi 1S: Which stands better for you?