2 latest low cost mobile phones K-Touch A11 and K-Touch M10 launched in the Indian market

Are you thinking of buying a latest low cost mobile phone? You must have seen a one page ad in some of the Indian dailies today by K-Touch, an Indian mobile manufacturer displaying four of its latest mobile phones. Read the full features, specifications, review, price and availability of K-Touch A11 and K-Touch M10, two of the latest mobile phones by K-Touch to make your buying decision easy. K-Touch A11 smartphone is priced Rs.3499 and K-Touch M10 basic mobile phone is priced Rs.1849 by the manufacturer.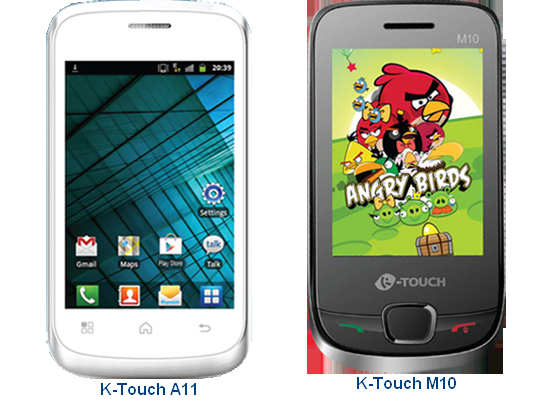 Introduction

K Touch is a Brand owned by the Delhi-based Jaina Group. The Jaina Group started out as a distributor of home appliances in 1990. It diversified its business and took to distribution of mobile handsets in May 1996. The company has successfully distributed branded mobiles from Samsung, Motorola, HTC & LG in India. K-Touch has recently taken to manufacture of low cost mobile phones in India. It has so far manufactured about 10 models in M and A series including the present two, which we are discussing here. K-Touch A11 is the first smartphone from the company introduced in the A series. The company has established its service centers in the south, east and west of India, a list of which is available on the company's official website http://www.ktouch.in. The mobile phones released by the company in the M series are M1, M1+, M3, M3+, M5, M7, M9, M10 and M11. It is interesting to note that all the mobile phones so far launched by K-Touch have dual SIM.


Features and specifications of new low cost mobile phones released by K-Touch

The details of features and specifications of K-Touch A11 and K-Touch M10, the two new mobile phones released by K-Touch are given below one by one along with their prices and availability in the Indian market.


K-Touch A11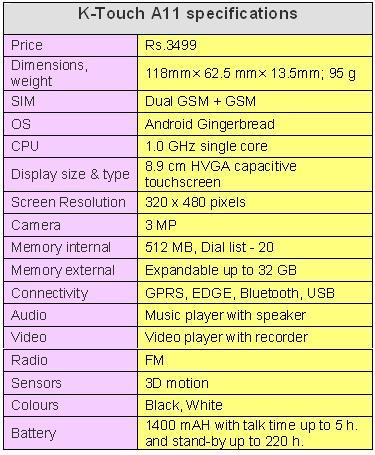 K-Touch A11 is one of the latest low cost smartphone released by Delhi based Indian mobile phone manufacturer. The smartphone is very reasonably priced at Rs.3499. It is empowered by a single core 1.0 GHz processor. The only sensor supported by this phone is 3D Motion sensor.

This phone runs on Google's Android Gingerbread operating system. It is dual SIM (GSM+GSM) smartphone. The dimensions of the phone are 118mm× 62.5 mm× 13.5mm. With a weight of 95 g, it is a light weight phone. The smartphone supports the GSM 900, 1800 and 1900 radio band. The internet connectivity is offered by GPRS and EDGE. The data transfer support is with Bluetooth and USB.

K-Touch A11 has a display size of 8.9 cms. The display type is HVGA capacitive touchscreen. It supports a screen resolution of 320 x 480 pixels.

There is only a single camera of 3 MP at the rear. The embedded memory is only 512 MB. The phone can store a dial list of up to 20 numbers. The memory is expandable to 32 GB.

The smartphone sports a music player with a speaker. There is also a video player with recorder. The phone is also provided with an FM radio. The smartphone is available in black and white colours. Multimedia formats supported by this smartphone are JPEG/GIF/PNG/BMP for images, mp3/wav/midi/amr for audio and MP4/3GP/AVI/KMV for video.

K-Touch A11 is equipped with a 1400 mAh battery. The battery supports a talk time of up to 5 hours and a stand-by time of up to 220 hours.

Some of the other main features found in K-Touch M10 are vibration and hands free mode, SMS, MMS and STK facility. The ringtone alerts supported are 64 polyphonic, WAV, iMelody, Midi and MP3. There is a games downloading facility and some of the games are embedded in the smartphone. The voice codecs supported by the phone are FR,HR,EFR and AMR-NB. The phone has video capture, video play and E-mail facilities.

Some other personal features which the phone can support are call conference, caller group, CLID with photo, calculator, alarm clock, world times and speed dialling.

On the whole, we can say that the smartphone loaded with so many features is worth buying for the price of Rs.3499 fixed for it.


K-Touch M10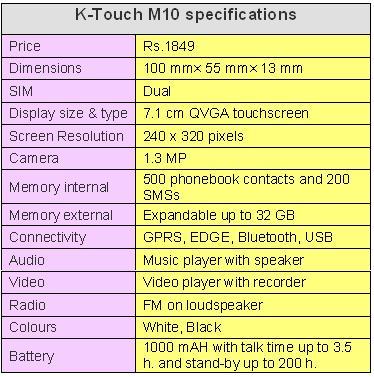 K-Touch M10 is another low cost mobile phone released by K-Touch recently. This mobile phone comes at an affordable price tag of Rs.1849. It is dual SIM phone. The dimensions of the phone are 100 × 55 × 13 mm. The smartphone supports the GSM 900 and 1800 radio band. The internet connectivity is offered through GPRS. The data transfer support is with Bluetooth and USB. The phone is available in black and white colours.

K-Touch M10 has a display size of 7.1 cms. The display type is QVGA touchscreen. It supports a screen resolution of 240 x 320 pixels.

There is only a single camera of 1.3 MP at the rear. The phone keeps a record of up to 500 contacts in the phonebook. It can also keep up to 200 SMS records. The external memory is expandable to 32 GB.

The smartphone also has a music player with a speaker and a video player with recorder. The phone is also provided with an FM radio on a loudspeaker. Multimedia formats supported by this smartphone are JPG, BMP, PNG, GIF for images, mp3/wav/midi/amr for audio and MP4/3GP/AVI/KMV for video.

K-Touch M10 has a 1000 mAh battery. The battery supports a talk time of up to 3.5 hours and a stand-by time of up to 200 hours. It takes about 2 hours to charge the battery.

K-Touch M10 supports vibrate and hands-free modes. It has facilities like SMS, MMS and STK. The phone has a wallpaper support. The supported ringtone alerts are 64 polyphonic, WAV and MP3. Some other personal features of this mobile phone include call conference, caller group, anti-theft, Hindi language support, calculator, alarm clock, world times and speed dialling. The mobile phone is worth buying at Rs.1849. This price justifies the features supported by the phone.

Also read Top new low budget Android KitKat smartphones launched in India