Canon PowerShot SX260 HS: Reviews, Specification and Price

This is not for the first time that Canon has launched a camera with high-tech configuration. It has always been making such smart camera that enlightened the photographic era from time to time. PowerShot SX260 HS smart compact camera is one of its best creations. Go through this article and learn more about Canon PowerShot SX260 HS, a cool creation from Canon with 20x optical zoom and an affordable price in India.


While going through some of the technology forums, I found that most of the people are searching for the best cameras for their daily as well as professional use. So, I thought of writing this article about Canon PowerShot SX260, a compact digital camera from Canon available in India. In this article, I have reviewed the camera features and specifications, which will help you to clarify your doubts and get one of the best ever services from Canon's cool creation.


Canon PowerShot SX260 HS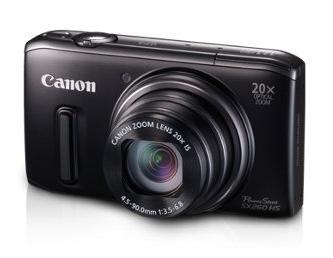 PowerShot SX260 HS is an entry level compact camera from Canon. It comes with 12.1 MP CMOS sensor powered by GPS technology. The camera has a 20x optical and 4x digital zoom. The images captured and the videos shot by this camera are real HD in nature. There are many settings featured by PowerShot SX260 HS camera such as shooting modes, white balance modes, ISO settings and exposure modes, which help a user in achieving photography perfectness.

Look and feel
Including battery and memory card, Canon PowerShot SX260 HS weighs 231 grams. Covering the dimensions around 106.3 x 61 x 32.7 mm, the camera features black and red color. Black color suits better than that of red.

Sensor
The camera has a CMOS sensor which is powered by GPS technology. Moreover, it sizes around 1/2.3 inch and comes with a resolution of 12.1 megapixels. It is a very high-tech and more imaginative sensor.

Lens
The lens of Canon PowerShot SX260 HS camera features 20x optical zoom, 4x digital zoon, auto and manual focus modes, 4.5 (W) - 90. (T) mm focal length, 15 - 1/3200 sec shutter speed, vast aperture range [(f/3.5 - f/8.0 (W), f/6.8 - f/8.0 (T)] and wide angle lens.

Display
PowerShot SX260 HS has a 3 inch Quick-bright TFT LCD display with a resolution of 461000 Dots. The other features of its display include fixed display screen design, 4:3 aspect ratio, wide viewing angle type and 5 levels brightness adjustment.

Flash and Media output
The camera come with a Retractable flash with a range up to 0.5 - 3.5 (W) m and 0.9 - 2.0 (T) m. Auto, on, slow Sync and off are some flash modes offered by the Canon PowerShot SX260 HS. Talking about media output, the camera supports JPEG and EXIF image formats, MOV and iFrame video formats and Linear PCM audio format.

Storage and interface
A free 4GB memory card is included with the pack. It can be upgraded via SD card, SDHC card or SDXC card. For connectivity, the PowerShot SX260 HS camera supports Hi-Speed USB and HDMI Port. Other features include PictBridge/ DPOF for direct printing and NTSC and PAL audio/video interfaces.

Power
Canon PowerShot SX260 equips a Canon NB-6L Lithium Ion (Li-Ion) battery pack. It provides a shooting time of 1 hour 10 minutes (approx.) and 230 shots, when charged fully (via compact power adapter CA-DC10, which is included with AC Adapter Kit ACK-DC40).


Additional features of Canon PowerShot SX260

This camera features Lens-shift type image stabilization, GPS and a metering System (center-weighted average, spot, evaluative). The additional features of the camera include face, smile and ink detection, ISO settings (auto, ISO 100 / 200 / 400 / 800 / 1600 / 3200), many shooting modes (full HD movie mode, miniature effect, toy camera effect, fish-eye effect, movie digest, easy, discreet, movie, P, Av, M, TV, live view control, SCN and creative filters), white balance modes (auto, cloudy, tungsten, fluorescent, fluorescent H, custom and day light) and much more.

Package contents
The package contents of the camera include Canon PowerShot SX260 HS, battery charger with rechargeable lithium Batteries, USB cable, 4 GB memory card, battery pack, wrist strap, carrying case and software CD.

Best price of Canon PowerShot SX260 in India
PowerShot SX260 HS smart camera is available at many retail websites, at an incredible price tag of Rs 15,995 only.


Overall review of Canon PowerShot SX260
This was all about PowerShot SX260 HS cool creation from Canon, camera manufacturing company. My duty was to put forward every possible information before you to clarify every doubt regarding the above mentioned compact cameras.

Read Review of Canon PowerShot SX500 IS Digital Camera – Black