Series 5 Ultra Notebook - launched by Samsung with ADM processor

Are you looking for a smart laptop? How about all new Samsung Series 5 Ultra Notebook. It is a Notebook cum Ultrabook with many extraordinary features and specifications. Go through this article and collect information about the top features, specs, price and availability of the smart laptop in India.


Samsung has launched the all new Series 5 Notebook cum Ultrabook. It has so many cool features and specs. Let's discuss those one by one, following: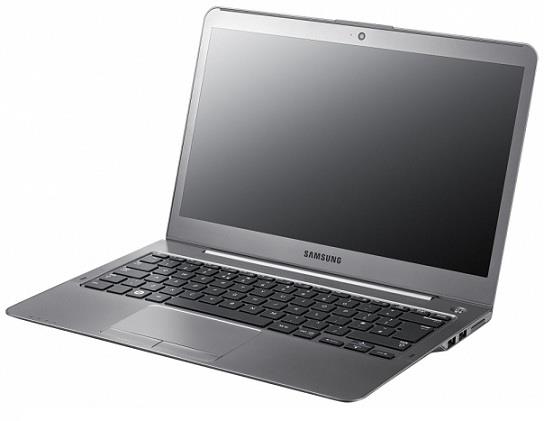 Is Samsung Series 5 ULTRA, really an Ultrabook?

This question is being raised rapidly on many tech and tech-forums' websites. It is uncertain to call Samsung Series 5 Ultra an Ultrabook as it is powered by ADM based processor unlike the other Ultrabooks (like HP Envy). Though it is a Notebook, all other aspect (except processor) of this smart Ultra meets the recommendations to be called as an Ultrabook like:

1. It is very light and slim.

2. It supports a quality OS like all other Ultrabooks.

3. It has high resolution display.

4. It is full of better configurations.

5. It has almost same battery power and life like what Ultrabooks have.

So, we can also call Samsung Series 5 Ultra an Ultrabook without any hesitation.


Display

Samsung Series 5 Ultra has a 13.3 inch SuperBright 300nit HD LED Display, offering a high resolution of 1366 x 768 pixels. The display also features anti-reflection coating. Thus, this laptop offers clear and vivid visualizations. The 13-inch bright screen enables the user to get a wider and brighter view of the content viewed on this laptop and the high resolute screen gives us a feeling of a super HD display hence, adds a plus point to its features regarding the display screen.


Operating System

Talking about this aspect, Ultra is run by genuine copy of Windows 7 Home Premium (64-bit) OS. But I may say that this field is not worth to be discussed as one can easily change the operating system which he/she likes. It also supports the all new Windows 8 OS and hence enhances its strength in the field of operating system.


Processor

Samsung Series 5 ULTRA is powered by AMD A6-4455M Accelerated dual-core processor with an incredible speed of 2.1 GHz (2100 MHz). Unlike other Notebooks, this one has ADM processor. So, the processing speed of this laptop cum notebook is really tremendous as the 2.1 GHZ dual core processor makes it run at a blazing fast speed.


Memory and Storage

The Notebook envelops 6GB DDR3 RAM with 1333 MHz and 500 GB SATA Hard Disk Drive (HDD) with 5400RPM performance. In addition to these, it has a 1 MB L2 Cache memory. Hence, the gaming experience is going to be better because of the presence of 6 GB RAM. The storage capacity of 500 GB makes it a real storage device and one can also use the external HDD.


Camera

The Notebook supports a 1.3 megapixel HD Webcam and offers a VGA quality video calling with an option of HD video recording and snapshotting in bright light conditions. So, one should not worry about the camera features of this notebook as they are worth our expectations.


Dimension and Weight

5 ULTRA has dimensions around 315.1 x 218.9 x 14.9mm (W x D x H) and weighs around 1.52 kg (3.94 lbs) only. So, the dimensions are really of the size of an Ultra book. The weight of this laptop is also user friendly and hence does not create problems of carrying and handling.


Battery

The Notebook has a 4 Cell 6100 mAh (45 Wh) battery, providing a backup up to 6.5 hours on full charging. Thus this notebook really offers an ultra-battery with an ultra-backup.


Graphics

Samsung 535U3C-A01UK Notebook is preloaded with an AMD Radeon HD 7500G Graphics controller. So, we can say that it doesn't have a real graphics card but an integrated one. Therefore, the gaming experience depends only on the RAM which is up to the expectations.


Network and Connectivity

The Notebook supports Bluetooth V4.0, 802.11 bg/n 1X1 wireless networking and 10/100/1000 Gigabit Ethernet Wired Networking LAN. Thus provides a great connectivity features because of Bloutooth 4.0, high-end wireless and wired networking services.


Ports

Samsung Series 5 ULTRA is equipped with many useful ports including:

HDMI (x1)
Headphone-out/Mic Combo (x1)
Internal Mic (x1)
USB 3.0 (x1)
USB 2.0 (x2)
4-in-1 multi card stot (SD, SDHC, MMC, SDXC)
RJ45 (Local Area Network)
Power port for DC-in


Price and availability of Samsung Series 5 Ultra in India

Samsung Series 5 Ultra Notebook cum Ultrabook is available in India with a price tag between Rs 48,990 and Rs 54,390. The price of the smart Notebook is quite indeed an affordable one, making it a sharp competitor for other laptops especially Sony VAIO C Series VPCCA35FN laptop (Rs 51,390), HP Notebook DV6-6155TX Laptop at price (Rs 43,800) and Samsung NP300V5A-S0CIN Laptop at price (Rs 50, 860).

Yet the smart Notebook is not available on online shopping websites, one can buy it from nearest Samsung showrooms and stores.


Conclusion

This was all about Samsung Series 5 Ultra Notebook cum Ultrabook. If you need any more information regarding this product or find any mistake/incomplete info in this article, then feel free to contact me though my personal email. Otherwise, if you have any query or suggestions, share that in the form of responses below.


Read Windows 8 RT tablet- Asus 600 hands-on review, price & availability