Salora ProTab and Salora ProTab HD Review and Comparison

Know about the highly configured Salora Tablet PC's which are all set to attract tech users. As of now there are a lot of Tablet PCs available in the market and the affordable ones are configured with minimum features. Hence, Salora has taken an initiative to build well configured Tablet PCs which will be affordable as well. Know the complete features, specifications of this Salora tablet here.


Salora Tablet PCs:
Salora International Limited (SIL) Company has put great efforts in designing and manufacturing Tablet PCs that are affordable and highly configured as well. Today there are a lot of tablets in the market and most of them are either costly or they are restricted for minimum features. Mostly the tech users are hunting for a tablet that would do all the tasks at greater pace which should also possess a long battery backup. As of now, the tablets that have both these features are way beyond the reach of tech savvy users as they are highly priced.

The two highly configured tablets from Salora are named as Salora Protab and Salora Protab HD. On their official website, they are tagged with a price of Rs. 6199/- and Rs. 6599/- respectively. Therefore, the HD tablet is costly just by 500 bucks and the users can easily afford these highly configured tablets. As these tablets are designed to suit the buyer's pocket, obviously these tablets had to be manufactured in China so as to retain the tag of affordability. But the configuration of these tablets is amazing and all the users will have fun using these futuristic devices.


Specifications of Salora Protab: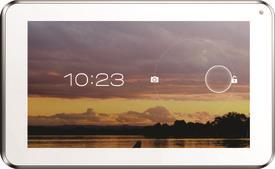 The Salora Protab tablet PC is 3G enabled and it also supports WiFi connectivity. This tablet has an inbuilt memory of 4 GB and using external storage media like micro SD memory card, it can be externally upgraded up to 32 GB. The device has a 7 inch LCD display screen which sports a capacitive touch screen and multi-touch feature as well. Right now the device is loaded with Ice Cream Sandwich version of Android OS and in future it might get its upgraded version as well. The processor used in this tablet is of the ARM cortex 8 family which has a processing speed of about 1.5 GHz. The powerful graphics processing unit Mali 400 is incorporated in the device and this processor is just like a 3D engine which is designed to offer crisp clear display features.



The only slanting feature for Salora Protab is that it has only 512 MB of RAM but the 1.5 GHz processor would help a lot in multitasking. Hence, it would be better to use limited memory on this device so as to obtain a greater pace while multitasking. While surfing on the internet, users can opt for the Android based browser which comes pre-loaded in this device. This device can sport a 3G dongle of telecom companies like Reliance, Airtel and Tata Photon Plus. Thanks to the USB port onto this tablet which makes it easier to surf high speed internet by means of a 3G dongle.

The battery of this device will last for 4 to 5 hours on dedicated internet surfing. On the other hand, if the user opts for music playback or play videos then it lasts for less than 4 hours. As Salora Protab has crisp clear display, it is also designed to sport a video playback on to its 800 by 480 pixel screen display and it can play the HD videos as well. Audio jack of size 3.5 mm is also provided so that the users can plug in their favorite headset or earphones. Only front facing camera is provided in this device which can support video calling or Skype calls.

The 7 inch Salora Protab weighs merely 300 grams and it is lightest as compared to other tablet PCs in the market. Apart from this, a warranty of 1 year is provided for the tablet whereas the other inbox accessories will have a warranty of about 6 months. Right now this tablet is available on many online stores and this tablet can also be ordered from official website of Salora International Limited. The online shopping portal Flipkart has given a whopping discount of Rs. 1200 and it can be ordered at Rs. 4,999 only.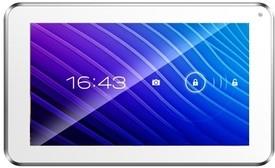 Specifications of Salora Protab HD:
The Salora Protab HD runs on Android Jelly Bean operating system and it has a powerful ARM Cortex-A9 processor that posses an amazing processing speed of 1.2 GHz. This device has been designed with a RAM of 1 GB and it possesses an inbuilt memory of 4 GB. Similar to the above mentioned Salora Protab, the external memory of this tablet can also be increased up to 32 GB using micro SD cards. In this way the features of Salora Protab are incorporated on to Salora Protab HD and the only difference is about its processor, RAM and display panel.



The Salora Protab HD has a stunning display which sports about 16 million colors as it has a HD LCD screen that is specifically designed to offer multi-touch and capacitive touch-screen features. Therefore, this tablet has a 1024 by 600 pixel resolution which will give a stunning HD viewing experience. The outstanding feature of this tablet is that it has an inbuilt GPS Navigation system and it is the only tablet in the market which supports this feature. Hence, Salora Protab HD is all set to navigate users with the use of a GPS tracking system.

Apart from this, both the tablets mentioned above are manufactured and tested according to Indian conditions and the body parts of these devices are designed for rough handling. This tablet is available at an affordable cost of Rs. 6599 through their official website where as the online shopping portal Flipkart has offered a discount of 1100 bucks and it can be ordered at Rs. 5499. This product can be ordered from most of the online stores in India. The benefit of placing order via online store Flipkart is that the user can pay in EMI option as well. In this way, it truly is an affordable tablet for everyone.

Now the only drawback in the above tablet PCs is that they have only front facing camera and there is no any rear camera to snap photographs. Also the resolution of primary camera is near about 0.3 megapixels and it can be used for Skype calls and video recording only. These tabs should have been incorporated with Bluetooth connectivity feature and 2G or EDGE internet connectivity as well. Next thing is that they are available only in white color and the company should have offered different colors. Hence, considering these drawbacks the Salora International Limited Company is about to launch the 2G tablet named as Salora Fontab.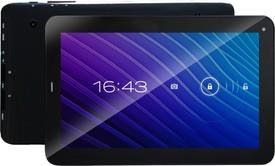 Specifications of Salora Fontab: Launching Soon
The Salora Fontab will support WiFi, 2G and 3G based internet connectivity by means of a USB dongle. Hence, this tablet will surely capture the market since the WiFi networks in India are available only at select locations and 3G data plans are way beyond the reach of ordinary users. Therefore, a tablet that has 2G internet connectivity will be preferred by most of the Indians. This tablet will have a marathon battery which will be of 3500 mAh and it will surely last for more than 4 to 5 hours once it is fully charged. This device will have a warranty of 1 year and the accessories will have 6 months warranty.

As the above mentioned 3G Salora Tablets don't have Bluetooth connectivity, the launch of Salora Fontab device will be incorporated with Bluetooth feature. This tablet will have a processor of 1.5 GHz which belongs to ARM Cortex family. The operating system of this tablet will be Android 4.1 Jelly Bean operating system. The powerful 2 megapixels rear camera will be an added advantage regarding this tab and it will have a front facing camera as well. In this way this tab will be helpful to capture the photographs with rear camera and it can also be used for video recording.

The newly designed Salora Fontab will have 2G voice call feature which lags in the 3G tabs mentioned above. Hence, it can be truly called as a mobile and a tablet PC at the same time. Therefore, Salora has rightly named it as Fontab. This tablet will have the display of resolution 1024 by 600 pixels and the display screen will be of LCD type which bears multi-touch and capacitive touch screen features. One of the best features of this tablet is that it can operate on 2G as well as 3G internet connectivity and this tablet has a HDMI port as well. Hence, using this HDMI port the users can use any digital monitor or TV and surf internet or play videos on large screen. This device will be available in black color only and the manufacturing unit might not offer other colors variants. In this way this tablet will surely be the first pick in the list of affordable tablet PCs.

Now looking at above mentioned features of Salora Fontab, it is for sure that it will be priced slightly higher than the 3G tablets like Portab and Protab HD. But thanks to the online shopping portals which always try to offer high end devices with discount and the EMI option is at help as well. Right now the users can set a notification using Flipkart website so as to know the launching price of this futuristic tablet PC. We all hope that the company will set its price within the affordable range so that everyone could afford to buy this product without opting for the EMI option.

The customer support centers of Salora International Company Limited (SIL) are present throughout India and the count of these centers is over 170. Hence, it will also provide after sales service regarding its products and users can rush into these centers if they have any technical problems related to the Tablet PCs.