Review of Dell Latitude 10 ST2 tablet

Dell's Latitude 10 ST2 tablet is meant for business users. The most attractive feature of the Latitude 10 is that, you can convert it into a desktop with the docking stand. Read the review of Latitude 10 ST2 and learn the design, features and performance of this professional tablet.


Windows 8 based notebooks and notepads are a relatively new market and everyone is queuing up to offer products to the retail consumer. Dell is treading down a path it knows best, targeting the corporate customer. The Dell Latitude 10 (also called the ST2) reflects this philosophy, in its design and features and is an out and out business focused product. Portability seems to be its core design philosophy.


Design and hardware of Dell Latitude 10 ST2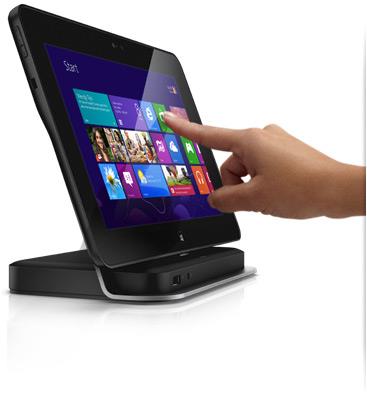 The Dell Latitude 10 ST2 is made out of magnesium alloy frame, coated with a soft touch non slip rubber coating and sports a 10.1 inch Intel Atom Z2760 processor with a 2 GB RAM completes the hardware. The device comes with micro USB port, a full size USB 2.0 port, a mini HDMI port, a power button, an SD card reader and volume control. There is no stylus attached as part of the standard gear of Latitude 10, but can be purchased as an add-on. The stylus can be calibrated to your personal settings. It can be used as a mouse or as a pen. It helps easily navigate and make better use of Windows 8. The micro USB slot is a handy addition as it allows charging and comes in handy if the standard issue charger is forgotten. The device comes in a single color black, which goes very well with its target customer group.

Another important feature is the fact that Dell ships the Latitude 10 ST2 with an optional docking station. While using the docking station means that the USB port on the ST2 is rendered useless, the docking station itself has 4 USB ports. This aligns with the fact that Dell is clearly targeting the business user – the 4 USB ports can hook up a keyboard, a monitor and a mouse turning the tablet into a full blown PC. The LED backlit IPS screen also offers excellent viewing angles.


Battery and Performance of Dell Latitude 10 ST2

The highlight of the Latitude 10 is the fact that, Dell has chosen to ditch the sealed battery trend currently in vogue for tablets and has provided a replaceable battery. This allows one to avoid ditching the device once the battery performance drops, due to repeated use but, simply to replace the battery with a fresh one. While the battery does protrude a bit from the back, the additional weight gain is not much. And the Atom processor is extremely frugal with power usage, thus delivering operational times of more than 9 hours. There is an option of interchanging the standard 30 Wh battery with a high performance 60 Wh battery, thereby further increasing operational time. While the 60 Wh battery protrudes out more than the slim fit standard issue 30 Wh battery, the difference in size and weight is minimal. From a performance perspective, clearly Microsoft has optimized the Windows 8 apps such as the IE 10 for better performance with lower end processors such as the Atom. This helps the Dell Latitude ST2 perform pretty well. However, usage of third party apps such as Google's Chrome really throws up some performance issues. And gaming beyond the simplistic efforts of solitaire or minesweeper is definitely a no.


Camera and Multimedia of Latitude 10 ST2

The Latitude 10 ST2 houses an 8 MP back camera as well as a 2 MP front camera. Camera resolution sets in at 1200 x 800 pixels. Tests at our end showed decent performance in well lighted conditions, on par with budget digital cameras. However, low light environments resulted in a lot of noise creeping in. The accompanying LED flash of Latitude 10 does assist to a certain extent though. The sound quality is also pretty basic and if one wants to use the device for listening to music, a good pair of headphones would be advisable. That said, this tablet wasn't built for multimedia and to expect such performance is not fair.


Storage

The Latitude 10 ST2 comes with a standard 32GB flash memory. However, the pre-installed Windows 8 means a good part of the memory is unavailable for use. Users need not despair though as the ST2 supports external memory with a full sized eMMC SD slot.

Our Review of Dell Latitude 10 ST2

The Dell Latitude 10 ST2 is clearly targeted at the corporate user. Boasting of a range of features for the corporate user, such as exemplary battery life, good performance on simple business applications such as MS Office tools and a sturdy build, this tablet ticks all the right spots for its intended market. For the home use customer, the sluggish multimedia performance, the low performance camera and low output speakers are definitely not value for money. We would also have been happier if it was USB 3.0, instead of USB 2.0 for the price of around Rs.36000. The replaceable battery feature of Dell Latitude 10 ST2 is another brilliant move targeted at the corporate user. And the simple fact that the Latitude 10 ST2 rides on windows 8, means that it can be easily welcomed into the corporate environment, unlike the IOS or Android devices. At a price of around 36K Indian Rupees, the user is well advised to consider his usage needs before opting for this device. If the needs are basic, then this device will fit one's pocket like none other.


Technical Specifications:

System Information
Chipset: Intel Atom Z2760
DRAM bus width: 32-bit
Flash EPROM: SPI 4M bits
Processor
Type: Intel Atom Z2760
External bus frequency: 800 MHz
Physical
Height (with security): 10.50 mm to 13.40 mm (0.41 inch to 0.53 inch)
Width: 274 mm (10.79 inches)
Depth: 176.60 mm (6.95 inches)
Weight (minimum): 658 grams (1.51 lb)
Memory
Memory capacity: 2 GB
Memory type: LPDDR2
Audio
Type: Dual channel I2S codec
Controller: Realtek ALC3261
Stereo conversion: 24-bit
Interface:
Internal: I2 S audio interface
External: microphone-in and stereo headphones/speakers combo connector
Speakers: 2 x 1 W stereo speakers
Internal speaker amplifier:1 W per channel
Communications
Network adapter: USB 2.0 based Gigabit LAN via dock
Wireless: mobile broadband card (optional)
Display
Type: HD IPS LED
Size: 10.1 inches high definition (HD)
Dimensions:
Height: 125.11 mm (4.93 inches)
Width: 222.52 mm (8.76 inches)
Diagonal: 255.28 mm (10.05 inches)

Get more technical specifications and features from the Dell Latitude 10 ST2 product page. You can also visit their official site www.dell.co.in.