Comparison of Sony Xperia Z tablet and Sony Xperia Z smartphone

Here is the comparison of the hot trending smartphone and tablet from the leading manufacturer company Sony. Yes, the Sony Xperia Z tablet and Sony Xperia Z smartphone are compared based on their features, specifications and prices. Read this article to know the comparison before your decide to buy these smartphones.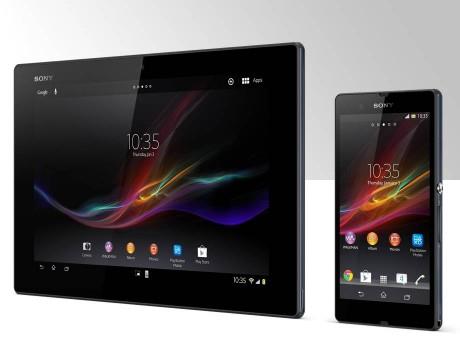 Sony Xperia Z and Sony Xperia Tablet Z are two eminent handsets in the smartphone industry. Xperia Z was released few weeks before and its successor Xperia Tablet Z is awaited for its launch in the month of May. The Sony Xperia Tablet Z is coming with 16GB internal memory and costs 27900 INR and the one with 32GB costs still higher at 33,900 INR. On the other hand Xperia Z was priced at 23,000 INR with no tax and comes around 28,000 INR inclusive of taxes. A comparison is made between the two handsets in order to depict a clear view about which handset is the best.
Display
The display constitutes for a 10 inch screen with a resolution of 1920 x 1200. The interface runs on Sony's Mobile Bravia Engine 2, the image quality enhancement engine for photos and videos that purely improves the display quality and will be delightful for gaming. When it comes to Sony Xperia Z, the handset constitutes for a LCD display which provides good clarity and supporting a resolution for 480 x 854 pixels. Xperia Z also runs on Sony's Bravia Engine 2 and there is a shatter proof and scratch resistant glass enabled in the device for safety purposes. Sony Xperia Tablet Z wins in terms of its display screen with high resolution.
Processor & RAM
The Xperia Tablet Z is built with the 1.5GHz APQ8064 Quad Core Snapdragon S IV Pro Processor with 2GB of RAM that allows for fast access and improves multi tasking with a promised battery life. It also helps the users to run multiple applications simultaneously without any downtime. Graphics are powered by an Adreno 320 GPU, and the tablet has 2GB of RAM. On the other hand Xperia Z runs on 1 GHz Quad Snapdragon Processor which avoids any time lags. Again the Xperia Tablet Z wins in regards with Processor with a high speed at 1.5GHz. Xperia Tablet Z comes with 2GB RAM.
Operating System
The prestigious Xperia Tablet Z device runs on a well featured Android 4.1 Jelly Bean Operating System which is yet to be upgraded to 4.2 version. Both handsets run on the same Jelly Bean. There is nothing to compare in terms of Operating System as both handsets run under the same well featured Android Operating System.
Camera
Xperia Tablet Z has a 8.1 Megapixels camera at the front end that offers a new technology named Exmor R Imaging Technology. This technology provides a outstanding features of taking pictures even in low light conditions or candlelight. The rear end camera is capable of taking videos at 1080p. The 2.2 Megapixel rear-facing camera can shoot 1080p videos. The camera features Geo-tagging, touch focus, face and smile detection, HDR.
The Xperia Z has a 13.1 Megapixels camera in the front end that accounts for a resolution 4128 x 3096 pixels and supports features like autofocus, LED flash, check quality. The front end camera in Xperia Z is much efficient than the one which is in Tablet Z. The 2.2 Megapixels rear end camera is capable of shooting videos at 1080p, similar to the one available in Tablet Z.
Battery
The standard battery in Tablet Z is durable and providing a standby time up to 1230 hours for 2G and Up to 1270 hours for 3G data network. The talk time offered reaches up to 10 hours and for multimedia and the music is capable of playing full-fledged up to 11 hours.

Xperia Z also comes with a outstanding battery support which targets the goodwill of the users by maximizing the capacity by four times. The handset has a non-removable Li-Ion 2330 mAh standard battery which is providing a standby time up to 550 hours for 2G and up to 530 hours for 3G data network. The talk time offered is 11 hours for 2G and 14 hours for 3G data network. Another amazing feature is attributed to the music play which sustains for 40 hours. In terms of standby time Tablet Z is leading and in terms of talk time Xperia Z wins. Music play is also the best in Sony Xperia Z handset.
Memory
Xperia Tablet Z holds a micro SD slot with a memory of 64GB. The internal memory sustains up to 16GB and there is a 2GB RAM enabled in it. The handset supports for GPRS that operates at 107 Kbps and EDGE at 296 Kbps. The memory storage in Xperia Z also has the same capacity. So both the handsets balance very well in terms of memory.

Also See: Sony Xperia E4G : Specification, features and price
Connectivity
Tablet Z offers extensive support for Wi-Fi as well as Wi-Fi 4G variants. Other Connectivity features includes NFC (Near Field Communication),2G, 3G, Bluetooth 4.0 and micro USB 2.0. NFC allows the users to interconnect devices without the use of any cable or wire or enhanced settings. MHC cable when plugged in with the device provides a very good view of the tablet in TV. Hence, it serving as a very good recreation to the users to watch all stuffs like films, games and many more.

Xperia Tablet Z has LTE connectivity and support for Cat3 LTE, which provokes maximized download speeds at the rate of 100 Mbps on 4G networks. It also has support for HSPA in addition to GPRS and EDGE. As far as Wi-Fi connectivity is concerned, the tablet supports dual-band Wi-Fi 802.11 a/b/g/n bands.

Connectivity features of Sony Z include Bluetooth 4.0 with A2DP support, Wi-Fi 802.11 a/b/g/n, Wi-Fi Direct, DLNA, Wi-Fi hotspot, NFC, micro USB 2.0. Features are mirrored as in Tablet Z and there are not many controversies involved in this regard.
Cost
The Sony Xperia Tablet Z with 16GB costs 27900 INR and the one with 32GB costs still higher at 33,900 INR while the Xperia Z smartphone is priced at 23,000 INR with no tax and 28,000 INR inclusive of VAT. The successor of Sony, the Xperia Tablet Z is presumed to be the expensive handset but sources state that the cost would be worth it.


Final Verdict

Sony Xperia Z and Sony Tablet Z are two similar handsets with slight variations in their specifications. Xperia Z has hit the market and Tablet Z is expected for its launch in May. Only after the release of the handset, we will be able to draw a clear picture by placing the two handsets equally.