Pantel Penta T-Pad WS707C EDGE enabled tablet: Full specs with price in India

Pantel Penta T-Pad WS707C EDGE enabled tablet (first in India) full specification, features and price in India are given here. Pantel Technologies, one of the leading tablet vendors in India in collaboration with BSNL, has launched yet another tablet with EDGE enabled voice calling and Android Jell Bean OS features. Priced at Rs 7,999, this tablet definitely carries some cool features which, it alone can boost.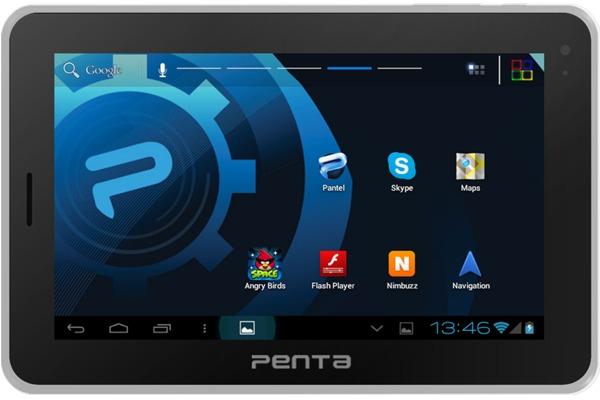 Tech manufacturers are working hard to equip advanced features onto the portable devices which can attract tablet fans who are in search for affordable products. After providing voice calling facility for tablets, now it is the influx of EDGE technology which is capable of providing improved data transmission.

Recommended Read: Best 5 budget voice calling 3G tablets under Rs 10,000

Pantel Technologies, one of the leading tablet vendors in India in collaboration with BSNL, has launched yet another tablet with EDGE and voice calling features. With increasing demand for tablets with voice calling, Pantel has launched its Penta T-Pad WS707C tablet which offers voice calling, 3D support and runs on Android 4.2 Jelly Bean OS. The highlight of this device would be the introduction of EDGE, which transmits data three times faster than an ordinary GSM/GPRS connection.

Though being a budget friendly tablet, the hardware of Penta T-Pad WS707C looks better than its competitors, while offering handsome specifications and features. This time too, Pantel Technologies joining with BSNL has given a brand new product, which would stand out over its competitors, for some good innovations. As the device supports 3D graphics, as an introductory offer, 3D goggles are included on purchase of the device which can satisfy your thirst of watching 3D movies and even get access to tons of 3D games available at Google Play Store and Penta Application Suite.


Pantel Penta T-Pad WS707C Specifications and Features

The Penta T-Pad WS707C spots a 7-inch multi-touch capacitive display with 1024 x 600 resolution. Powered by 1GHz ARM Cortex-A9 processor, Mali 400 3D Accelerator GPU and 1GB DDR III RAM, the tablet runs Android 4.1 Jelly Bean OS. 8GB internal storage will be available which can be, expandable up to 32GB using a microSD. Regarding camera optics, a 2MP rear camera and 0.3MP VGA front camera are being embedded which can give life to your multimedia dreams. The Penta T-Pad comes along with All Port Architecture which supports multiple connecting options including USB port, HDMI port and TF card slot. Bluetooth, Wi-Fi, 2G Voice-calling support available via an in-built SIM card slot with EDGE support, 3G support through an external dongle can be used for connectivity for transferring data.

A 3,000 mAh battery which offers a decent run time can improve the life of the device. The other features of the Penta T-Pad WS707C are Project Butter, improved Google Now, expandable and contractible Android notifications, live wallpaper support which is equipped inside Jelly Bean OS. Users can enjoy dual screen feature which allows them to enjoy dual screen video operation. Pre loaded apps including YouTube, NexGtv, Facebook, Skype and many others find comfortable with the device. With every purchase of T-Pad WS707C, Pantel offers a T-Pad gift pack which includes a 3G goggles for 3D video vieweing, data cable and a free pouch for the safety of tablet.


Price and Availability

The Penta T-Pad WS707C is currently available for online purchase from www.grabthefuture.in, the official Penta eStore for Rs 7,999 ($154). The tablet comes with a limited warranty of 12 months from the date of purchase. So if you wish to buy the T-Pad WS707C, do place your order here.

Read more about other Pantel Penta T-Pads.