Top 5 Travel Products from CES released in 2013

In this article, I have mentioned about some best travel products from Consumer Electronic Show (CES) released in year 2013. If you are confused in which product to buy for your travel trips, then go through this article and get acknowledged about the top 5 travel gadgets released in 2013 including their top features, price tags and much more.


Consumer Electronics Show abbreviated as CES is an international technology related show organised every year in the month of January in Las Vegas to bring forward the latest technology filled product of that very year. This is an international exhibition on a very large scale and 2013 has proved a very successful tech year for the whole world as about 20000 new products were launched by the worldwide exhibitors numbering from 3000-3500. This time, I am here with the top 5 travel gadgets cum product from CES for the year 2013.


Y-cam Home Monitor

Y-cam Solutions Ltd launches the new Home Monitor security system. You just connect the camera with your Home Monitor via data cable or Wi-Fi, create a free account and get started in viewing and watching. Once you have set it up, you can head away on tours and vacations, or to shops, malls, supermarkets etc. No fear of loosing your property to someone. One of the sharp functions of this product lies in recording small and short clips whenever people are near the front door of your home. A user can check out the clip via his/her tablet, mobile, computer, laptop or TV. There is no need to feel separated or disconnected or just homesick any more.

Features and specifications of Y-cam Home Monitor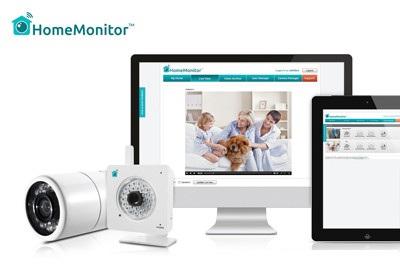 1) This product from the Y-cam Solutions Ltd enables you to make your home more secure as it has a feature of motion detection by which it can take the snaps when any type of motion is detected and then sends it to your prescribed email or phone through SMS.
2) There are two connection modes of this product with the home monitor i.e. through data cable as well as through Wi-Fi. So, whenever you need a longer distance connection, you can easily switch to the Wi-Fi instead of data cable.
3) It automatically records short clips whenever it detects something on the front door of your house which adds a plus point to its security system.
4) It is very easy to setup this product and needs no expert to take extra charges and also can be moved with a remote control in the controlling device and hence is fully customizable as well as adjustable.
5) The video clips need not to be accessed through the monitor only rather they can be accessed from any device which has been already paired with it like tablets, smart phones etc but within the range of the Wi-Fi connection. Thus, there is no need to keep a 24 hour watch on the home monitor to track any threat.
6) This Home Monitor security system is available with two models; one for the indoor security and other for the outdoor security. The indoor model is lees advanced as it does not need to be much active than the outdoor model which needs to be more active to provide full one security system. That is the reason of a price difference of about 9000 INR between these models.

This product from CES is really useful for those who need a 24x7 security system and also best for the adventurous people who mostly remain away from the homes. If your need this Home Monitor security system from Y-cam Solutions Ltd, you can consult any prescribed dealer in your available market place or directly order it from the below mentioned website with an option to pay with Credit or debit card or cash on delivery in some of the regions. The price of both the models i.e. indoor as well as outdoor models is also stated below.

Price
Indoor model: US$199.99 = 12000 INR (approx.)
Outdoor model: US$349.99 = 21000 INR (approx.)
Place your order here: www.y-cam.com


Polaroid iM183

This product is the world's first smart camera powered by Android with interchangeable lenses. All thanks to a 10-30mm optical zoom lens combined with Android user-friendly 4.1 Jelly Bean OS, giving better snap possibility. Now with this product, there is no need to keep your travel bragging for your return from tours or vacations. Installed Photo Sharing apps enable you to upload and share your photos to social media and networking via Bluetooth connectivity or Wi-Fi service. The camera is of 16 megapixels and is also available in the higher values also with a digital zoom of 40x.

Features and Specifications of Polaroid iM183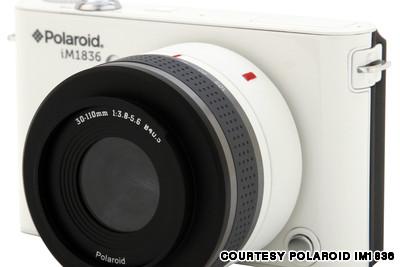 1) This Camera is uniquely featured by the Android OS with the latest version of 4.1 (jellybean) which makes this camera look like a smartphone preloaded with Android OS.
2) We can share any snap on the social media like Facebook or through the email by connecting to the internet through the Wi-Fi connection with a working internet connection like broadband etc.
3) The Bluetooth facility helps us to share our pictures and snaps with our nearby friends in just one click and hence adds a plus point to its entertainment section.
4) Polaroid iM183 comes with a facility of the interchangeable lenses which are already added to the buyer's kit. So, we can launch any lens according to the situations i.e. one lens for any function or a ceremony and other on the trip, picnic etc.
5) The resolution of this camera is as high as that in a HD LCD TFT screen/TV like that of Sony Bravia which is of 3468 x 2478 pixels and also a widest range of colors i.e. 512 million.
6) The 16 MP camera lenses enable the users to take the sharp snapshot without any blur and any other weird effect as in the low price cameras. Also, the extra 40x digital zoom facilitates this product with an ability to zoom within long distances with a clear shot.
This species from Polaroid is worth to be bought to get a full featured entertainment pack for our daily uses. Polaroid iM183 really adds colours and entertainment to our lives and enables us to store real moments of our daily chores by trapping them in the form of images or videos. If you are convinced to buy a Polaroid iM183 camera, you can go through the below website and order it for a quick home delivery across the globe. The price of this product is mentioned below and may be an approximate value as the prices generally keep on changing day by day in the competitive market especially in the field of cameras.

Price: US$350-400 = 21000-24000 INR (approx.)
Website for placing order: www.polaroid.com


Spare One

Sometimes, you might have done a freak-out at a phone bill (post-trip), the Spare One may be very useful for you in such a weird condition. This product is powered by one AA battery and you simply need to have a local SIM card to make and receive calls without irritating fees. Its emergency one-touch services button is quite hard and impossible to miss.

Features and Specifications of Spare One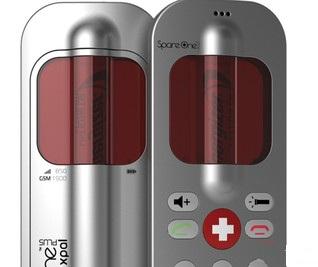 1) The Spare One gadget needs on a single battery which can be bought from the market for about 10 INR and then gives us a backup of about 20-30 days without any tension to recharge it daily or hourly.
2) It works with a local SIM card and then can be used globally without giving any extra charges for roaming and hence make the calls as SMS as cheap as the local ones.
3) It possesses an emergency calling button with the virtue of which you can call any emergency services anywhere in the globe like that of the fire services, ambulance, police or any other available helpline. These emergency calls are always free of cost to provide you with a good facility for a better security.
4) This gadget works on a pre-paid recharge facility available for your local SIM which can be done online or through the concerned dealer. The recharge amount depends on your need that how much time you are staying out of the recharge availability zone or how long you need to communicate with the others using your SIM card with this gadget.
5) The main specification of the Spare One gadget is that there will be no tension of the post bill payment and hence gives you a smooth connectivity without any break because of the billing issues.
6) The size of this gadget is really comfortable and hence is best for the travel purposes as it saves the space and gives a maximum use as that of a common mobile phone.

The Spare One travel gadget suits best for those who need to communicate continuously with the other people and for a long time. This gadget helps them to save call rates by cutting down the roaming charges for international calls. So, for a global traveller, Spare One is a must have gadget. If you are looking to but this gadget, then go through the below given website to order it online for a home delivery. The approximate price of Spare One is also given below.

Price: US$99.99 = 6000 INR (approx.)
Order the Spare One gadget online here: www.spareone.com


Fitbug Orb

With this product, a user gets better chances of keeping his/her New Year fitness resolution. The incredible Bluetooth compatible button-sized activity tracker allows you to send your health data to any mobile app in real time. Interestingly, it functions as a sleep tracker, recording your overnight body movements to analyse your sleep, also your times of wakefulness.

Fitbug Orb-Features and Specifications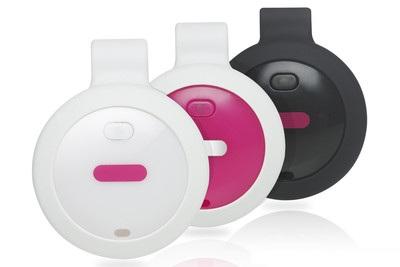 1) You can get the daily health updates through this gadget to keep the track of your fitness and health and hence acts as an indicator of the condition of your health and body fitness.
2) You can also store your fitness resolutions on this gadget with the alarms that what to do and when and hence it also acts as a time table or you can say as a daily work calendar for you to monetize your health related activities.
3) The data available on the Fitbug Orb gadget can be easily synchronised with the other smartphones by the help of Bluetooth and thus you can easily share your data with anyone.
4) One of the most interesting features offered by Fitbug Orb is that it records the overnight body movements of the person which helps you to monetize your deep sleep and waking moments during the night. This function is just like the one available in Samsung Galaxy S3, Apple iPhone 5 etc.
5) The sleep tracking facility enables a user to overcome the problems with his/her sleeplessness and thus proves useful to get a sound sleep on daily basis.

This is also one of the travel gadgets which enable a person to remember his/her daily chores and the methods to improve his/her health to remain fit always. The people who are adventurous and really care for their health really need the Fitbug Orb gadget to keep a track of their health and fitness. So, if you are thinking to buy such a gadget, you must then definitely go for Fitbug Orb and to book your order, go through the website below and also note down the price of the Fitbug Orb travel gadget.

Price: US$49.99 = 3000 INR (approx.)
Website for placing your order: https://usa.fitbug.com


Martian voice command watches

This product was a tagline during CES and it fits right there. Martian voice command watches act as phones, you can make and receive calls on them. Even you can answer and receive text messages anywhere with the help of it. All I can say that this is the world's smallest smartphone which is very easy to carry to any place in the world and most importantly, very easy to handle because of the wrist watch style.

Martian voice command watches-Features and Specifications
1) The main specification of these watches is that they just look like watches and show no resemblance with any phone. Thus, keeping it a secret.
2) These watches can be used by the spies to communicate with each other without informing the enemies about their contacts. Hence, these can be used by the paramilitary forces to share some useful information with each other.
3) We can make and receive calls as well as SMS's through these watches cum gadgets. These watches use the mini SIM cards as in Apple iPhone 5 to make or receive calls and text messages.
4) These watches work on the base OS of Apple iOS and Android and hence possess a high speed processing unit to function smoothly without any hault.
5) They also possess the facility of the Bluetooth connectivity and thus make the data transfer more easy and comfortable with the other devices like the tablets and smartphones.
6) Whenever, we receive a call or a SMS, the watches vibrates or beeps depending upon our choice whether to avail the beep option or the vibration facility.
7) These watches are mainly of two models; one is known as Martian Passport watch and the other is known as the Martian Victory watch and an additional low model known as G2G model.

Also Check Out: Health and Nutrition Apps: How far are they helpful?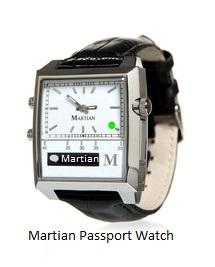 Martian Passport watch is just a formal watch which can be used every person to suit their looks. It possesses a leather wrist band with a wide range of colors (recommended: black) with a furnished surface. The name Passport is given to it because it is just as the shape and size as a passport sized photo. The screen of this watch is divided into two sections, one is the main clock and other is just a small screen element where you can check the messages and the names of the persons whose contacts are stored in it. This model has been announced among the finalists in the Best of CES Awards.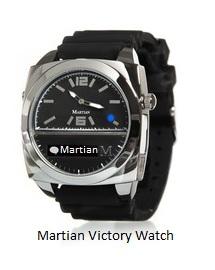 Martian colourful G2G watch is the low model among these watches and hence has a drop in the price also. These are just available in the colorful avatars and hence are best suited for the age group of 12-15 years. This is just a fun watch for the children and also lacks some of higher features as in the other two models.

The prices of the above mentioned models and the website to order them online is given below.

Price: US$299.99 (18000 INR approx.) for the Martian Victory/passport watch
$249.99 (15000 INR approx.) for Colourful "G2G" model
Website for placing order: www.martianwatches.com

These were some of the best travel gadget as per CES (Consumer Electronics Show) released in 2013. Feel free to comments.