Google Search tips, tricks and search operators

We keep extracting a lot of information through Google and it has always been a knowledgeable database to millions of us. Have we ever explored the sensible depth of Google search? Google Search isn't just a plain text box for it has got millions of technological definitions under its hood. Take out some time to explore some effective ways of searching in Google.


It is great that you are here and you are absolutely going to lucky in few minutes from now for you are already on the track of becoming an expert in Google search. Some of you might have already researched a lot about this and there are few who still keep themselves confined to the knowledge that they possess but aren't open to these tips and tricks. Although you might be reluctant to read pages and pages in huge books, it would be pretty great if you can just go through these tips and tricks for Google Search is presented on your fingertips here. Let us take a quick runaround about the following points to be kept in mind while searching in Google.


How to achieve a crisp and faster results?

What do we commonly do when we are looking for the term "Social networking"? We just simply type in Social networking into the Google search box.

When you know that you are looking for this specific term, it is advised to use the term inside the double quotes which has proven to be effective than the former.

Example: "social networking"

When you enclose the words in double quotes, Google will return results which are exact match instead of a more broad match.


How to exclude words that you wish to avoid in the results?

If you are looking for the term "social networking" but you are interested in results that doesn't contain the term 'Facebook'. For this, you must simply use a '-' sign right in front of the word that you wish to exclude.

Example: social networking –facebook

This will simply avoid the results that contain the word facebook.


How to search specific sites?

Sometimes we look for specific websites as a search result in relevant to the phrase that we have provided as an input. In such cases it is advised to do it in the following manner.

Example: "social networking" site:www.facebook.com

Also Read: Top 5 Google Search Modifiers. How can you simplify your search results?


How to get results that contain similar words or synonyms?

If you wish to search for a particular term and you also like to see the results which consists of similar words and synonyms. To achieve this, you are supposed to use the '~' sign in front of the word.

Example: "social networking" ~private


How to achieve specific document types?

When you search for a phrase you might be interested in specific document types like PowerPoint presentations or docs relevant to the phrase. Rather than hunting it from the huge pool of results, you are advised to do the following.

Example: "social networking" filetype:ppt


What is the usage of OR operator?

When you search for a particular term, Google will look up all the terms specified in your search. In case you wish to include one or more terms, you can make use of the OR operator (OR should be in CAPS)

Example: social networking OR marketing


How to use a calculator on Google search page?

Have you ever tried using the search engine for calculations? Go ahead and try it right now. Instead of opening it in your system, type it directly into the Google search box and get the results in seconds.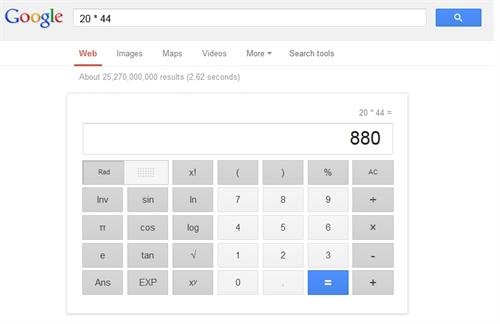 How to get the definitions of a word directly?

If you are looking for a definition or synonym of a word, rather than typing the word and hunting for results from the result set, you are advised to use the "define" command.

Example: define:colossal

I am sure that the above tips will absolutely save a lot of your time. If you got some more interesting tips feel free to share with us.