Effective Power Saving Tips for Windows Phone 8

Learn how to effectively manage power on Windows phone 8 and grab some tips on power management for extending the battery life to a greater extent. Take a quick look at the power saving tips on Windows phone 8.


Power saving tips for Windows phone 8


What else is more annoying than witnessing your phone battery drain out of charge? Of course it totally depends on how effectively you use the phone and the extent to which the applications that you use utilize charge in your battery. So we need to make sure that we are aware of the power management and battery management techniques to possibly extend your battery life to some extent in your mobile phones. In the upcoming post I will be suggesting some tips that will help you in extending the battery life on your Windows phone 8.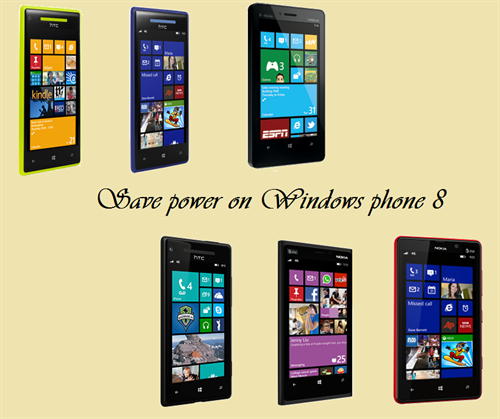 Make sure that the Battery Saver is turned on

For all those who aren't aware of the battery saver, it is a built-in mode provisioned in every Windows phone. The function of battery saver is to save power by consuming a minimum amount, by turning off the unwanted features running in the background.

Also See: What to expect from Windows 10 on your smartphone

Through this technique battery life is increased to a greater extent and none of the applications that you work on will be affected. It is simply responsible for closing the apps that keeps running in the background, prevents the unwanted live updates and is capable of preventing the automatic sync of mail and calendar.

Battery Saver can be turned on through the Settings tab and it is automatically turned on when your battery life is below 20 % but you can turn it on manually any time.


Make sure that Wi-Fi and Bluetooth turned off

Never turn-on your Bluetooth all the time for it is either going to drain your battery otherwise it will lead to miscellaneous viruses entering in if you pair it with someone by mistake. Similarly when Wi-Fi is turned on all the time, it keeps checking for available networks and causes your battery to lose out very easily.

Go to Settings and click on Bluetooth and Wi-Fi to turn it off. Additionally you must also make sure that you uncheck the option 'Notify me when new networks are found' so that your battery life is saved to a larger extent.


Make sure that background tasks are turned off

As we are used to multi-tasking, we might attempt to open many applications but wouldn't be patient enough to exit them in the usual manner. We just click on home and start another application but most of them aren't sure that the application which was opened prior wasn't closed properly and it is still consuming power by running in the background.

In such cases you must make sure that you go to Settings tab, swipe on the applications page and click on background tasks. Use the option 'Block' to block all the applications that you aren't working with and specifically applications like Star Wars, Angry birds consume power to a larger extent, so make sure that you turn it off when you are not using it.


Lower the brightness of the screen

o Click on Settings – Brightness – Automatically adjust – Off – Choose the desired level.


Turn off your phone screen for every short span

o Click on Settings – Lock Screen – Screen times out after – Choose the desired value.


Turn off unnecessary sounds

Click on Settings – Ringtones+sounds – (scroll to reach) Play sound - de-select all the unwanted sounds that you prefer within Key Press, Reminders, Lock, Unlock, Notifications and camera shutter.


Instant Tips to save power

• Avoid using speakerphone and keep a couple of wired headphone all the time to save more power.
• Close the applications properly after usage by clicking on Exit and not just tailgating it by directly clicking on home tab.
• At the end of the day, drain the charge completely and then charge your phone rather than charging it now and then which decreases the lifespan of the battery.

Hopefully you might end up saving a lot of power on your Windows phone 8 and also do share your experience if you have used any of the tips before or if you have got some additional tips to spill over.