Review and Price of Nvidia Project Shield - Gaming tablet

This article discusses about the Nvidia Gaming tablet which comes under Nvidia shield project. You can find details like the price of Nvidia Gaming console, design etc. in this article. This is a gaming tablet or you can say a gaming console which is similar to Xbox 360 controller. Let's learn more about this gadget in detail.


Nvidia is set to enter into the gaming market. Yes, they are launching project shield and this will be dedicated to gaming only. In this project they have launched a gaming tablet and in this article, I am going to review the tablet. The exact name of this device is yet to be disclosed because it was displayed at CES 2013, so I am not sure about the name of this device. By looks, this device gave me memories of my Xbox 360 controller (Which is a fantastic piece of gaming controller). So let's learn about this gadget in detail.


Design of Project shield

Nvidia has done justification with the looks of this device and proper finish is given by the manufacturer. You have a 5 inch screen that can open up like a laptop main screen. You have two speakers provided on the top side of the main panel and a green light for indication that your device is performing well. There are a bunch of keys like thumb keys, sound key, navigation etc., and some of them are back-lit with green light. Looking at the back, you have an HDMI port for connecting your game console to the Television. Port for a micro SD card and mini USB are also provided at the back with one more port for power adapter connection. This device operates on the battery and can give 5 hours of continued battery backup. For proper grip, groves are provided at the back of this gadget and they will ensure that you have a firm grip when you are playing with this gadget.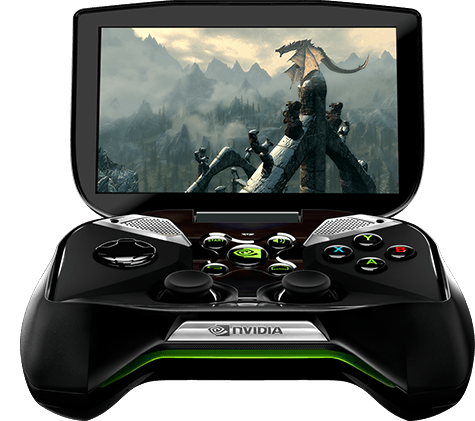 Technical specifications of the gadget

This gadget comes preloaded with a lot number of apps and if I say hardware is the best in its class, then I may not be wrong to certain extent. I have provided details in points so as to make things simple and easy to understand.

1) This gadget operates on the Android latest operating system viz., Jelly bean 4.0.4. Since the number of apps in Google Android operating is immense, you will never run out of apps, even if it is free or paid one.

2) The device comes with 5 inch capacitive touch screen with retina display (Retina display is currently available only on Apple products) and displays a very brilliant 720 pixel resolution. This much resolution is sufficient for playing high definition games. But if I go with my knowledge, screen disappoints a little bit and can be designed to support more pixel resolution.

3) In terms of processor, this gadget is far more ahead than any other player in the market. Custom 72-core NVIDIA GeForce® GPU Quad-core A15 CPU is installed in this gadget and will surely cater all your needs.

4) For internet connectivity, this device comes with inbuilt Wi-Fi and it is a high speed data transfer gadget. But a lot of things depend on the speed in which your internet provider offers your bandwidth.

Recommended: Tablet computer buying guide- how to select tablet computers


Hand on experience with Project Shield

I love my Xbox 360 game controller very much and in the past few years nobody has come close to it. Although there are so many good things about Project shield like strong hardware etc., but a thing is sure that if you are professional gamer then you may not like it. It is just another game console in the market and Nvidia has to really work in order to beat the dominant players like Microsoft from top positions. One thing good about his device is that you can stream games from your computer to this gadget. But since this gadget works on the Android operating system, chances are that may not be able to play the Xbox games. And if you are professional gamer, then you can understand how worse this experience can be.

On one hand facility of streaming games directly from PC looks good but when you try to connect to the computer, surely for the first time you will not get succeed because it gives network error. In order to make better use of this gadget, you need to have high speed internet access. Therefore, in countries like ours, where the internet is still to reach many, it may be a problem to use this gadget. One more thing is that Nvidia is a much stronger player in hardware and a weak player or newbie in the game sector. So, in order to make the products click with the crowd, they have to do something which has never been done with any game console manufacturer. Price of this gadget will also decide how best response people give to this gadget. Because this gadget comes preloaded with good hardware, price is surely expected to be high. One more fact is that how a windows 7 or Windows 8 games will run on the Android operating system? Now facility of streaming directly from PC comes to a halt, surely Nvidia will have to look into this matter. If this technology works well, then it will be very helpful for the game players and if not, then it is just a wastage of money.


The closure

No doubt that this gadget is a fine piece of software and hardware integrations. But in my view even if you are regular game player you need games like those loaded in Xbox 360. Since Microsoft has kept its dominance in the market for so many years, breaking the wall and coming forward will a difficult task for Nvidia. They can target users with strong hardware but on the other side high prices will pull it back. There are many good features that are present in this gadget like inbuilt speakers and Wi-Fi sharing technology, and I think these are all small features but highly useful one and will help you to play games with great ease. And you never know what can happen anytime, may be this is the new revolution in the gaming part or just a new player in the market with new looks and same features. Buy this gadget, if you never owned a play station and if you have already have play station, then just waste some money on buying a new one.