BSNL 3G Wi-Fi Router Winket MF50 - Product features, reviews and price in India

Are you looking for the cheapest and reliable 3G WiFi router in India? Then read the review and features of BSNL 3G router - Winket MF50, along with the price and availability in India. BSNL's router has got the most value sale in India due to its local inbuilt features.


The internet company, BSNL brought into picture for the first time its official 3G Wi-Fi router none other than Winknet MF50 device that has bagged a handful of good reviews. Launched earlier this year, the gadget has bagged many recommendations from many people. Though BSNL is known for its moderate network connectivity, it didn't receive a good lot of prospects earlier when coming into light. Though from its inception, BSNL has worked hard to bring into effectiveness the improved network connectivity all over India. However the product update has got a good venture with lots of users trying their first hand to it even though the product has lots of standard advantages and disadvantages of router. The brand is currently associated with huge number of telecommunications, 3G and broadband services in India. So take a look at Winknet's pocket router 3G Wi-Fi's feature and analysis and also a look on its product specs.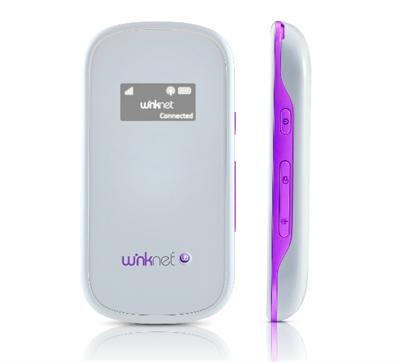 Features and specifications of BSNL Winknet MF50 3G Wi-Fi router

1. Automatic manual working and transmission makes the gadget quite easy to work with. It has a inbuilt Wi-Fi replica which gives the details of all the connected devices to it at a time.

2. USB tethering needs to be done only once with your own operating system. Using it is quite simple and friendly since it has an application that directly enables their wireless operators or PCs to the hotspot of 3G Wi-Fi.

3. MicroSD card slots enabled so that external data storage facility keeps up the pace. The internal memory is however expandable upto 32GB.

4. The device weighs approximately 80 grams. The particular device has an LCD screen display that gives all the information about remote tower, devices connected, usage of 3G data, battery status indicator and so on.

5. Good web browsing speed and download speed compatible and workable for office theme works. Good battery back power that gives it an edge from others, offering seamless internet surfing for hours.

6. Apart from this it's strong and water proof body has given it the slightest of the advantage from others.

These signs not only reveal the kind of device that actually local Indians would like to prefer, but also a kind of good exposure to networks and security measures. Now if you have made yourself known with the features, then lets take a brief review of device specifications that makes the model look perfect. Here are they:

- Standard supportability: 802.11 b/g/n
- Battery power: 1500 mAh
- Device weighs approximately 0.8 kg.
- Security settings: WEP/ WPA-PSK and WPA2-PSK
- 3G Hotspot router point: webGUI
- Can simultaneously be connected to 10 Wi-Fi wireless, WAN, LAN devices.
- 2" LCD screen display
- Enable or disable the firewall / WPA protection as per your instructions

Also Recommended: How to configure Airtel 4G hotspot Wi-Fi router


Pros and Cons of Winket MF50 3G Wi-Fi router

The major advantage that was observed was it's sleek and fascinating look. The look and design of the Winket describe it to the fullest, with whole lots of color combinations with white, a trendy look catches the eye. Web connectivity can be enabled in seconds of time. Setup procedure and installation manual is pretty much the same but very confusion free. With huge number of audience at a time (10 in number), device will work efficiently and can work for as long as 7 hours continuously.

The disadvantage that is arising out of it is it's slowness in browsing because of the allowance of ten wireless connectivity devices simultaneously at a time. Another thing that is bothering the people is its poor security developed in it. None the less, it has a disappointing count on less firewall protection. If this could be sorted out, it could touch sky rising success in future.

Approx Price: Around Rs 6,000