How to set up Mac Messages Application with Facebook chat?

There's no official Facebook App available for Mac OS, so here in this article I'm going to show you how to setup the "Messages" Instant messaging client on Mac OS X Mountain lion to work with Facebook Chat Service using the Jabber XMPP technology.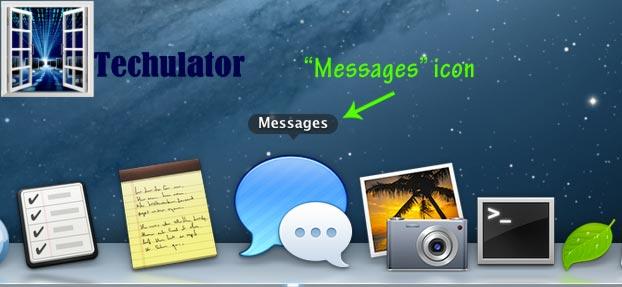 I'm a Facebook Addict who spends a lot of time on Facebook chatting with friends. I am literally fed up of logging in Facebook every time to use just Facebook Chat. So, I decided to go with an application which is in fact a good idea because this way I do not need to keep the browser open all the time just for chat service. Another good thing about application is that it notifies me each time I get a new message.

I searched a lot on web to find the official Facebook messaging client for MAC but with no luck. There's no Official Facebook Messaging Client for MAC and I hate using third party applications for security reasons. One fine day, I came across a blog post on Facebook's official blog which said that Facebook uses Jabber XMPP technology for instant messaging. Hurray! The Messages app which comes out of the box with your Mac OS X also supports jabber XMPP technology. Here are the steps I followed to setup my 'Messages' instant messaging client to work with Facebook chat service.


Step 1: Open the Preference panel for Messages
In Mac OS, the preference panel contains all the customization stuff for application. To open this for Messages application, you have to first open the application then you'll find the application name right to the apple logo on top-left corner of screen. Just click on it. In the drop-down menu, you'll find an option called 'Preferences'. Just click on 'Preferences' and that's it.

Recommended: Review of CleanMyMac 2: The best cleanup utility available for Mac

Here are some tips to open preferences panel quickly -
Press COMMAND + SPACE, then search for 'Messages' and Hit ENTER to open the app.
Now Press COMMAND + , ( comma ) to open preferences panel, Make sure you press it while app is open.
Step 2: Open the Settings for Jabber XMPP service.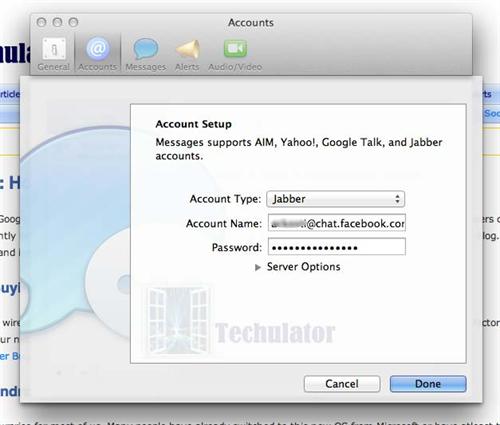 If you did the step 1 correctly then a new window with various options will open up. Under the accounts tab of this window, you'll find a plus ( + ) sign. Click on this sign. This is to add another service to messages. In this case, we'll be using Jabber to work with Facebook instant messaging. In the newly opened window, select following settings and click done.


Account Type : Jabber
Account Name : USER_NAME@chat.facebook.com
Password : Your Facebook Password.
Step 3: The application is set up. Chat with your friend
Now your instant messaging client is set to work with Facebook. When you open the application, you'll find the Jabber account in the bottom-left corner. That's your Facebook Chat. Now to add a friend to chat, just click + icon in the top-right corner of application, select buddies and choose from list an available friend to chat with.