Get going with the Samsung Series 7 slate: review and features

What makes the Samsung Series 7 slate an unbeatable gadget in the portable tablet category. Find out what's so special about the Samsung Series 7 slate's features that sets it apart from other tablets and why its the best buy this season for professionals and home consumers looking for a tablet that is packed with superb functionality.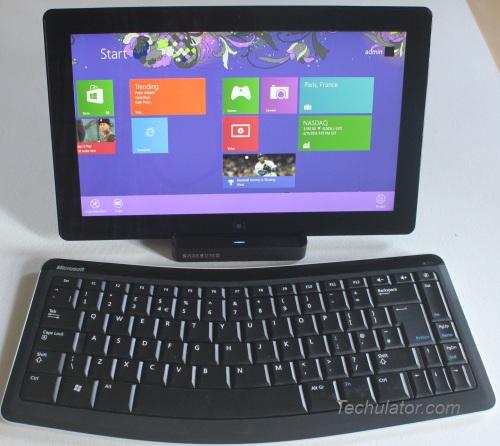 Using the Samsung Series 7 for the last one week, I can see how Samsung has gone all out with their top end device that promises PC like power in a sleek and stylish tablet design. The screen is comfortably wide: 11.6 inches HD LED with touch friendly user interface and a scratch resistant shield that produces crystal clear details, perfect for browsing and watching movies even with the device held at least a meter away from my face. The display is fortified and the glass is 5 times stronger than typical consumer screens for tablets.


Looks & Design

The Series 7 slate PC is certainly a sleek looking device with rounded edges a thickness under half an inch and glossy finish for a toned down yet stylish professional look. Weighing a little under 1.89 pounds and thanks to a wonderful user friendly design by Samsung the device is ergonomic and fits in the hand agreeably. Surveying the Samsung Series 7, it definitely looks power packed stylish and inviting enough to turn heads.


Looks aside, what's ticking on the inside?

The Samsung Series 7 slate is powered by the roaring Intel® Core™ i5-2467M processor, with a brain that capable this device has an impressive processing speed and instantaneous response to opening applications.

Windows Experience Index for Samsung Series 7 Tablet with Windows 8
Take a look at this screenshot to see the Windows Experience index of this tablet to evaluate the performance. You can see it gives a solid performance in terms of CPU and Memory but lags a bit when it comes to the Graphics performance.





The 4 GB RAM is sufficient and lets you multitask multiple applications and still have them running smoothly on your system without the unwanted lag . The touch display is impressive with a precise and immediate response. The touch screen also has a dual digitizer and capacitive screen with multitouch for the latest in efficiency. The system interface is user friendly and easy to manage and is a pleasure to work with. The screen touch pad is easy to interact with, letters being evenly spaced allow for fast typing with minimum fatalities.


Operating system and specifications

The Samsung Series 7 slate comes fully loaded with the Windows 7 operating system, upgradable to Windows 8, giving you access to all your favorite applications which you can work on and share simultaneously making this device a must for professionals on the go or home users looking for a light weight and portable PC/slate hybrid that is powerful enough to be considered a laptop or a device of that caliber. Moreover, thanks to the souped up RAM and powerful Intel processor, full versions of software can be downloaded or installed on the system almost making it like a primary computer you can hold in your hand. Another fantastic feature of the Series 7 is how fast the tablet boots, according to my count it took only 20 seconds for the device to be up and running. The built in graphic card allows you to play graphic intensive games on your slate with fluid game play and stunning response. The Samsung Series 7 slate uses the Intel HD 3000 graphics for unmatched game presentation on a tablet.


What other hardware features does the Samsung Series 7 slate offer

The Samsung Series 7 slate is packed with useful features that will make your tablet feel more like a PC or entertainment system than just a Slate. A high definition back-lit screen with a 1366 x 768 resolution makes watching videos and scrolling pictures on the device a dream. Graphics are fluid and the screen resolution ensures that your display watching experience is filled with vivid saturated colors and life like images. The wide screen makes for a superb movie watching experience. Graphic artist will love this device as it seems exceptionally friendly for editing software with exact color accuracy and minimum shade bias.

The Series 7 also comes with a built in speaker that is sufficiently loud with some amazing sound quality and crystal clear clarity of 350 MHz base frequency and a max dynamic frequency of 1.15 GHz. I find the speakers much better than other tablets which usually give a grainy sound quality or low volume settings unlike the Samsung Series 7 slate which is boombastic.


Accessories

There are dual front and back facing cameras which have been thoughtfully placed by Samsung so that my fingers do not touch the lens while holding it up. Just another silent consumer friendly advantage of this device which are so many.

I noticed a built in light sensor to save battery and am amazed by Samsung's attention to detail. This little tool can save your tablet battery life and allow you to use it longer on a single charge. The Battery life by itself on the device is spectacular and much more than what I have seen on any other tablet.

Also Recommended: Samsung Tab S2 - A silent entrant in the Tablet space

The Samsung slate comes with its own stylus which is a wonderful addition to the device. With applications like Samsung note and word recognition software you can write directly on the screen using the stylus and have that processed into words with hand writing analysis software which is amazingly precise and a very handy device for the Samsung Series 7 slate. The stylus pen is much finer and far more responsive than any other interface tool and uses multiple pressure touch for pressure sensitive painting- another added advantage for graphic artists. It's almost like the Samsung Series 7 is an alternation of the Windows 8 OS with additional modified software that makes it great utility for existing windows users.

The dock comes built in with power input so that you can charge the device while it is on the dock, as well as a USB port and HD HDMI port which I used to connect the device to a larger screen with some spectacular results. The dock is fold-able and sleek for ease of portability and can easily fit into your luggage or carry case. The Samsung Series 7 slate also comes with its own bluetooth keyboard which is light weight portable and extremely easy to use.

The Samsung Series 7 is presently the best tablet PC in the market thanks to its light weight stunning looks, high end performance and amazing value.