Speed Racing tips and tricks to unlock Dark Knight car – Android game

Want to know how to get unlimited gold coins in Speed Racing Android Game? Are you eager to unlock the Dark Knight car within one day? Read this article below to get the cheat code, tips and tricks and much more about this game.


Speed Racing Android Game Review

Speed Racing is an Android game developed by "Italy Games". It is a sensor based game compatible with all Android devices. This game is about controlling a race car to escape from the traffic & deadly obstacles. You can collect gold coins during your ride. By using the gold coins you can unlock cars and buy power-ups. There are seven cars available in this game, they are: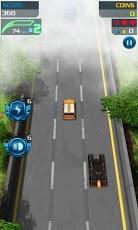 1. Tiny Bee - Available by default
2. Blue Bird - Available by default
3. Snow White - Need 7,500 gold coin to unlock
4. Rose Flame - Need 15,000 gold coin to unlock
5. Silver star - Need 30,000 gold coin to unlock
6. Hot Sand - Need 60,000 gold coin to unlock
7. Dark Knight - Need 1,50,000 gold coin to unlock

There are three power-ups available in this game. You can use this power-ups for only one time. Below I have given the power-ups and gold coins required to buy.

1. Clear up one fog - 500 gold coins
2. Protect the car from crash for 10 seconds - 1000 gold coins
3. Repair your car and let you go on - 2500 gold coins

Power-ups are useless. Don't waste your coins for it. Maximum coin you can earn per game will be 100 - 500, so spending coins on power-ups is useless because it increase your score not coins. So spend your coin carefully. Try to invest all your coins for cars alone. Lets move to the tips and tricks to earn huge bucks quickly.


Tips and tricks

1. Always travel in the middle of the road to avoid clashing with traffic and obstacles.
2. Don't accelerate the speed to maximum because you can't collect all the coins that is placed in random manner.
3. Try to collect all the magnets in the game. It is only weapon to collect more coins.
4. Concentrate on the magnets instead of coins. Magnets will be placed mostly inside the tunnel.
5. Hold your mobile/tablet horizontally while playing. Steering will be powerful while playing in this position.

By unlocking new cars you can grab more coins. I used to collect 300 coins per game and I reached upto 15 KM in this game. Stick to the Tiny Bee car to reach long distance. This car moves very slow and you can control it easily. Using unlocked cars you can't collect more coins but you can't reach long distance.


Cheats for Speed Racing

You can get unlimited gold coins by using the app Game Guardian. Using this app you can enter a value and this value will be converted to gold coin. You can download this app from mediafire website. Conversely search for "GameCIH 3 rk world" (without quotes) in Google to get this app. This app is not available in Google Play store. You need to download and install it manually. If you don't know to use the app refer the tutorials available in the Internet.