Razer project Fiona gaming tablet: Review | Features, Specifications and Price

Developed as a concept during CES 2012, Razer project Fiona gaming tablet is the first gaming tablet exclusively designed by gamers for gamers. Read the article to find its specifications & features. Expected to be priced between $1299 and $1499, this tablet would be a perfect choice for those interested in serious gaming. With more than 10,000 likes/shares acquired from its official page, Razer is stepping forward with this popular gaming tablet for gamers. The Fiona would run Windows 8 OS.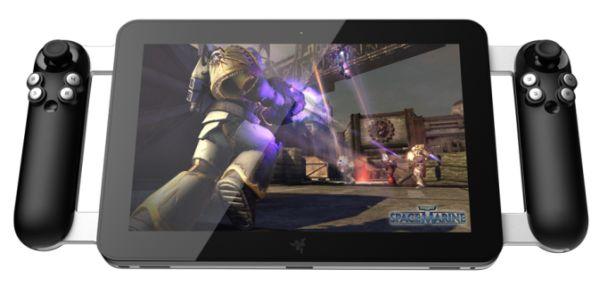 Are you keenly interested in spending a couple of hours for serious gaming? How about taking a ride on a Windows powered gaming tablet which would drive you into a world of excitement? Razer Project Fiona is one device that is attracting thousands of passionate gaming lovers. Razer Project Fiona was developed as a concept during the Consumer Electronics Show (CES) 2012. At each stage of Fiona's making, advices of gaming lovers were well incorporated.

With more than 10,000 fans on Facebook, the specifications and features of Razer tablet are designed keeping in mind the suggestions given by public. This is an exclusively designed tablet for gamers by gamers who like to keep their minds active with heavy duty games.

Founded in 1998, Razer is well known in the gaming world as a gaming peripherals manufacturer. Each product is delivered only after prior tests conducted by a team of top level gamers. Razer has taken a leap forward with its concept of a gaming device which combines the power of a computer and a tablet. The resultant concept of a gaming laptop is further reduced into a tablet dubbed as 'Project Fiona'. The tablet has already caught the eye balls of all the gaming aficionados who are now eagerly waiting to get the first touch of their dream device.


Specifications & features of Razer project Fiona gaming tablet :

Razer project Fiona sports a massive 10.1 inch display with 1280×800 pixels resolutions. Powered by an Intel Corei5 or Core i7 processor and a Mid-Tier Discrete CPU, the tablet will enable ample graphics for serious games. This tablet would run Windows 8 OS which can take gaming to the next level. Regarding the physical attributes, the Project Fiona weighs double as compared to iPad. Detachable controllers are a cool feature of this device.

Popular games including Crysis can be run on Project Fiona. The latest version, Crysis 3 may or may not be supported. Expected to be priced between $1299 and $1499, this tablet is a perfect choice for those interested in serious gaming. The price of this tablet is quite high, higher than that of even the most expensive iPads. In fact, the price falls in the range of a few ultrabooks which come with graphics cards integrated touch screens.

With more advanced features, the Project Fiona gaming tablet will make its debut during CES 2013. The device will have handles on both sides and these can be used to control the game. Coming to specifications, the Fiona will have more power than the Microsoft Surface and Apple iPad models. The battery life of the Razer device is yet known but we can expect a better battery strength with added power.