Acer Iconia B1-A71 Android Tablet Review | Cheap Tablet for $99

Acer Iconia B1-A71 Andriod tablet full specifications, features and price in USA is given here. With the Consumer Electronics Show (CES) 2013 coming near, tablet makers are ready to compete each other pitting budget friendly tablets in the market. Priced at $99, Acer Iconia B1-A71 will bring challenge to Asus ME172V which would come under a price tag of $150.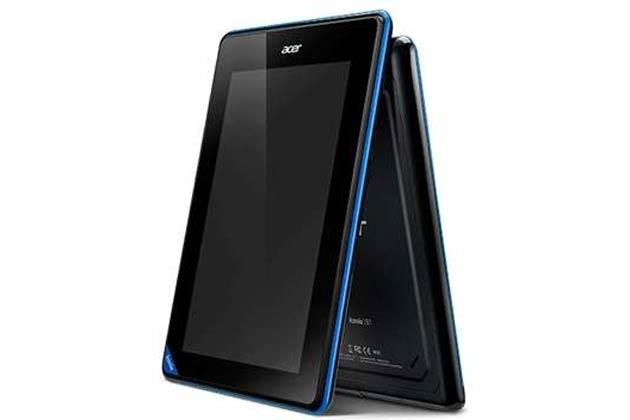 The Consumer Electronics Show (CES) 2013 will be yet another spectacular event for the tech enthusiasts who are eagerly waiting to watch the unveiling of latest mobile phones, tablets and other innovative electronic devices. With tablet PC manufacturers putting their effort to improve the features while reducing the price, new budget friendly tablets take birth. Along with the long lineup of products, the CES 2013 will be the launch pad for two fresh faces from the family of Acer and Asus. The Acer Iconia B1-A71 and Asus ME172V which comes embedded with majestic features and low price tag will truly attract tablet lovers.

Cleared by the Federal Communications Commission, the 7-inch Acer Iconia B1-A71 Android tablet which runs Jelly Bean 4.1.2 OS is expected to come at a dream price of US$99 while the Asus ME172V projected to be a Nexus tablet would come priced between US$129 to $149.


Acer Iconia B1-A71 tablet specifications and features

Acer Iconia B1-A71 is a 7-inch device featuring a 1024 x 600 pixel resolution. Powered by a 1.2GHz Mediatek MT6577dual-core processor and 512 RAM, the tablet runs latest Android 4.1.2 Jelly Bean OS. Regarding internal storage, an 8GB memory is added while microSD, microSDHC, TransFlash support is also provided with Acer Iconia B1-A71 tab.

For connectivity an USB 2.0 client, Bluetooth 4.0 and Wireless LAN 802.11 can be used to transfer data to and from other devices. The inclusion of a SIM card slot would add more colours to the B1-A71 as it could support voice calling. There are no details available about the battery which is equipped with the tablet, but can expect one which could give comfortable life.

On the other side, the 7 inch Asus ME172V projected as a Nexus tablet will feature a double core processor along with 1GB of RAM. An internal memory of 16GB is comfortably fitted in the device. Considering the camera optics, the Iconia B1 will feature a 1.3MP camera. This device feature a signature 'Loop' button as found in Barnes & Noble Nook tablet. Available in black and white colour variants, the Asus Me172V will be priced between $129 to $149.

So get ready to watch the face to face for a friendly tablet war between two potential contenders at the CES.