Samsung Galaxy Grand smartphone: Review | Features and Price Information

Samsung Galaxy Grand smartphone runs Android 4.1.2 Jelly Bean OS will be available in single (I9080) and dual-SIM variants (I9082) and comes along with some cool features.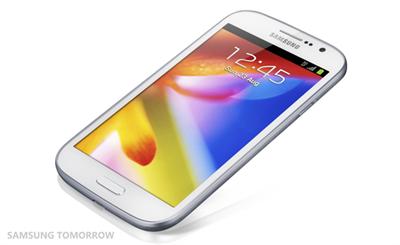 Tech giant Samsung known for producing majestic electronic equipments including phones and tablets has unveiled yet another smartphone adding one more to its line of Galaxy range. Dubbed as Galaxy Grand, this device would be ideal for those who can live according to the present lifestyle. Even with a mammoth 5 inch display, the Grand can be hold with ease. Available in single (I9080) and dual-SIM variants (I9082), the device comes along with some cool features.

After the mighty screen display powered in Galaxy Note and Note II (hybrid devices), with Galaxy Grand Samsung aims to fulfill the dreams of those customers who wish to own a improved device which could keep them connected while on the move. Samsung has tried to furnish the Galaxy Grand with better viewing experience while bringing multimedia and Web content more visible. Users can get the maximum benefit of running multiple apps at the same time without switching screens.


Samsung Galaxy Grand smartphone specifications and features

Samung Galaxy Grand is a 5-inch device with 800 x 480 resolution. The 1.2GHz dual-core processor supports multitasking and faster web browsing while also give superior graphics for popular apps and games. This smartphone runs latest Android 4.1.2 (Jelly Bean) OS. Regarding internal memory, 1GB of RAM and 8GB storage possibly expanded up to 64GB with a microSD card will satisfy the young customers.

An 8 megapixel rear snapper with 1080p video recording and 2 megapixel front camera would add more colours to your clicks. With zero shutter-lag and ultra-quick camera start-up, the camera will be a perfect companion while traveling. During dark conditions, you can capture clear shots with the backside illumination sensor embedded with the Galaxy Grand. Some cool features like Direct Call, Smart Alert, Popup Video, S Voice and AllShare Play will bring more smiles to the face of those customers who wish to own a stylish phone.

The phone is pre loaded with popular apps like TouchWiz UI, S Voice, Multi-Window, AllShare Play, Direct Call, Smart Alert, Popup Play and a range of Hubs. Wi-Fi, Bluetooth, GPS and HSPA will bring perfect support for connectivity while a 2,100mAh battery will add few more hours of performance. The Samsung Galaxy Grand smartphone come in two variants, a single SIM and dual SIM version.


Samsung Galaxy Grand Price

The innovative dual SIM enabled Galaxy Grand provides complete flexibility to the users. Managing two phone numbers from a single phone is possible while users could receive calls on one SIM number while talking from the other. It would boost your efficiency in running personal and all committed works with ease. Even though there is no official wording about the price and availability of Samung Galaxy Grand, tech writers like to tag it with Galaxy S3 Mini and Galaxy S2. As both the devices are priced at $475 plus, the Galaxy Grand is expected to come at $525 which is equal to Rs 29,000.