Onda V972 tablet: Full specifications, features and price

Onda V972 tablet full specifications, features and price are given here. Chinese manufacturer Onda known for producing low cost Android tablets have unveiled yet another device dubbed as 'Ondo V972' which boast of running Android Jelly Bean OS. Priced at $240, the tab is powered by a Quad Core AllWinner A31 processor and comes along with some other cool features.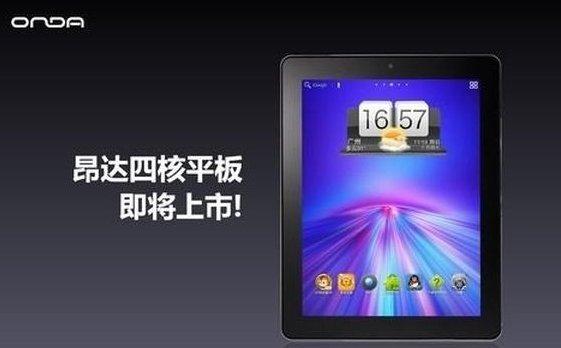 With the advancement in technology, tech manufacturers are thinking ahead of time producing innovative products which can cater the need of the people. According to the current trends, customers are lending their heart for portable devices which can keep then connected while on the move. The growing tablet market can be considered as an example which substantiates the need and demand for portable devices.

During the past, there had been a tremendous increase in the number of tablet manufacturers producing Tablet PC's keeping in mind the pulse of customers. Adding one more to its line of tablets, Chinese manufacturer Ondo has unveiled yet another low cost tablet dubbed as 'Ondo V972'. Powered by a Qurd Core processor, the V972 runs Android Jelly Bean OS which gives an edge for the device compared with its rivals.


Onda V972 tablet specifications and features

The Onda V972 will be perfect choice for those who are looking for powerful Android tablet at affordable price. According to the company, the Ondo V972 is the first 9.7 inch Android tablet which is powered by AllWinner A31 Quad Core processor. Like its Chinese counterpart Lenovo's IdeaTab S2109 tablet, the V972 too boast of having a 9.7 inch capacitive touch screen display similar to Retina iPad 4.

Using the IPS technology and 5 point multi touch support, the tablet offers 2048 x 1536 pixels resolution which gives better picture quality compared to Lenovo tablet. So users can enjoy videos and games under better brightness. The V972 which runs Android Jelly Bean OS will get a 4.2 upgrade while the tablet comes along with 2GB of DDR3 RAM with multitasking power and 16GB internal storage which can be extended up to 32GB with a micro SD card. Regarding the camera optics, the device is equipped with 2.0 MP front camera for face to face communication and a 5.0 MP rear camera which can be used to zoom real life to frames.

For more excitement, the tablet promises ultimate thrill for gamers who can enjoy 3D games better than ever. The company claims that in performance their new model would stand ahead of iPad Mini and other Android tablets and would woo the customers. A 8000mAh Lithium Polymer battery which is equipped inside the tab offers 10 hours of continuous use on full charge. For connectivity, the V972 supports USB 3.0 port, Mini HDMI Port and WiFi 802.11b/g/n.

Customers can get access to a number of Google Mobile services including GMail, GTalk, YouTube and Android Play Market to download apps, games, books, videos and much more.


Price and Availability

Impressed by the specs and features, there might be many tech enthusiasts who are looking forward to buy the Onda V972 tablet. The device is currently out of stock, but the company gives hope that as it gets ready customers can purchase it from the Ondo website at $240. Truly the Ondo V972 tablet will be the hot choice for those who wish to own handheld device with cool features and respectable price.