Samsung Galaxy Pocket Plus Android Smartphone Review | Features

Samsung Galaxy Pocket Plus phone is reported to make an early launch either during the last week of December or early January 2013. This entry level device code named as GT-S5301 will run Android 4.0.4 Ice Cream Sandwich OS. Read more about the other features of this phone in the article.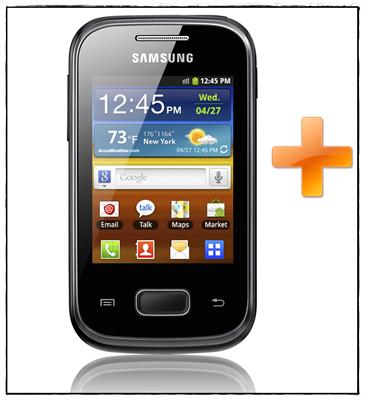 Samsung Electronics has acquired a grandiose position in the global mobile market due to its diversified products. The Galaxy series phones are also getting rave response from customers who are keeping their ears wide open to hear news related to the tech giant. The success of Samsung would be due to its wide range of networks and close contact with millions of users. Samsung, being one of the leading electronic manufacturers has always tried their hands to generate mobile phones which are suitable for people fitted for their budget.

Keeping in mind the customers who are keenly interested in budget phones, Samsung has introduced Galaxy Pocket Duos and Galaxy Pocket, two entry level phones which are proposed to woo the tech enthusiasts. Heard from the grapevine, Samsung is gearing up to launch yet another phone, the Galaxy Pocket Plus. Even though the company had not made any official announcement as regard to its entry in the market, details about the device came as a surprise from SamsungWorld.nl and Samsung KIES which was spotted in a ROM.

Tagged under the model number GT-S5301, the device is said to be made available soon for customers in Europe. Even though the specifications, features and other details about Galaxy Pocket Plus are under hush, the phone will be an extended version of Galaxy Pocket added with some extra features.


Samsung Galaxy Pocket

The original Galaxy Pocket version spots a 2.8" QVGA LCD display screen, an 832 MHz processor, 3GB internal storage, 2 Megapixel camera suitable for panoramic shooting mode, Bluetooth version 3.0 and Wi-Fi accompanies it. The memory of the phone can be expanded with a micro SD card up to 32 GB.

The 1,200 mAh battery offers 950 minutes of talk time and 530 hours of standby time on 2G. The Samsung Galaxy Pocket is well equipped with FM radio, audio jack and the popular Samsung hub.

The device is currently available online at various e-stores priced at Rs 6799. Being available in the market from July 2012 onwards, the phone has gathered positive reviews from users. It really had wooed the customers giving them the power feel power of a smartphone available at less cost. So this entry level phone with function with extreme speed and better performance.


Samsung Galaxy Pocket Duos

Samsung Galaxy Pocket Duos dual SIM phone unveiled early in August this year do carry the same specs of the original Pocket. This 4.8 inch device is powered with a single core 832 MHz ARM 11 processor and supports dual SIM cards simultaneously. 3 GB internal memory is equipped with the phone which can be further extended up to 32GB using a micro SD card. The Pocket Duos is currently available in black and white colour variants at a price of € 160($209).


Conclusion

Samsung has marketed Galaxy S III and S III Mini keeping in mind of the various customers. If Galalxy S III Mini was unveiled exclusively for the European buyers, the Galaxy Axiom will emerge on U.S. Cellular. In the midst, yet another budget phone, the Pocket Plus from Samsung is under talk. According to the first information, the Galaxy Pocket Plus will get an Android update with 4.0.4 Ice Cream Sandwich. The price and availability of the Samsung Galaxy Pocket Plus is unknown.