HP Envy X2 and HP ElitePad 900 Reviews | Features and Specifications

HP has come up with its two ultimate convertible tablet-laptops – 11.6-inch Envy X2 and 10.1-inch ElitePad 900 in computer market. This post covers specifications and prices for both of these Windows 8 transforming devices.


Windows 8 laptops

In continuation of the series on Windows 8 laptops from HP, this is my third post covering its convertible tablet-laptops. My first article of this series titled – Win-8 Laptops from HP Part-1 was covering sleek shaped Pavilion sleek books 14 and 15 as well as Envy TouchSmart 4 and the Part-2 of HP laptops included TouchSmart 4t-1100, Spectre XT TouchSmart and Envy m4 notebook from HP. And for this time, I am stressing over HP devices with convertible technology.

In the list of convertible tablet/laptops from HP my first pick is 11.6-inch HP Envy X2 with IPS display, IPS panel and Intel's third generation core processor where the second is 10.1-inches ElitePad 900 laptop comes with optional ElitePad Productivity jacket and Expansion jacket along with many preloaded security software also. Let us have a look over specs, price and competitors in market for these convertible machines:


HP Envy X2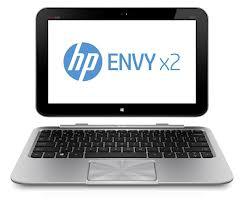 Envy X2 from HP is an 11.6-inch convertible tablet-laptop with an Intel Atom CPU, integrated webcam, HDMI output as well as inbuilt stereo speakers with beats audio. The device is available to purchase online at Best Buy. The HP machine features an 11.6-inch IPS display with high definition standard resolution of 1, 366 x 786 pixels (135ppi) and 400 nit IPS panel. Running on Windows 8 technology it has access to all traditional desktop as well as modern UI/metro and UI/Windows 8-style apps via Win 8 store.

The HP is powered up by Intel's 3rd generation clover Trail Atom processor with 64GB of internal memory. It sports dual cameras – where first 8 megapixels rear face camera allows users recording high definition video and other 720p front-facing camera can be used for HD video recording.

To support revolutionary convertible functionality the device comes packed with sliding keyboard with magnetic hinge. On docking keyboard to device, 700gms tablet gets converted to a standard 1.45 kg notebook PC. Multiple connectivity ports like – Wi-Fi support, wpa2, wep, two USB 2.0 ports and microSD card slot come embed on keyboard dock. The device also comes with NFC, optional stylus support and beats audio integration as well.


Price, pre-order and availability :

You can order Envy X2 at major retailers of HP like Best Buy at the staring price of $849.99.


HP ElitePad 900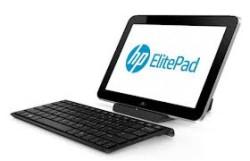 HP announced its 10.1 inch ElitePad 900 convertible laptop with rugged case for providing complete protection to device against drops. This is a light weight 1.5 pounds device designed targeting at corporate world and running on Microsoft's new operating system.

The device is powered up by latest Clover Atom processor. It is produced from HP in association with Pao Alto, a California based techno giant that produces electronic gadgets. HP loaded its device with latest security features such as – HP client security, HP Device Encryption and ElitePad 900 useful for IT managers let them hassle free from device security. It is very easy to use servicing tools on ElitePad 900 for servicing. Its motherboard and battery are also accessible very easily for repair or replacement. Unfortunately for now, HP has not revealed complete specs about this device.

Customers are also provided choice to purchase any of the below two optional accessory packages. First an Expansion Jacket with USB, HDMI and Extended battery with ElitePad Rugged case and secondly an ElitePad Productive jacket with an integrated keyboard having many connectivity ports as well as an SD card reader. User can add keyboard to tablet screen very easily for converting it into a full-fledged notebook PC.


Pricing and availability

HP has not disclosed prices for this convertible laptop for now but it is confirmed that the device will arrive in market in January 2013.


Other competitors in market

There is a long list of competitors before HP in market that are standing with their innovative and best featured transforming laptops. Though a number of hybrid devices have already been launched in market from top tablet manufacturers like Acer, Asus, Dell, Fujitsu and Panasonic but on comparing display devices the Asus devices like Taichi, Tansformer Book, Transformer 810 as well as QH77/J and Q702 from Fujitsu seem to be close competitors of HP ultrabooks.