Nokia Asha 206 - Full phone specifications, features, price in India

Nokia Asha 206 full phone specifications, features, price in India are given here. To cater the growing demand of those interested to go social while on the move, Nokia has unveiled a feature phone which is expected to gather more users with its classical look and affordable price tag. Spotting a 'bar' style model, the Nokia Asha 206 comes embedded with pre installed apps and with colour choice too. Get more details about Nokia 206.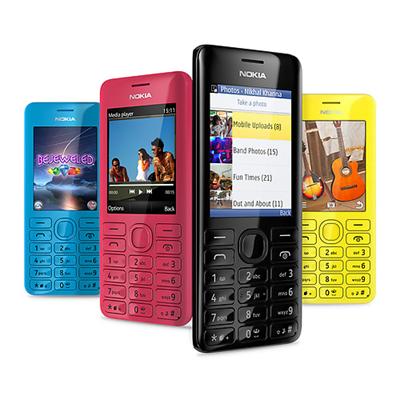 Nokia Corporation known for producing mobile devices is spread in 120 countries and being rated as one of the leading mobile phone makers has unveiled yet another smartphone under the Nokia Asha series. Ranging from low to mid end level, these phones are considered to target a populace who are interested to own a feature phone comparatively at a less price tag. Adopted from the Hindi word 'Asha' which means 'Hope', the devices are being accepted worldwide. Adding one more to the existing rage of Asha series phones, Nokia Asha 206 comes along with some cute features and attractive price. The Nokia Asha 206 designed with a classical touch does accompany traditional keypad spotting like a 'bar' in appearance.

With the growing demand of young tech enthusiasts going behind social networking sites on the move, Nokia has added a quick feature enabling the users to access Facebook even while traveling. Available in 3 colours, the Nokia 206 comes along pre loaded with a handful of apps.


Nokia Asha 206 specifications and features

The all new Nokia Asha 206 is a 2.4-inch device embedded with a QVGA TFT display with 240 x 320 pixels resolution. The available size of the phone is suitable for browsing the web, playing games and also to chat with friends. The phone runs on Series 40 Asha operating system which makes its working more smooth and comfortable.

This device gives single and dual SIM options making it more comfortable for the users depending upon their interest of the users. For the dual SIM phones, the Nokai EasySwap technology allows users to change the SIM cards without turning off the device while the Nokia Xpress Browser will reduce the browsing costs as it compresses the data to 90%.

Regarding the internal memory, the phone is equipped with 10 MB free memory which can be increased to 32 GB using a micro-SD card. The 1.3 mega pixel rear camera will bring perfect shots while zooming it at different angles. For connectivity, the phone has GPRS/EDGE, Bluetooth v2.1 with EDR, 2G and 3.5 mm AV connector.

Preloaded with a number of popular apps, the Nokia Asha 206 will bring delight to the users. Keeping in mind of the young customers, access to social media apps like Facebook and Twitter can be done straight from the home screen. 10 free premium goodies like Bejeweled, Need for Speed Shift, Medal of Honor, Tunewiki Social Player along with Pictelligent, eBuddy Chat and WhatsApp will make the users engaged. 40 free games from EA will add more excitement for young gamers.

Available in Cyan, Magenta and Yellow colours, the Asha 206 will be a perfect choice for those interested in a simple phone with a lot of features available at a very less price. The phone boosts of having a Standard battery Li-Ion 1100 mAh capable of delivering 47 days of standby and20 hour's talk-time. The Asha 206 will be the first phone to feature Nokia's Slam technology enabling users to share content faster and easier over Bluetooth without having to pair their devices.


Price and Availability

The Nokia Asha 206 is expected to start shipping in December making it available at various Nokia stores worldwide. This new device from Nokia will be available in India 3,410($62). So if excited about the features and price do check the online stores and contact your local Nokia dealer to know its availability.