Penta T-Pad WS802C-2G Tablet – Price in India with Full Specifications and Features

A review of Penta T-Pad WS802C-2G Tablet price in India with full specifications and features.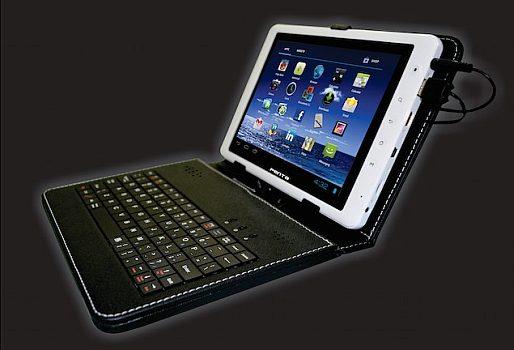 The tablet market in India is getting too hot with the arrival of new tablets which are being introduced back to back aiming to get the support of tech enthusiasts. Even though the marketplace is crowded by a number of tablets, the manufacturers cannot stop themselves move away from unveiling brand new devices which could gather new eye balls. With a strategic deal with BSNL, tech manufacturer Pantel has introduced yet another tablet adding one more to its T-Pad series line up which is getting much popular as with its features and comfortable price.

The Penta T-Pad WS802C with voice calling support will come bundled with 4 GB data available for 2 months along with the BSNL SIM. With this product, the company aspires to add more excitement and added capability which can take the customers to the next level. The tablet is aimed at a people who are busy professionals and those passionate gamers who are looking for a device which could activate their interests.

According to few a recent studies, tablets will continue its rule over the technology domain in 2013 too, eventually bringing more potential and opens better market opportunities. As there is a stable growth in the selling point, tablets can be a permanent figure in the class rooms in India in near future. Pre loaded with a handful of popular apps, the Penta T-Pad WS802C-2G is set to attract the tech savvy's who are interested to experience with new electronic devices. So for those who wish to look for a pretty tablet at affordable price, the specification and features of Penta T-Pad WS802C-2G will guide you to make a better choice.


Penta T-Pad WS802C-2G Specifications and Features

The Penta T-Pad WS802C-2G is an 8-inch device with multi-touch capacitive screen. Powered by a 1.2GHz processor, the tablet runs on Android 4.0.3 Ice Cream Sandwich OS. Embedded with a 1GB DDR3 RAM, the Penta T-Pad WS802C-2G is capable of handling an internal storage capacity of 8 GB which can be later expanded to 32 GB with the help of a micro SD card. A VGA front facing camera is available with the Penta T-Pad WS802C-2G tablet but lags behind for the reason not having a rear camera. For connectivity Wi-Fi, Bluetooth, mini-USB and HDMI ports are available.

The tablet comes along with pre-loaded applications including Facebook, Skype, and Angry Birds which will keep the users engaged. The highlight of T-Pad WS802C-2G will be a 5000mAh battery and 3D graphics accelerator which brings more comfortable. A specially designed keyboard exclusively for the WS802C-2G will woo the users as it comes with an inbuilt stereo-phonic speaker priced at Rs 1,499 which will convert the device into a laptop.

Already the company having a tie with Bharat Sanchar Nigam Limited will continue its bond launching new data plans with affordable internet charges. As a special launch offer, a BSNL SIM card bundled with 4GB free data and two-month validity is given free along the tablet PC. Being much ambitious, the company aims to achieve a sales target of 10,000 tablets per month from West Bengal only in the coming six months. The Penta T-Pad WS802C-2G which is priced at Rs. 8,299 will be available for online buy and also at the retail stores. Do check the official website of Pantel to know about more details.


Penta T-Pad WS802C-2G vs Other Tablets

The Penta T-Pad WS802C-2G will surely be a tough competitor for a couple of tablets which are already available in the market and doing good business. Added with voice calling facility, the Penta T-Pad WS802C-2G will give a competition to Micromax Funbook Talk and Zync Z1000 tablets. Considering the Funbook Talk, the tablet features 1GHz processor, Android 4.0 Ice Cream Sandwich OS and a 2,800 mAh Li-ion battery priced at Rs 7,499. On the other hand, the Zync Z1000 spots a 1.5GHz ARM Cortex A8 processor, Android 4.0 Ice Cream Sandwich OS and 7,000mAh battery available at Rs 11,000. So now it the time for the consumers to decide which tablet would suit them regarding its features and also fit to their pocket.