Coby Kyros MID1060 Android Tablet Hands-On Review

Read all about Coby Kyros MID1060 Android Tablet in this review along with Full Specifications and Features information.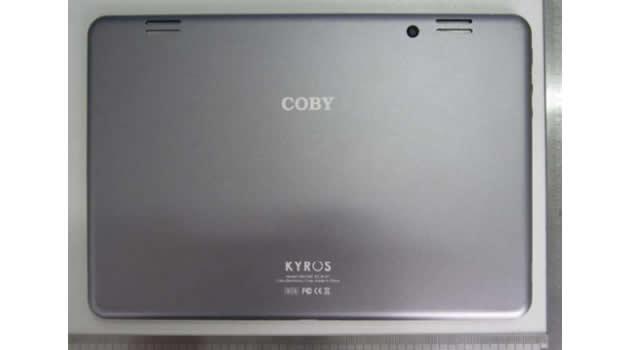 Coby Electronics Corporation, a popular consumer electronics products manufacturer having headquarters at New York is known for making high quality goods at low price range. The company had established a factory at Jiangxi province in China spread around 400 acres. Coby's products include LCD televisions, MP3 players, portable DVD players, internet tablets and home theater systems.

After After unveiling 6 Android tablets in the Consumer Electronic Show (CES) 2011, Coby is gearing up with a 7 inch Android tablet which comes along with some cool features. Even though Coby has not mentioned about the Kyros MID1060 on its website, many tech blogs and websites have got interesting information about the device which is set for an early release in USA.

Regarding the specifications and features of Coby Kyros MID1060, the tablet boosts of having a 7 inch display with 1280 x 800 pixel screen resolution. Powered by a dual core Amlogic AM8726 processor, the Kyros MID1060 runs Android 4.0 Ice Cream Sandwich OS. Even though the Amlogic AM8726 processor will not guarantee a roaring speed, its performance is good considering its experience in few other devices.

The Coby Kyros MID1060 is equipped with 1GB of internal storage which will keep your files, photos and videos safe. Regarding connectivity, Kyros MID1060 has a mini HDMI port, Wi-Fi, micro USB, and a pair of front and back cameras. Even though there is no official announcement regarding the pricing and availability of the tablet, tech experts predict that the device will not exceed $250.

Considering the price tag and features, Coby Kyros MID1060 will bring a tough competition to few other tablets which come under similar price range. The top running tablets under $250 are Samsung Galaxy Tab 2, Lenovo IdeaPad A1, Google Nexus 7, Barnes & Noble Nook Tablet and Amazon Kindle Fire. As all the four belongs to popular manufacturers all of them are favourite among customers. So it is now up to watch and see how the arrival of Coby Kyros MID1060 will make an impact on the sales of other tablets which are doing good business worldwide.

The Coby Kyros MID9742 had got decent reviews from tech enthusiasts stating its honest work while watching videos and playing games. The Kyros MID7024 and MID7012 are the other tablets from the Coby family which are available for $200 competing against Amazon Kindle Fire and B&N Nook, Samsung Galaxy Tab 2 and Nexus 7. The Coby Kyros MID7024 did also get encouraging reviews being an Android PC available at affordable price. But what negative customers found was the unavailability was the access to the Android Market app shop.

So how can the Coby Kyros MID1060 challenge its arch rivals? Can it perform well in the tablet market better than its predecessors? So let us wait for its arrival and see what happens next.