Xtab A10 Tablet PC, a cheap tablet: features and review

This article mainly deals with the complete features of a cheapest tablet named as Xtab A10 Tablet PC which is now available in India. The review of the product is also included in this article. Now let us see the pros and cons of this product.


Most of the people are fond of tablets. But their dreams couldn't be satisfied due to the heavy cost. If you are in search of low cost tablet computers, then this article will help you. Here we are revealing the details of one of the cheapest tablet PC named as Xtab A10 Tablet PC. Now the device is available in India. You may buy it from the shopping website "nxgelectronics". The product buy link will be provided later in this article. Before getting into the detailed feature, we can go through the special highlights of this product. The main highlights of the Xtab A10 Tab is listed below.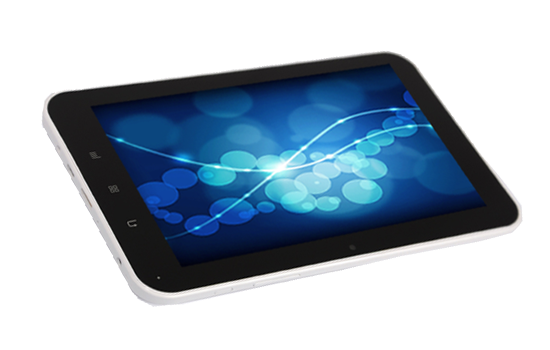 Android 4.0.3 (Ice Cream Sandwich) OS: The Android 4.0.3 OS coupled with the device offers users a lot of things. It makes multitasking more easier, gives many notifications, provides customizable home screens, resizable widgets, and efficient interactivity. It also supports sharing things in the handset or the tablet.


1.5 GHz (Cumulative) CortexA8 Processor: It uses a frequency of 1.5GHz and a Core Type of CortexA8 as its CPU. The processor uses six in one architecture such as HD video decoder(2160P), HD Video encoder(1080P), Audio processor, Dual Mali-400 2D/3D GPU, Image processor, Power Manage Unit.


7 Inch capacitive multi touch screen: Capacitive touchscreen displays mainly works due to the electrical behaviour of human body. So we are able to touch it without applying any pressure on it and it won't function if you touch it with pointed things or gloved hands.


WiFi: WiFi enables user to get a better experience in internet surfing, downloading, online video and audio streaming and so on.


3G USB Dongle: Users are provided with the capability of using the 3G feature with the USB Dongle. You will get a new experience in the high speed of 3G that was not as before.


4 GB Internal Memory: The tablet supports a 4GB in-built memory and a RAM of 1GB. It also supports up to 32 GB external memory.


1080P Video Playback: A HD video mode is also included in this device just like the HDTV products. The video playback resolution is 800*480 which implies a better quality in Videos and results a movie watching experience.


Front Cameras 2.0 MP + High Quality VGA


HDMI Support: A built-in HDMI output in your tablet makes users to connect the device to the TV which helps in playing videos, displaying documents, presentations or something like that in the TV.


Price of the product: Apart from all the features the important highlight is its price. Now most of the users are aiming at low cost or cheap rated tablets. Xtab A10 Tablet PC is the one among that. You can buy this product at Rs.5490. Order the product before the offer comes to an end. The link for the product order page is provided below: https://www.ccavenue.com/txn/shop/custcart.jsp
Xtab A10 Tablet PC: features and specifications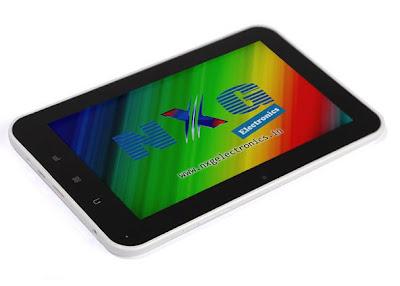 Dimension: 90*70*4mm
Weight: 360g
Processor: 1.5GHz Cortex A8 processor
Operating System: Android 4.0.3 (Ice Cream Sandwich)
RAM: 1GB RAM
Internal Memory: 4GB
External Memory: microSD card, expandable up to 32GB
Display: 7" inch Capacitive touch screen display with a resolution of 800×480, Supports multi touch
Connectivity: WiFi(WiFi :IEEE 802.11 b/g), 3G(only using USB Dongle)
Camera: Front camera of VGA quality
Supported Audio Formats: MP3, WMA, OGG, AAC, FLAC, APE, 3GP, WAV
Supported Video Formats: MPEG2/4, AVI, WMV, MKV, MOV, RM, RMVB
Supported Image Formats: JPG, JPEG, GIF, BMP, PNG
Additional Supports: WORD, EXCEL, PPT, PDF, TXT, HTML, Flash files
Sensor: Gravity sensor
Graphical Interface: Dual Mali-400 2D/3D graphics
Ports: mini HDMI port, mini USB port, 3.5mm stereo port
Battery type: 3600 mAh Lithium-polymer Battery at 3.7v, with a Video playback of 5 to 6 hours
In-built applications: Advanced Task Killer, Facebook, Facebook Messenger, KingsoftOffice, NDTV, NXG Blog ZigApp, NXG Support App, RockPlayerLite, Skype, Sparsh Indian Keyboard (Hindi/marathi typing), Times Of India, YouTube


Review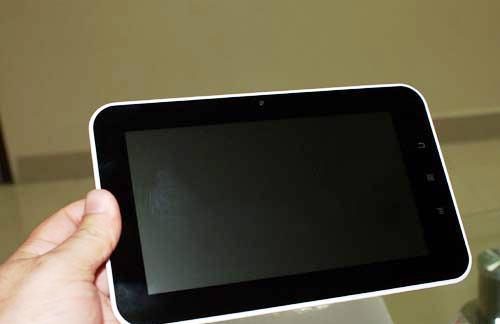 Here I'm going to add the review of this product. First of all I will review the product with each of its features and after that will review it in overall. I'm very happy with the latest Android OS (Ice Cream Sandwich), since it makes many functions more easier. The Cortex A8 processor also shows a better performance in its processing. I am able to operate this tablet without any lag in its function. It may be due to the presence of 4GB in-built memory and a RAM of 1GB. From my point of view I has nothing to mention about the defects in its processing. The microSD card support helps me a lot in storing all my videos, images, songs, other files in the same. Next thing is the camera feature. The tablet comes with a single camera of VGA quality at its front face. In my opinion I don't want even to mention any drawbacks in its camera since it helps me to capture quality pics of resolution of 640×480 pixels and also supports in recording videos at quality of 30 FPS i.e, in VGA resolution. I'm able to play most of the image, video and audio formats in this tab. The thing that I like most is the WiFi and 3G support. The WiFi feature in the device is much better and also helped me in faster browsing, downloading, and online video streaming. Actually the tab supports 3G but not through the GSM network, but the 3G feature can only be made possible by connecting any 3G USB Dongle. I cannot consider it as a drawback, rather than that I'm considering it as an advantage, because most of the tablets of this price doesn't supports 3G even through USB Dongle. I need to say one thing that this tablet gives me an excellent battery backup since it is using a 3600 mAh Lithium-polymer Battery and it also give a video playback of 5 to 6 hours. You guys won't believe that I have purchased this Xtab A10 Tablet PC at Rs.5490. By considering all the pros and cons of the tablet, I'm concluding that the tab Xtab A10 Tablet PC is better to buy at this price range and now I'm very happy with this. You may also check the video review of Xtab A10 Tablet PC below.