Dell Latitude 10 Tablet Review

Dell launches a new Windows 8 tablet, Dell Latitude 10. Read more to find the complete review and specifications of this tablet.


If someone talks about a tablet, you would probably start thinking about Android or iOS or Blackberry probably. Windows 8 would not be the first thing in your mind, not at this point of time at least.Well, this is about to change very soon as Dell is set to launch its first Windows 8 powered tablet called 'Dell Latitude 10' in the market, somewhere in October itself.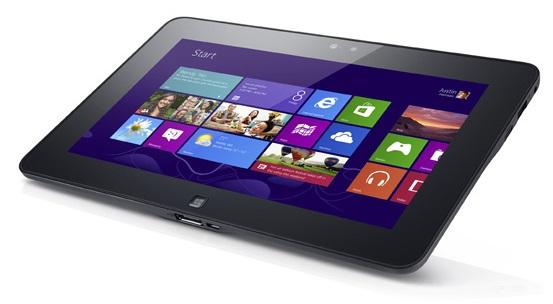 Dell has always been famous to focus on its consumers' needs. The company consolidated this fact with its 'Dell XPS 10' and 'Dell Duo 12' hybrid tablets. Nevertheless, with the 'Dell Latitude 10', the company seems to be focusing on the enterprise needs too. This tablet is already been considered a proper business focused gadget in the consumer-centered market. Let us have a look at the leaked technical specifications of this device:


Display and Display Features of Dell Latitude 10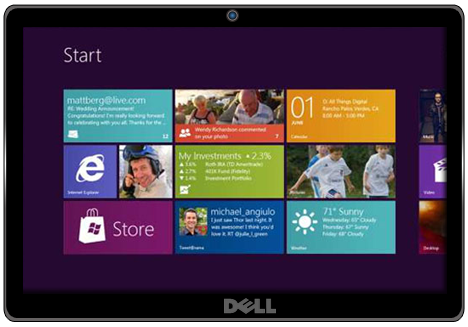 As far as the dimensions go, the Dell Latitude 10 measures 274 X 177 X 10.5 mm and weighs 725 grams. The figures might not be very impressive but one cannot deny that they are well balanced for a tablet. The device feels sturdy and firm when you are holding it in your hands. This device boasts a 10.1 inches IPS display with a resolution of 1366 X 768 pixels, which makes in an HD display. A capacitive touch display supports multi touch up to 10 fingers, which seems to be fairly quick and accurate in interpreting the multi touch gestures. The display supports generous viewing angles but is not up to the mark when taken outdoors and viewing in direct sunlight is considered. Under ordinary conditions, the device was able to play HD videos without any glitches or considerable loss of quality. To make the screen tough and scratch free, Gorilla Glass technology has been utilized. Therefore, you need not worry about scratching your screen every now and then. The device also supports an optional active stylus as well. It is not yet clarified that whether the stylus will be a part of the standard package or not.


Memory and Processor of Dell Latitude 10

Under the hood, an Intel Dual Core Clover Tail Atom Processor will supposedly power the device. The clock cycles are yet to be revealed. Therefore, it is too early to comment on its processing power but with a dual core atom class processor, you can rest assured that the tablet is going to perform pretty snappy. With this processor, at least you will be able to utilize the power of Windows 8 Operating System unleashed, unlike the ARM powered devices, which can only run on the RT version of the Windows 8. Obviously, it is quite expected that the chip will gulp more power as compared to the ARM processors. The device comes with an on board 2 GB of DDR2 - 800 RAM that is more than enough to support all the multi-tasking that you need. There were no noticeable lags in the device when several running heavy applications simultaneously. It is rumored that the device will support a whopping 128 GB of storage space on an on board Solid State Drive (SSD) and has the option to be expanded using a memory card (eMMC).

Dell debuts in the Windows 8 domain with this tablet. Therefore, you will be able to play with the new Windows 8 and its amazing Metro User Interface on this tablet. The Windows 8 OS may in fact prove to be the USP of this device. Sadly, the device does not house any separate GPU but is equipped with the Intel Integrated Graphics. Considering that you will be using your tablet for obvious purposes, you will never feel deprived of a separate GPU.


Camera and Connectivity Features of Dell Latitude 10

The Dell Latitude 10 comes with an unexpected 8 MP rear camera which performs up to the mark and has a front camera of 2 MP which is very capable of making HD video calls at 720p.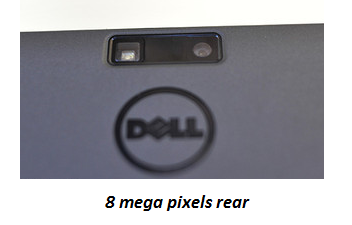 The device has a host of ports to connect your peripherals too. By default, the device has one USB 2.0 port, a stereo headphone microphone combo 3.5 mm jack and a mini HDMI port. However, you have the option of purchasing an additional dock to have the experience of a fully featured notebook on your tab. The dock will provide you with an unbelievable combination of four additional USB 2.0 ports, a Gigabit Ethernet port and a full HDMI port. So you will never get short of connectivity ports in your tab. Also fingerprint and smartcard readers are expected to be in the enterprise version but apparently, they might not be available until January at least. The device supports Wi-Fi, Bluetooth and standard mobile broadband options but there has been no word on the LTE support yet.


Battery Backup of Dell Latitude 10

One of the unique and the most attractive feature of this device is the option for swappable batteries. The device has two batteries, a two-cell battery and a four-cell battery. The two-cell battery lasts for 6 to 8 hours whereas the four celled one lasts for about 10 to 12 hours. Therefore, you need not hurry for your charger repeatedly. You can use it for the entire day easily. The batteries are easy to replace. However, it has not yet made clear that the secondary battery comes within the package or has to be bought separately.


Price and Availability of Dell Latitude 10

There has been no official announcement regarding the price of the tablet but we can expect to be around 20,000 to 25,000 INR.


Wrap up

With this deadly combination of Microsoft's hardware and Intel's software, Dell is set to prowl the tech bazaar. The device will be facing tough competition from Android based and Apple devices, which have already set very high benchmarks, but the fact cannot be denied that Dell is bringing some sort of freshness to the markets with Microsoft's new OS Windows 8 instead of going for Android. It will be very interesting to notice the reaction of the audiences to this amazing tab by Dell.