Run Roo Run iOS game Review

Read the review of iOS game Run Roo Run - a single player platform based video game developed by 5th Cell.


Run Roo Run is a video game developed and published by 5th Cell for iOS (iPhone Operating System). It is a single player platform based video game. It was released in January month of this year worldwide. The development of this game started in September, 2011. This is also the second video game developed by 5th Cell for iOS platform. Director Jeremiah Slaczka designed the game. This game is available on iPhone App Store.
Pros and Cons
Pros: Run Roo Run games fast action gameplay which is definitely its plus point.
Cons: Its graphical design and structure. This may irritate the people who also care about the looks and design of the game.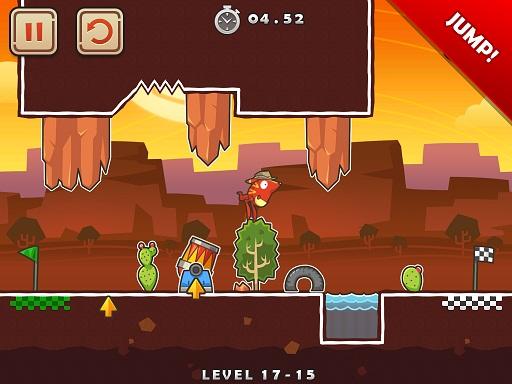 Gameplay and Storyline of Run Roo Run

The story of the game is about a mother kangaroo who is in search of her poached Joey. She faces many obstacles during her search. Gameplay of Run Roo Run game is quite simple. The player has to control the jumping of the Kangaroo. They don't need to bother about the speed of the kangaroo, as it is auto-run. The player has to go past numerous levels which are divided into various chapters. It takes few seconds to complete a level which forces the players to play the next level too. The difficulty level increases as we go past each stage and chapter. The look of the game is not much artistic but players will never have to bother about it as they were too much busy in clearing the levels.

The game has about 400 levels provided to the players with additional extreme levels. Every week 10 new levels will be added. Some extremely fun power-ups to the players is also one of the good feature of this game. These power-ups provides the mother kangaroo the abilities like Double Jump, Human Cannons, Ridable clouds, Gravity defying Umbrellas, Tire Swings, Invisibility,etc during her journey to search Joey from Perth to Sydney.


Review of Run Roo Run

From critics, Run Roo Run mostly get positive and mixed reviews. They praised the gameplay of the game. But they also commented on its simple design and structure. For me Run Roo Run will definitely a good choice if you didn't look at the design and structure of the game. The fast action of the game will involve you in it. With a price of $0.99, Run Roo Run is not a bad choice.
My Rating on Run Roo Run
I will give Run Roo Run a rating of 8 out of 10.