Beware Planet Earth! game review

Read about the game Beware Planet Earth! and know about its interesting features in this review.


Pros and cons of Beware Planet Earth! game
Pros: Delivers a great presentation with a nicely built personality. Highly addictive GamePlay, with plenty of missions to complete. Features a long story to work your way through.

Cons: Might be very easy, especially for TD veterans.



Beware Planet Earth! the title of the game itself makes us feel to explore about it in more detail. Beware Planet Earth! is nothing much special, other than a wonderful tower defence game. As you know that tower defence games are being developed day by day and it is much interesting genre of Play Game to enjoy our time.



Tower defense games are considered to be the best game genre for the past few years and promises to continue for even future decades. Beware Planet Earth! is not a sequel to the famous game: Plants vs Zombies in case you get that idea after playing it. I loved playing this game for hours, not only because this is a tower defence based game, but also due to plenty of other reasons. In this review I am going to express my personal views and experience on this game and you will also get to know about the interesting features, pros and cons of this fantastic game.

Beware Planet Earth! delivers an interesting concept for its gameplay. Although this game is a tower defense based game, Beware Planet Earth! manages to bring maximum uniqueness by adding tremendous of new and variety features to the game. The theme of this game has been designed perfectly to match all the sort of variations delivered within the game.

There are many developers with crap mind, who used to ignore other developer's glorious work like Plants vs Zombies, Anomaly: Warzone Earth etc and continue churning their same old work. We also indulge in those games where the developers of the game takes inspiration from games, which are greatly rewarded for their gameplay, like Zombie Pirates. Now you have to decide whether this game: Beware Planet Earth!
But as far as the Lightmare Studio is considered, it is one among the cleverest game studio and have been famous for the making of many variety of games for the gamers all around the world. While creating the game: Beware Planet Earth!, the developers thought to add some common tower defense angle to the PopCap's famous game: Plant vs Zombies and had succeeded in emerging this fun filled game which runs perfectly smooth and fine for its money.


Storyline and gameplay of Beware Planet Earth! game

The story of Beware Planet Earth! game is set in a battle, where aliens are attacking our earth and trying to invade our home planet. Those aliens are not here to bother any humans, but they actually flew here for our cows. The main objective of this game is to stop those aliens from attacking our Earth. Even though the aliens, which are being more powerful than any of the human, you will have to take out those nasty creators by plopping down their machines. The game also features a large depth of storyline having more than 60 levels of gameplay for you to enjoy.

Beware Planet Earth! also features an in-game tower defense, which allow us to stop the aliens by creating towers and setting them all along their path of journey. As you walk through the Play Game, you will know more about how to play and you will be playing your game without any hardness.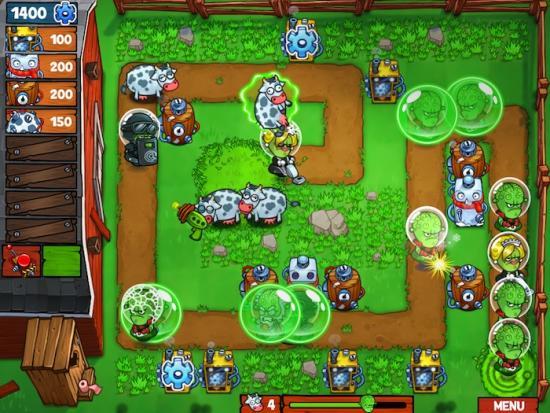 The game delivers a great visual features to entertain its players with more fun.

The bubbly visuals absolutely made my mind to feel ultimate pleasure and the soundtrack of the game is also perfectly designed to match every visuals and other effects. Many new modes have been introduced for you to check it out, like campaign mode, where you can find various challenges to beat your ultimate enemies. It is also being packed with a great interface to easily play the game. I did not see any other tower defense games to be featuring a large amount of work done to make the game much better.

As I mentioned above, the game features some what like the PopCap's style, but still it does not just entirely copy it, Beware Planet Earth! had only ripped a several amount of elements from Plants vs Zombies and add much variety to them. Some varieties that had been added to Beware Planet Earth are, barney the character, building up of machines(sunflower) of various types, collecting sunshines from sunflowers(machines) etc, these addition of varieties make this game more than just inspiring. You may check also Facebook Games.




Wrap up

I truly believe that Beware Planet Earth! is the best tower defense game I have ever played. Due to its various features and interface, I love playing this game and even I dedicate most of my precious time for enjoying this game. As this game throws out plenty of its own creative ideas, you might really love it as I do now.