Flip's Escape iOS game review

A review of the iOS game Flip's Escape and also some tips to play the game.


Pros and cons of Flip's Escape game
What I liked
I liked the different concept which the game developer has used in this game. The sound of this game is very nice and really appealing in its nature.

Where it is lagging
This games somewhere lags in the graphics and this developer should remove these flaws from this game.

Ratings of Flip's Escape game
The game is awesome to play with and scores a total of 9 out of 10.






Introduction to Flip's Escape game

There is a new game on the iTunes market for both iPad and iPhone. The name of the game is Flip's Escape and it is a paid game. We are today going to do the complete review of this game. Like Temple Run, this game is also an endless runner type game and collecting things to increase the score. There are various types of modes which are available in this game and I think you will like it. So how this game operates? Does it very hard? How much fun I will get? Get answers to these entire questions in our total review of this game down below as you scroll the page down.


Storyline of Flip's Escape game

A free runner game is good when it has best obstacles, hard levels and good music, and then only game will be a hit, otherwise it just another piece of software with moving objects. The first few minutes I spent playing the game, I what good would I write about it, after all, it was filled with impossible stops and starts in addition to the difficult controls. However, after 10 minutes spend on the game, I was tapping the play again option without a second though. The control of the Flip's Escape came good on the screen and there was no lagging in the movements of the player. Although at some movements it looked that the screen got little short because the fingers covered major part of the screen and viewing area got very less, but that is not actually a problem. You have to choose a good game mode in Flip's Escape game otherwise you will be ending in mess as to where are you lagging even after playing so good. Medium level score levels are good and true fun lies in them only. The controls on the screen have to very fast from your side and there will lot of fun whole moving your player on the way.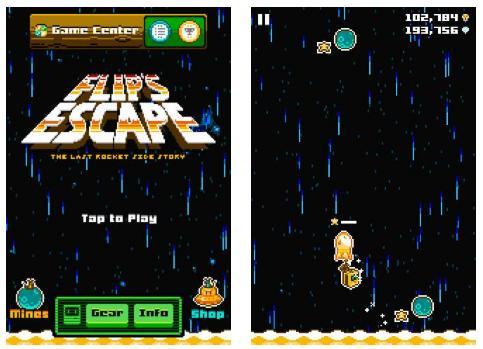 The whole design of Flip's Escape game is so insurmountable that you will like it very much. The diagonal movements of the player are very good and that what makes this game so much good in its play. Do little practice at the beginning of game to avoid any type of embarrassment while playing the game. The music of the game is very good and graphics too are very nice and sober. This game looks little impossible at the stating but later on you will love these impossible things.


How Flip's Escape is different from other games

There is lot of stuff which is totally different in this game and this stuff is unique to this game only. First of all the obstacles and game play is hard enough to get your hair straight in to the sky. The controls of the game though take a little practise in start, are quite responsive as they should be otherwise the whole essence of playing the endless runner game eliminates.


User interface of Flip's Escape game

The user interface of the game is much more good and simple to follow and there is no lagging available in this game. Other stuff like graphics of the game is not that impressive but still this game is good enough to play with. The sound of this game is best in its class and good enough to play with.