AviNation Facebook game Review

Read this review of AviNation, an online game for Facebook and learn some tips to play the game.


Pros and cons of AviNation game
What I liked
Graphics and gameplay concept are nice.

Where it is lagging
Technical glitches have to be removed.

Ratings to AviNation game
AviNation is surely a game to play and deserves 9 out of 10.






About the game AviNation on Facebook

There is a new game in the market that has been launched on Facebook. Certainly, Facebook is leading the way with most games launched under its hood and why not, after all there are so many users of this cult status social networking site. The name of the game which we are reviewing today is AviNation. This is a free game with multiplayer format available in it and comes under the category of simulations. This game is all about how you mange an airline airport. What we have to do? What this game looks like? You will get the answer of these questions as your scroll down the page and read more about this game.


Gameplay of AviNation game

The GamePlay of the AviNation is very simple and sometimes looks like you are playing the part of the Tom Sawyer's Locomotion game. As name suggests, you will be controlling the airport in this game. So it is like a strategy Play Game with lot more things to offer. First of all, your task is to make an airport in the countryside. You will get a map in your game and you have to make use of it to make the airport at the right place. The airport has to be made in such a way that it has sufficient capability and connectivity for the people to go about inside the airport. Then you will have to buy planes too. You have to construct everything from scratch while building the airport in AviNation. You even have to construct the bunkers in which the planes will rest and other stuff. There are other things which are good in this game like managing the traffic of the planes and keeping the runways clear for the planes.

Although you will not be able to fly a plane in AviNation but you can monitor them very closely. The planes available here in this place require care in terms of their fuel efficiency, strengths and passenger carrying capacity. By this time you must have figured out how this game would be like. So now you can understand why AviNation game is of strategy type. The graphics while playing AviNation game are very nice and I think best in its class. When I ran this game, many times I found that there was some problem in the game and these things I think are the technical glitches. So you have to have patience if these games black out while playing. Otherwise, this game is fantastic and I have no issues with it. It may happen that if the bugs are removed from this game then it can become a best game in the town.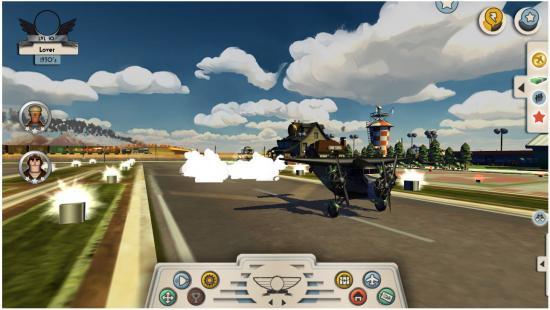 How AviNation is different from other games

This game is a strategy type game, so it is obvious that there will be so many differences when compared to other games. The whole concept and GamePlay of Avination is unique and that makes it stand out from the rest. The graphics and sound are two other things which are best in their class.


User interface of AviNation game

Simply cake walk. Yes, the user interface of this game is very simple and the menu items are easily approachable. Other stuff of the game like the graphics and sound are truly adorable and there is no match of these two as compared to other games which are currently available on the Facebook Games to play.