Comparision between iPhone App Store vs Android Market

Android market and iPhone App stores are leading application stores available currently. This article will show you the comparision between iPhone App Store vs Android Market and review the better user friendly and easy to use application store. Let's check out which is more stylish interference between Android market and iPhone App store.


App store vs Android market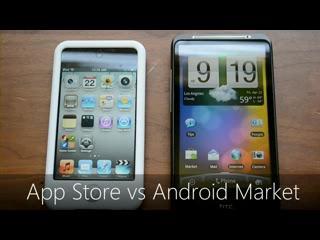 Here in this article i will show you the comparision between the Apple iphone app store vs android market. There are a lot of quality difference between these two philosiphies and generally the iphone app store seems to be a better more experiences. There seems to be many apps in the android market but does not have quiet much freedom when compared to an android market and which also some apps might find some low quality apps and you can you can pretty better get any apps like invilators on your different skin and wide more and more applications. So in this article i am going to show you guys today is to a little bit comparision as in the app store. So we first need to open up both the app store and find out similar interface so both iphone and android app store is of the many features . On iphone app store there are several app that we can see that they are app of the week, game of the week, etc and also consist of several featured apps. And also there is a catergory which is also the same thing that we can searh the app on preference with the category and also there is a option such as genious. By taking that we can get apps similar to genious which will increase your memory capacity. On going to the android market we can get alittle more smooth interface and a lot of featured apps and something you want to notice is that these featured apps are free to download and also there are catergory such as games, specific apps, paid apps. On comparing there are several things on comparing ipone app store and android app store on comparing the paid apps on both the iphone app store and android market more fluent and usefull apps are seen on the android market. Over the android market we can see a lot of application such as rom manger this is a very intresting thing obisiasly to get these featured apps on iphone app store you basically need to geograte and there is nothing wrong need to geograte but it is better nice if you are made into custamising mode and run these apps. Now we can to the section of games typically games are not the rarest apps but consequently while comparing description written for the games and the skin or the interface of the theme is better in android market while comparing with iphone app store.


Android market


Android app market consist of google play ie, Google recently introduced an online marketplace. Along with the new version of the Android Market, otherwise known as Google Play the contents that are available in android market can be downloaded from google play also. There are lot similarities and dissimilarities between the android app market and iphone app store. There are a lot different variety and different kinds of apps that are available from android market.


App store


On the other hand of the android market comes the iphone app store which are little bit similar in look but of different quality. The main difference between the android market and the app store is that the apps store has a landing page with more variety types of featured apps. In addition, Apple and Google use similar categories to sort their apps. The only main difference between the two markets is that Google has chosen to use big and vibrant pictures to represent new and featured apps, books, movies, and music, and iphone has not.


conclusion

I just want to tell you guys there is no defeat winner and android is not a million times brilliant than the iphone app store and iphone is not a million times better than the android market and both of these are soo matured apps and consist of much more than thousand apps and wont going to have any issues and only main issues and only one main issue is that you just consider any one whether android or iphone. But overall it is very nice and it is verty user friendly and easy to use.