Upcoming Windows 8 Acer Tablets, Ultrabooks and Notebook

Are you looking for the information of upcoming Windows 8 based tablets, ultra books and notebook by renowned Acer brand? Here you can find latest Windows 8 updated ultra books and laptops announced recently.


Tech world is now abound with news of latest Microsoft operating system Windows 8. The branded Microsoft corporation has announced their newest product Windows 8 which will be launched on October 26, 2012. The new version of Windows 8 operating system contains wide variety of features which will surely attract huge crowds.



With the release of newest Windows 8; tablets and ultra books manufacturers are trying their best to make their products on this latest OS by Microsoft. There is a burst of competition among the renowned brands to announce Windows 8 tablets and ultrabooks in the market.

Acer is one of the renowned manufacturers of laptops, tablet and ultrabooks has given a challenge to their competitors by announcing a number of Windows 8 products in the pipeline. The well known company has announced their upcoming products that would run on the newest Windows operating system. They have Iconia W5 hybrid laptop/ PC, the Iconia W7 tablet, Aspire S7, Aspire M ultrabooks, Aspire V5 notebook and the Aspire U in on Windows 8 to provide enhanced features for the users.


Acer Iconia W5 Windows 8 hybrid tablets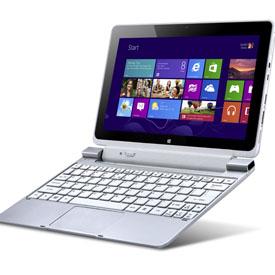 Acer Iconia W500/ W510 is the latest tablet by well renowned brand Acer which is also known as Iconia W5. The fresh Iconia W5 is an atom powered Windows 8 tablet with alluring looks and quality.

The brand new Acer Iconia W5 is featuring 10.1 inch touch screen that can be removed from its keyboard with swivel tablet portion. The device is powered with 4 GB of RAM and 64 GB SSD storage and includes micro HDMI and Micro SD ports to expand memory up to 32GB. The device has aesthetic looks with an aluminum covered back, solid white plastic on sides and the front screen is covered with glass. Acer has promised up to 18 hours of battery life and six weeks of standby in its latest Iconia W5 Windows 8 tablet.


Acer Iconia W7 Windows 8 tablets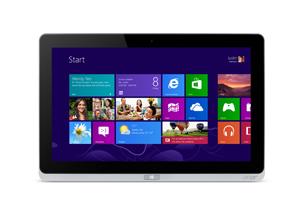 The brand new Acer Iconia W7 runs on latest Windows 8 operating system. The Iconia W7 is a stand alone tablet with a cradle which can add connectivity options like USB 3.0 or just prop it up for display or viewing purposes.

The Windows 8 W7 tablet has an 11.6 inch, 1920x 1080 display, 10 point touch screen. The branded company has promised eight hours of battery life in it. The device is equipped with a 5 mega pixel camera and an optional keyboard accessory for easy text input.


Acer Aspire S7 Windows 8 ultrabooks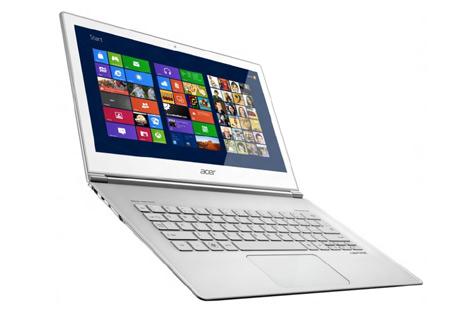 Aspire S7 is Acer's latest Windows 8 ultrabook by the renowned brand Acer. The newest ultrabook Aspire S7 equipped with touch enabled series including a 13.3 inch model and an 11.6 inch. The ultrabook has an auto light sensing keyboard and will provide up to 12 hours of battery life and has 12 mm thickness.

Acer introduced a Twin Air cooling system to reduce the overheating. The latest Windows 8 enabled device is powered with Intel Core i5 Ivy Bridge processor, 128GB of SSD storage, 4GB RAM, HDMI, USB and memory card reader ports. The device has attractive white glass coating which differentiates it from the current governing king of ultrabooks, Apple's MacBook Air.


Acer Aspire M Windows 8 ultrabooks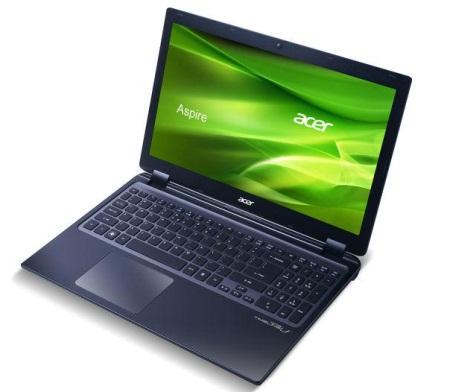 The Aspire M comes in 14 and 15.6 inch flavors with 10 point touch screen to play nice on Windows 8.

The new Acer Aspire M comes with 22mm thin but it's still an ultraportable notebook weighing 2.3kg and powered with rocking Intel Core inside and an Nvidia GeForce GT640M GPU. The high GPU indicates the powerful graphic support in the device while gaming. The Acer Aspire M surely has features worth bragging about.


Acer Aspire V5 Windows 8 notebooks

The new Acer Aspire V5 is specially designed for those who want to stick to traditional notebook with the touch input features. The latest Aspire V5 is powered with world trendy operating system Windows 8. The device is packed with potent power and graphics.

The latest Windows 8 notebook Aspire V5 is powered with Intel® Core™ processors and dedicated NVIDIA® GeForce® graphics. The Aspire V5 Series is provided with the tools to provide more security.



The device has a back up and restore capacity as Acer eRecovery management to quickly restore your PC from disc using the optical drive while Acer Back up Manager offers a flexible and simple solution for backing up your valuable data.