Pet Vegas Facebook game Review

Read this review of the Facebook and Apple iOS game Pet Vegas along with it's gameplay and other features of the game explained.


Pros and cons of Pet Vegas
Pros: Nicely debugged stable game, customizable cute animal themed slot system
Cons: Little of offer except cute animal themed slot system



Play Pet Vegas on Facebook
Play Pet Vegas on iPad or iPhone


Facebook / iOS game Pet Vegas review

It would be a big mistake to say that Crowdpark is not aware of the type of fans they have. Take a look at their Pet Vegas Facebook fanpage and on that among the news for upgrades and boosts for the game you would find many YouTube videos of cute kittens and puppies making you say awww…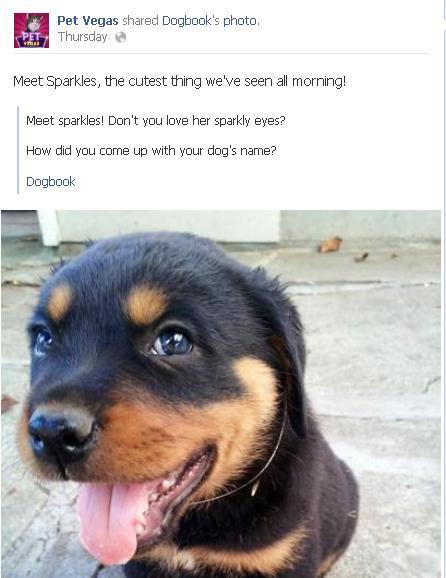 Once you are done watching all the cute videos and images of puppies, pandas and kittens, all Crowdpark hopes is that you would also love to watch these cute faces to spin on the five spinning wheels and spend some Facebook credits while playing Pet Vegas game


Storyline of Pet Vegas game

If you like to try your luck in casino games and are a lover of furry cute animals then you would probably love playing this game to get off the day's tension from your head. Pet Vegas had achieved a peak of 1,20,000 active monthly players during the month of March, though during writing this review it is only 70,000. This shows that the game is a good short term kick of cuteness for most and probably is not something that will keep you hooked for long. Each of the game's slot takes the boundary of cuteness further away starting from the adorable Furry Fortune to the height of cuddly Spinosaurus.


Gameplay of Pet Vegas game

There are five reels in Pet Vegas which have the faces of the puppies, kittens and pandas mixed with images of chew toys and some food items like dog biscuits. Other than that there a few more features for you like autospin and the ability to choose the number of lines that should match for a win. The game was stable on my system and worked smoothly showing that Crowdpark has done a fine job of debugging before releasing the game on Facebook and iOS.


What is left to be desired in Pet Vegas game

However, as mentioned before, Pet Vegas is enjoyable only for a short term boost of cuteness. Neither it has anything more to offer in terms of its gameplay neither it has any other aspect other than cuteness to keep you glued to the game. Once the cuteness starts to get over you, you would want to look for some other option. This reduces the game appeal to a social sugar rush.

Crowdpark seems to have a lost an opportunity here to make the game more interesting by including mini games in between levels to balance the dose of cuteness with some different but related. Even the starting gameplay of Pet Vegas isn't the juicy enough to give anything except cuteness, for instance 2 of the wheels don't unlock until you reach the 9th level.


Conclusion

The early number of active users that Pet Vegas received proved that people love cuteness, especially in terms of pet animals, but then there is a limit to it and people also need some more interactive gameplay and surprises to keep them hooked to the game. No doubt that Pet Vegas lost about 50,000 of its active users.