San Juan iOS game Review

A review of San Juan, a game for Apple iPad. Also read about tips to play the game.


Pros and cons of San Juan game
What I liked
I liked lot of things like game play, music, graphics etc. So there are numerous things to write about this game which I liked.

Where it is lagging
I did not see any lagging in this game.

Ratings for San Juan game
This game is fantastic in its gameplay and deserves a score of 10 out 10 in our review.




Introduction to San Juan game

There is another game in the basket of the operating system iOS. The name of the game is San Juan and this is a card game and available at paid price of $8. This is very interesting to play and has a very different storyline up. San Juan is having different scenarios in which this card game is played on. You will be getting total different environment in this game and you will not get these type of features in other games. So let's discuss in more detail about this game below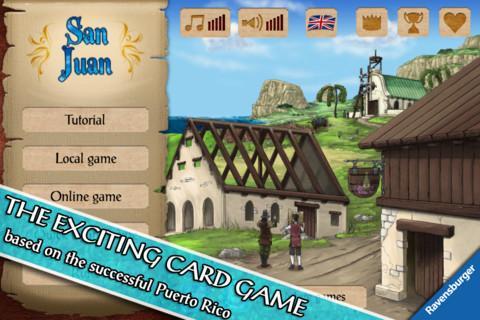 Storyline of San Juan game

There are very few things to tell about card games but this game is little different from other games. So I thought why not discuss about this game. San Juan game is not completely dedicated to card play but has different features in order to give you the feeling of playing card game with added adventures in it. For, instance at the initial stages of San Juan you will be told to choose your character in this game. So if you choose the farmer version, then whole theme of yours will be in the farm version. Also, if you are choosing a builder then other players can make buildings but you will be able to make that building in much lesser cost. But the roles are changing after every round and this guarantees the fun of the game. The roles are very important in this game and that what decides your performance in the game. The roles are responsible for you win or less in the game and you have to select the right role at the right time in order to win this game.

Now like usual card games you will be able to pass and play the game. Things which you want to put at the stake while playing the game is available in the game. Also, if you want to play the game online then there is an option of doing that too. So on a whole I have never seen a card game of such type and I wish that there should be other games too which will follow a different path to make the game.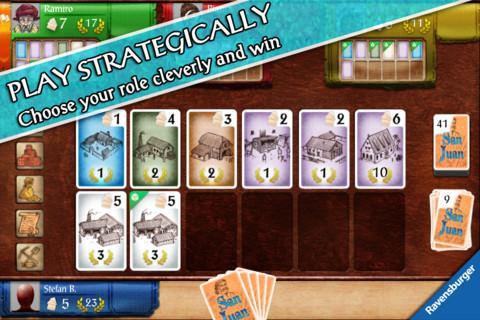 How San Juan is different from other games

This is the only game which I think is having so much difference as compared to other card games. First of all the different theme like role which are available in San Juan are very unique and I have never seen this type of things in other games. Talking about other features like the sound and storyline all proved good in this San Juan. There are many areas where this game is far superior then other games like the gameplay of San Juan game is very unique. So if you are playing this game then you will not think that you are playing a repetitive game but you will think that you are playing a whole new different game.


User interface of San Juan game

The user interface of the game is very simple and lucid to follow. I mean there are other card games also but this game is very unique to me and the graphics of the game came very good. There was no lag in the frame rate of the game.