Pitfall! iOS game review and tips

Read this review of iOS game Pitfall! and also tips to play the game easily.


Pros and cons of PITFALL! game
What I liked
The different type of scenarios which are available in this game is very good and I like the whole concept of the game.

Where it is lagging
The game lags in certain places like the graphics.

Ratings for PITFALL! game
PITFALL! game scores a total of 9 out of 10 in our ratings




Introduction to PITFALL! game

One of the good things about iOS is that there are so many free and good games on this operating platform. Today we are discussing a game which is meant for the iOS. The name of the game is PITFALL! and is similar to the Temple run games. Most of the things of this game are very good and same control options are available in this game. So without wasting more time, let's discuss more about this game after the video break.




Storyline of PITFALL! game

There are various things which are good in this game. I mean the thrill which we used to have while playing the earlier version of this game is more in this new version. You have so many scenarios to play. Okay, now I will tell something about this game, so that the new comers could learn more about this game. Actually PITFALL! is a type of game in which you are moving with a speed and you have to collect the coins which are hanging in the air as in every game of this kind. Now you have various controls like bend, scroll or other functions too. The best part of this is that when you are moving with good speed and you have to collect the coins as you move forward. In this game they have added various types of the scenarios like the motor cycle mode or you can have the mine wagon mode. All you have to do in this game is to collect those coins. As much as you collect you get the benefits.

There are various things which come while playing PITFALL! a little weird to play with. I mean after 2000 meter distance you will get the check pint and you have to pay cash (not real money) to unlock the next track. So your whole collected money go waste in this purchase. In other games this concept is not there but in PITFALL! this system is at peak and you cannot do anything to stop it. There are other thing like the save procedure in this game is very bad. In one single day if you run out of energy and want to play the game next time then you have to play the game from the beginning of that level. So this is quit frustrating. But the graphics and the music of PITFALL! game is very nice. The whole game comes alive when you are playing it. So on a whole I would say that the controls of PITFALL! game is very good and there is no lagging in the game play.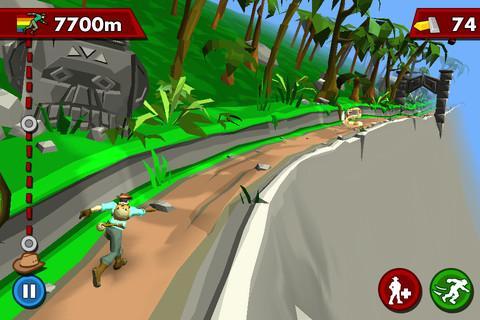 How PITFALL! game is different from other games

The game is having certain things which are different from other games of this genre like the number of scenarios which are present in this. And the different moves which are available in this game for the player is also very unique and have class better than other games.


User interface of PITFALL! game

The user interface of the game is very lucid to follow and easy to follow. The menu of PITFALL! game are designed properly and is very simple to use. The graphics of PITFALL! game are very simple and but the whole game runs very good. The frame rate of the game runs very smooth and there is no lagging in it.