Microsoft Student Partner 2013 registration begins

In this article you can find information about Microsoft Student Partner Program sponsored and offered by Microsoft Corp. Yes, Any student who is very much passionate about the technology can register for this program and they'll be getting various benefits of being an MSP(Microsoft Student Partner). Read below for more details and Register now if you really love technology.


Microsoft Student Partner(MSP)

It gives me a great pleasure to share a very useful update and information about Microsoft Student Partner Program for 2013, on this technology(techulator) channel. The Microsoft Student Partner selection process for 2012-2013 in India has been started from yesterday. Hope, This article will guide all the tech savvy students. For those, who are not very much aware about this program, I can brief it in short here,

"Microsoft Student Partner Program is an opportunity for all techie and enthusiastic students to expose their talents and love for technology. It is a program sponsored by Microsoft Corp. where top young minds from around the world that are extremely passionate about technology get a platform and an opportunity to develop themselves. Of course, This is once in a lifetime opportunity for students to develop real-world skills and it helps you to succeed in your future career."




Advantages of being an MSP

Frankly speaking I have been an MSP from last one year and I can't express it in words how much techie I have become and what are the benefits I have got after being an MSP. I'd like to thank all my friends including techulator where I learnt about various technology and it helped me a lot.

Generally, people have to pay big amount to get MSDN Subscription. MSPs are getting FREE access to MSDN Subscription from where you can access almost all the genuine software of Microsoft. MSPs can improve their talents and skills to get job in giant and leading IT-Industry after completing this program, MSP program is one year program and only students can register for this. Easy chance to be an apps developer, Mobile Application Development is one of the booming fields, Millions of developers are developing various mobile apps and they are generating good revenue. Being an MSP you'll be get a chance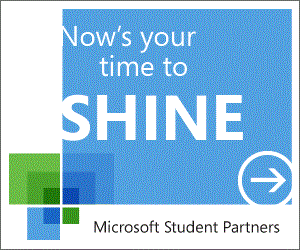 To be a campus leader.
To be active part of the world-wide on line community.
To be innovative, creative and technical expertise.
To get updates about new technology so called technology of tomorrow.
Microsoft Student Partner Program Overview

Microsoft Student Partner Program was initiated in 2001 initially it was limited in 15 countries for five years. After 2006, the MSP program was expanded to 50 countries worldwide but now it's been spread-ed all around the Globe. Student from more then 100 countries can register for this educational program to develop all soft and technical skills.

However, The new selection process is a bit different from last year and I guess It is more complicated. There are number of steps to complete and some activities to perform so that your technical skills and knowledge about technology could be tested. What are you waiting for, Brush up your passion and knowledge about technology and get set ready to be the part of computer and technology's giant Microsoft sponsored program. Here is the small video about Microsoft Student Partner 2012-13:




Who can be an MSP?

Well, let me clear there isn't any special eligibility criteria to be an MSP instead you're offered an opportunity to polish your skills. Sometimes, students get confuse and they pretend that they need to be a coder(excellent programmer) which is not true. Even if you are not a good programmer, you can be an MSP. There are lot more other then being a programmer. Here is the few questions, I'd like to ask you all before you register. If you have the solid answer(yes) for all the four simple questions. You might be the MSP for the academic year 2012-13.
Are you a student?
Do you love technology?
Can you show your passion for technology?
Do you have soft skills(communication and leadership)?
Do you want to be updated with the technology of today and tomorrow?

All the details have been given at the MSP portal and there you can register yourself. You will be getting all the updates and to-do task information regularly. After completing all the tasks, you'll be awarded as the MSP for the academic year 2012-13 and you'll be representing your Institute/College/University. Wish you all the luck! Feel free to ask me if you have doubt any?
Here is the URL for registration :
https://www.microsoftstudentpartners.com/publicpages/registration.aspx?region=India