Google Search as Online Calculator

Google has introduced an online Google Calculator in its home page. Type in any basic mathematical problems or to convert currency values, this tool can help immensely.


Google search has not just re defined the word Search it has actually re placed it. In the present scenario where each individual wants tons of data and information at their fingertips clicking in Google and searching is a common activity. It ranges from searching offers, to searching laptop models, phones, looking out for houses, tourist spots, hotels and for children to prepare their report. Search operation has become a part and parcel of our lives.



Google is extensively working to keep its search engine at its niche with introducing new and innovative search methodologies to make the operation more meaningful and user friendly. This strategy of Google to cater to the demands of the common man is the prime reason for its success.


Whats New?

Google has added a calculator option in its search option. You type in a formula or numbers and you get a real time calculator to do calculations. This is one additional feature to the long list of features that Google boasts of.


Google Calculator on the home page

Yes the Google calculator is available in the Google homepage. Just type in any formula and you get the Google Calculator. Google Calculator is a real time calculator which helps the users to do real time calculation. Not just simple calculation it has facilities to use complex and scientific calculations like sine, tan etc.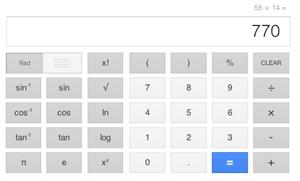 Google Calculator provides easy conversion

So if you type in feet to inches Google calculator gives you in some seconds. Conversions like currency conversion –from dollar to rupees, height measurement conversion like feet to inches can be done easily with the help of Google calculator.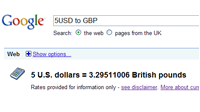 Why use online calculator?

Online calculator like the Google Calculator gives it an option for the users to do real time calculation right away with the search.



No need for excel sheet or an inbuilt calculator. Further, it will also provide an interactive tool for teaching as online real time calculations can be done.