Diablo 3 III PC Game Review

Diablo 3 is an action-role playing game as part of Diablo game series. Read this review of Diablo 3 to learn tips on how to play the game.


Pros and cons of Diablo 3 game
Pros: Very well designed interface. Features an in-game dynamic skill system. Provides high end visual masterpiece.

Cons: Endgame is very much frustrating. Forgettable rewards are much disappointing.

Developers: Blizzard




Diable III game review

Diablo is a world famous game that is recognised by everyone who are inside the gaming circles. Diablo is an action RPG based game with thrilling features. After the successful launch of Diablo, the developer 'Blizzard' launched Diablo II which was also giving successful in rating. Now the Blizzard had launched yet another sequel of Diablo and titled as 'Diablo III', which is also expected to be successful as in the same manner as that of its predecessors. While we review Diablo 3, we can see that the developers had added new features in this game and simplified its gameplay compared to the other sequel of Diablo. Do you want to know more detailed review about this game? Then let us go further deep into this game and find out the interesting new features and gameplay.




Gaming interface of Diablo 3

After 11 Long years, Blizzard has made yet another sequel of Diablo with extra features and improved gameplay, only in the aim to entertain its gamers. The main objective of this game is to kill thousands of enemies and to explore and collect valuable treasures. Although the first two games of Blizzard had featured offline play, but when coming to the latest game launched by Blizzard Diablo III, we can see that it does not offer any offline mode and it can only be played online, you must be logged into their network in order to enjoy this great game. This limitation is very much irritating for most of the gamers who hates playing games through online, and undoubtedly I am one among them. But once you get addicted to this game, then there will be no intention, whether it is online or offline, to leave it. Diablo III also provides an easy and comfort user interface along with a chatting facility to chat with your friends. You can chat and interact with your friends using the handy social box, which is located at the bottom right side of the screen. You can also view your friend's social profile and various other performance through the chat box.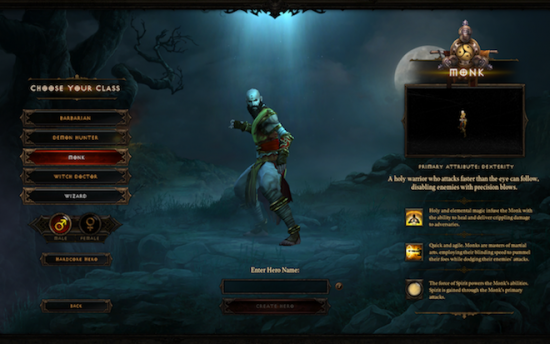 Gameplay of Diablo 3

When the gameplay of Diablo III is being considered, this game offers a wonderful and perfectly designed gameplay which are pretty easy to hop into. As mentioned above the game also features a nice set of interface, where you can join your friend's game with just a simple click. In the main menu of the Diablo III, you can also experience the new auction house system through a tab provided for it. While creating your character, you should let the game know, on which class of character you are about to create. The characters in different classes includes Doctor, Demon Hunter, Wizard and a monk. You are also free to choose your character's gender and a name. Once you finished customizing your character, you will be then thrown out into the world of Diablo III.

Another great experience that I found in this game while playing online public mode is that, you can with up to three players or even you can stay with solo mode. The user friendly features in public game system has impressed me very much and also a great game mode which allows us to shorten the game sessions. You will be entertained by this game through the various features like checkpoints, quests and some sort of adventurous mode.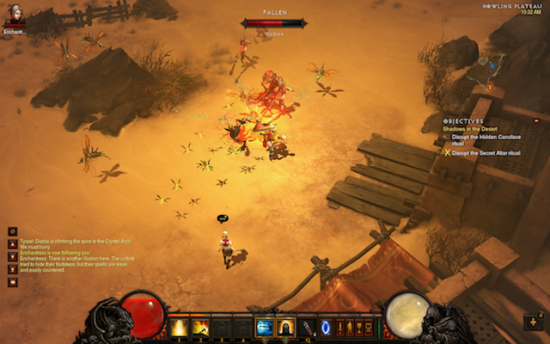 The most impressive part of this game: Diablo III, is nothing other than its gameplay. The game features setting up of unique skills for each class. Through this unique skills, you can either equip or alter your characters with runes at each time when you level up. You will be more excited by the new set of skills and rune system which is being featured in this game along with its gameplay. You will be allowed to enter different strategies when you switch your skills and runes on the fly. You can also customize your skill slots up to four, which is being set according to the skill type. Through choosing or turning on the elective mode from the gameplay options, you can have full customization option for your skills.


Conclusion

Visually and aurally, Diablo III is the best action RPG game to stick on with. The monster enemies in this game are so interesting and are very much varied. Diablo III also features a fantastic combat with nice set of skills to be customized. The soundtrack of the game also had done its job perfectly by giving effects to entertain its gamers. The fully voice acted dialog are also remarkable interesting feature in Diablo III. Overall this game will be the perfect game for you, if you place apart a very few cons. I am sure that this game will entertain you with most experiencing features and gameplay.