Mark your Calendar for the D-Day 26th October: Windows 8 Official Release Date.

Windows 8 the much awaited operating system from Microsoft is now just 14 weeks away from its consumers and is officially declared to be release on the 26th October, 2012. It release will be huge launching in over 109 different languages distributed over 231 markets worldwide.


The much awaited Windows 8 will be released on Friday 26th October, 2012 as was officially announced by the President of Windows and Windows Live Division Mr. Steven Sinofsky. Earlier this month it was announced by Mr. Tami Reller in the Microsoft Worldwide Partner Conference that the release date of Microsoft will be somewhere around October but yesterday's announcement made it very clear that the exact date of release of Windows 8 is out officially.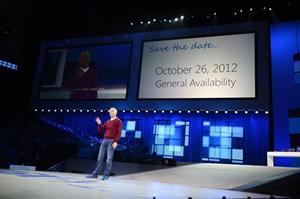 Highlights of the Release

The exact detail is that it has been announced that Windows 8 will be officially available on 26th October. Not just the release date but the pricing has been a great point of attraction. With up gradation at only 40$ and a shrink wrapped DVD at 70$ Windows 8 is a surely a steal show. Microsoft communication Manager Mr. Brandon Le Black announced that Windows 8 will be released in 109 different languages across 231 markets worldwide. This will be a very important day for Microsoft too after its release of Windows 7 in 2009.

Some questions still left unanswered

Thought the exact date of the release of Windows 8 is out it is still not clear whether the Microsoft Surface tablets the one with Windows RT will be release on the same date or not as was rumoured few months back. Further there is no clarification as to when the devices supporting windows 8 like laptops and tablets will be released. Further it is not sure when the pre orders will be open for Windows 8.