The End - An iOS Game review

Read about the game The End and know what all is inthis game. Go through the walkthrough of the game and read the tips to play the game The End. Read the pros and cons of this game and also the complete review of the game The End


Pros and cons of The End game
Pros: Nice physics based game, advanced thrilling levels. Each and every session of a single stage feels to be a wonderful mini adventure having slight difference from each other. Fantastic gameplay with the theme End of the world, gorgeous visual themes with very impressive color.

Cons: The End lacks almost all its fineness in the field of menus, achievements and even in understanding items. Challenge mode of this game is also a step away from interesting, as we are forced to go through social spreading or rating to enjoy that feature.



Price: Free
Developers: Goroid




The End game review

Every time or may be occasionally I used to imagine, how the end of the world could be! How will our beautiful cities, towns and villages, looks like, when the world ends! And I used to make imaginary views on my mind. Now, I was pretty amazed to see this game provides almost same visuals as I used to dream. I started playing The End and became addicted to it. Come, let us see the interesting features of this game and I will show you a brief walkthrough over the game.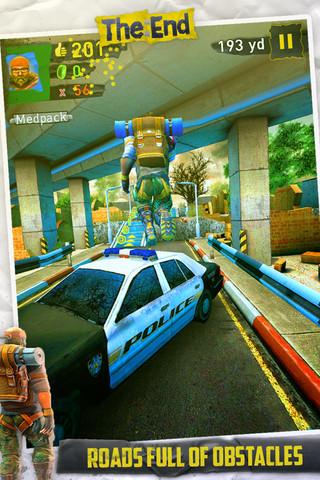 You all may be familiar with the great game 'Temple Run', one which hit gamers all over the world, now this game: 'The End' is virtually similar to that of Temple Run. This game: The End is yet another great game developed by Goroid, after his few successful series of other games. The End features an ultimate fun for the player to have endless running experience. It has a varied movement ability- turning left or right, jumping, sliding and even running side to side, these all movements are exactly same as that of the Temple Run. Even The End delivers similar controls but with extra user friendly compared to Temple Run, controls are simply assigned one powered with tilt and swipe to do various actions on the game. Now, you may have understood why I mentioned about the virtual similarity between Temple Run and The End.


Gameplay of the game: The End

The gameplay of The End game: The End is extremely great, and unlike Temple Run, The End is not a game featuring a treasure hunter running all around the temple to collect treasures. In this game you have the role of an apocalyptic rebel and your main mission or objective in this game is to make it unscather through the rubble, where the world is ending. When we consider the gameplay of The End as a whole, we can see that it has an extremely similar gameplay as that of the Temple Run. But still, The End has tried and succeeded in adding its own unique fun for its gamers.

As I already mentioned above, The End packs with a great visual effects and of course this is the best apocalypse, which has been featured so animatedly. The End also features a tempo of play in each levels of game. The mini adventurous matches provided within this game makes The End more interesting and even more addictive. The game also allows its player to have more featured options during the process.

While you move further deep into the core of the game, you will come to know that The End delivers a fantastic gaming experience along with easy as well as user friendly controls and other options. While in the game, there are various options in front of you when obstacles are blocking your way, you can either jump over or sneak/slide below them. Perfectionism is very much necessary in The End, while the gameplay of this game is considered.

The End features a convoluted goal system along with a dedicated challenging missions. Each of the missions and goals are very much interesting and fun filled one, some of those goals includes jumping 20 times, avoiding duct tape for more than 30 seconds, sliding 10 times etc. You can always go for those challenges on the challenge section of The End. The game also features posting your highscores over the social networking sites like Facebook and Twitter, but most of the times it irritates me when it forcefully make me post over those sites. And another irritating feature of this game is nothing other than rating this game on the App store. Apart from these two problems, The End is very great and interesting game to have on your device.


Conclusion

Finally, 'The End' is a great game for you to waste some time for. Now enjoy this wonderful game, which is much addictive and will help you extremely in killing some of your worst boring time. If you ever played Temple Run and if you are a fan of that great game, then you will definitely going to love this game too, I will forcefully recommend you to have this game, as it made me feel to be a variety game when compared to Temple Run. If you love this game after knowing its features and review, then you must not waste your time, download it right now and experience its fun.