Gungnir Video Game Review, walkthrough and features

Stop your search right here for the hotly served review of the PSP game Gungnir! Read about the exclusive features, gameplay, storyline and review of this RPG title right here and know how to play this game


Video game title: Gungnir: Inferno of the Demon Lance and the War of Heroes
Publisher: Atlas
Developers: Sting Entertainment
Platform: PSP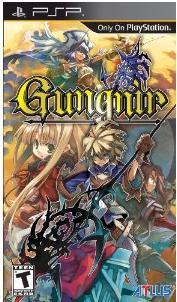 Gungnir is an awesome RPG game where a young lad named Guilo, has to rise against an oppressive empire with the help of a magic spear Gungnir. The game has got a fantastic storyline which has large amount of fun associated with it. Not only the storyline, but also the background of Gungnir game interface has a great world. Let's get deep into to the game and find out the exclusive and interesting features of the game.


Emotional storyline of Gungnir game

This game has a serious storyline along with very intense moments. It has to be you who as a player would take some real decisions for the young boy, it is quite similar to the moments where you decide whether someone should die or not. Believe me, the story is very emotional and on some occasions it made me emotional, the situation thus helped me build up some motivation to defeat strong enemies, which made a happy ending for my characters.


Gameplay features of Gungnir game

The gameplay is an awesome one for this tactical game, where I got a hand on the controls after playing a few battles. And once you have adjusted your hand, you get a flow with the controls that lets you play the game in a flow as if you are seeing a movie. But occasionally, it felt pretty hard to handle multiple characters simultaneously, but then, that was a different experience altogether and gave me really task worthy fun.

Many times, the game became so frustrating to play that I was about to give up.. a best example for that is the difficulty I faced for getting close to the commanding unit while in a battle; no matter how hard I tried, it seemed to make no difference to the distance. This also made me lose some of battles where I had worked really hard. I just cursed the guys who just don't lie dead.


The powerful weapon- Gungnir

It was the most fantastic moment when my boy Guilo got the ultimate weapon, Gungnir. This great weapon has got a wide range of unique powers. The Gungnir features the ability to restore a small amount of health when Guilo attacks with it. The power of Gungnir does not stop here; it features the ability to kill your strong enemies with the help of extreme power of summoning war gods.

I also found out that this ability can harm my own characters when I use it occasionally. This was the worst drawback I found while using Gungnir to attack my enemies. All that I can say is that use this weapon wisely if you don't want to get yourself destroyed.


Graphics of the game Gungnir

Coming to the graphics of the game Gungnir, the well animated style in Gungnir is attractive and impressive. The team behind this game has delivered a good sequence of animation. It has impressed me with its lovely adorable chibi characters. Overall, the visual effects that have been introduced in this game make it a perfect game for anime lovers.


Conclusion

Finally, we can wind up this review by concluding that Gungnir is a perfect video game for every gamer; also, it is highly addictive in nature and can be enjoyed by gamers of any age. Also, the game is not that you will play once in a blue moon, Gungnir has a lot of replaybility value and you would be seriously hooked to the game.



I am one of those who has never liked tactical games much but now I recommend you this game as it has one of the greatest graphics and compelling storyline that I have ever encountered while playing so many games. It will be a great opportunity that I would have missed if I had not gone for this game.