How to invite friends to a page easily in Facebook - Mass invitation!

Wouldn't it be so helpful if you got a working solution for sending Facebook page invitations easily and quickly? Then finally you got that wonderful one! Here I have written about that working trick which is as simple as 1, 2, 3. I promise, you will get lots of Likes today! Read on!


We all know that it is very time consuming and boring to invite your friends to a page in Facebook. Becuase we will have to select each and everyone to send them invites. What to do if you have 5000+ friends and you want to send all of them page invitations? You will have to spend a day for it, right? But we men are brilliant in finding right solutions that make our jobs more easy just like the invention of washing machine! Just like that, experts have found tricks to send Facebook page invitations within seconds despite of number of friends you have.

For this, first of all, you need Mozilla Firefox browser as this trick is possible only with the use of this browser. So, if you don't have it, download and install it and let me teach you that wonderful trick.




How this is done-

1. Open your Facebook page on Firefox.
2. Click 'Build Audience' in the top right side and click 'Invite Friends' in it as shown in the picture below.





3. A pop-up window appears. Click Search All Friends as shown in the picture below.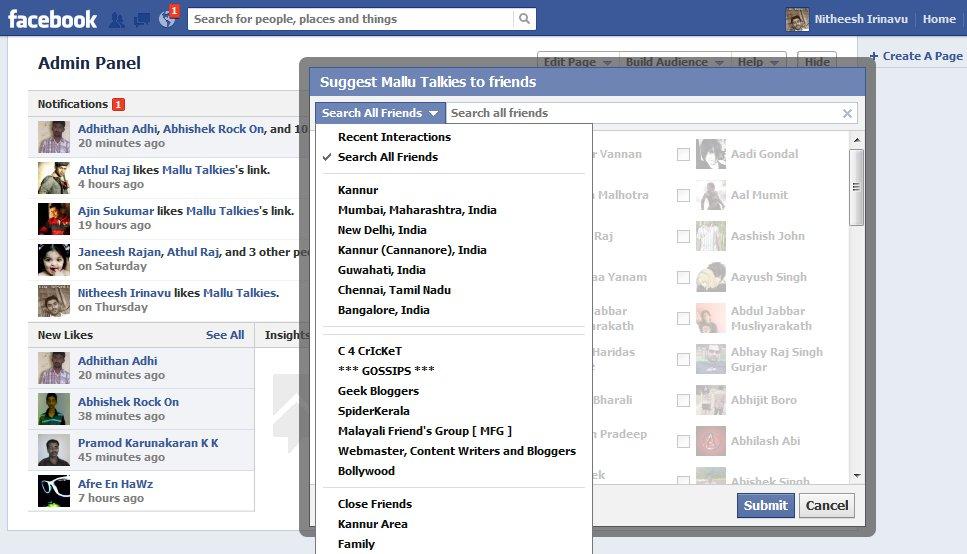 4.Scroll down the scroll bar untill all your friends are loaded. You should keep the scroll bar down to load all your friends. See the picture below.




5. Now click Tools -> Web Developer -> Scratchpad. It opens Scratchpad.
6. Paste the below Javascript code in the Scratchpad -

javascript:elms=document.getElementsByName("checkableitems[]");for (i=0;i < elms.length;i++){if (elms[i].type="checkbox" )elms[i].click()};

7. Now select that code as shown in the picture.




8. Now click Execute -> Run. Wait to see all your friends becomes selected.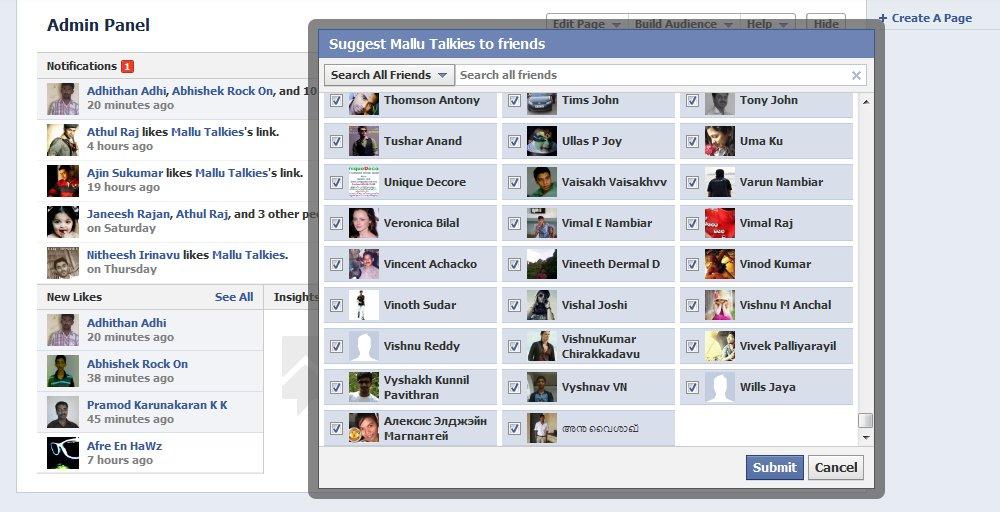 9. After all your friends have been selected, click 'Submit'. That's it!
Now you have successfully invited all your friends within seconds! How was it? Tell me how many Likes you have got now?