DRS introduces new rugged Windows and Android Tablets-DRSx7ad, DRSx7et and DRSx12kb

DRS a leading manufacturer of some of very tough and rugged PCs and tablets in World has introduced a series of rugged models recently. Here we have included the features and specifications of these tablets in details. Read this article to know more about these tablets of DRS.


Special Feature of DRS tablets which separates them from other manufacturer.

DRS Technologies is well famous for manufacturing very tough and rugged tablets worldwide. So, in these tablets you do not need to care for small accidents like falling water into device, dust particles, liquid drops, shocks and even high temperature resistance makes them survive at worst conditions too. These tablets has been tested a number of times successfully in a very extreme conditions. This indicates that you do not need to handle your PCs and tablets very CAREFULLY like a baby.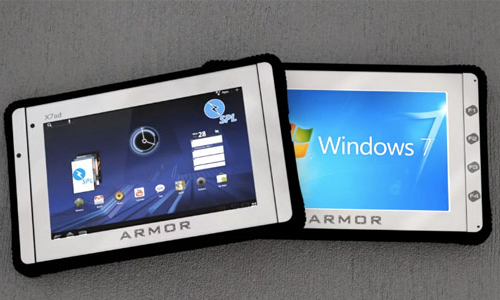 General features and Specifications

These rugged series of tablets are based on Windows and Android operating system. One of these tablets supports ANDROID 3.2 and other two supports Windows 7 operating system. Though it is not clear whether these tablets will support update of windows 7 to windows 8 at release of Windows 8 operating system by Microsoft. All the devices of rugged series comes with MIL-STD 810G certification along with IP65 ratings which proofs their toughness and rugged capabilities.

All the models of rugged series provides Wi-Fi and Bluetooth as connectivity option to users. All the devices are also equipped with GPS allowing users to track the current location. These tablets are very light in weight and have a long battery life which enhances its power capability.


Rugged series Models and their Specifications

Presently, three models of rugged series are launched by company namely DRSx7ad, DRSx7et and DRSx12kb.




DRSX7ad Tablet PC

DRSx7ad comes with a 7 inches of screen display which provides a great multimedia display. The weight of this tablet is only 1.3 pounds which gives a good mobility experience to users. The devices use a 1GHz dual-core processor providing a fast processing speed. The battery life of this tablet of DRS is 8 hours.


DRSX7et Tablet PC

DRSx7et tablet comes preloaded with windows 7 operating system and uses Atom Z670 processor. The battery life of this device is around 6 hours and its weight is 1.5 pounds. Both DRSx7at and X7et have a 7 inch outdoor-readable multitouch display.


DRSx12kb Tablet PC

DRSx12kb is the most featured tablet among three of rugged series tablets. It has a large number of additional features which makes it a totally unique tablet. This tablet is featured with Intel core i5-560 UMCPU processor, which is generally found in high range laptops rather than tablets. This tablet has a very large screen display of 12 inch which provides a great experience to users. This tablet also supports an option for LCD glass display. The weight of this tablet is 5.5 pounds which makes it world's first lightest tablet that are available in market with a certification of MIL-STD-810G. this tablet has a long battery life of 8 hours.


About DRS

DRS Technologies is a leading supplier of integrated products, services and support to military forces, intelligence agencies and prime contractors worldwide DRS holds leading market positions in thermal imaging devices, combat display workstations, power systems, rugged computer systems, telecommunication systems and integrated logistics support services.