iGoogle: How to Switch and work with new look of Google Home Page

The regular user of Google search engine would have noticed an iGoogle link at bottom left corner of Google search main page that can be used to change Google home page look. This post includes step by step information for how to upgrade classic Google Home page to new iGoogle, how to customize different tabs and to add and manage required gadgets for these tabs.


iGoogle: How to Switch and work with new look of Google Home Page

Google again astonished its users through providing an immense platform – empowering users to customize their Google home page conveniently, using iGoogle app (As arrowed in below image). Through iGoogle, a user provided with entirely customizable multiple tabs, each having different screen layout (as desired by user) and facilitated to dynamically add/remove numerous gadgets. The user also facilitated to reverse iGoogle back to Classic view of Google Home page, temporarily.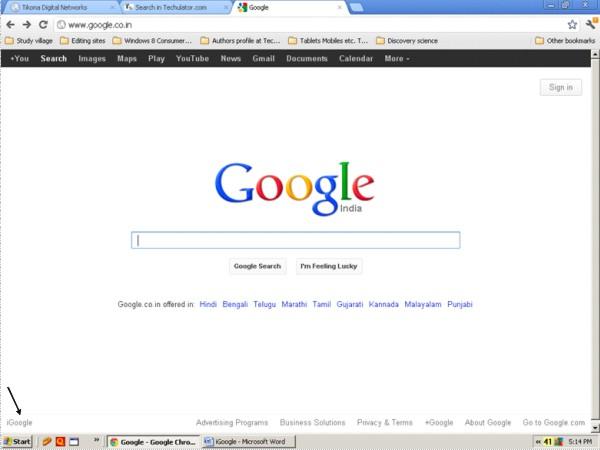 How to Switch to new look of iGoogle?

On clicking iGoogle at Classic Google Home page, a new windows appears that provides you option to switch to new look to your iGoogle page (as shown below).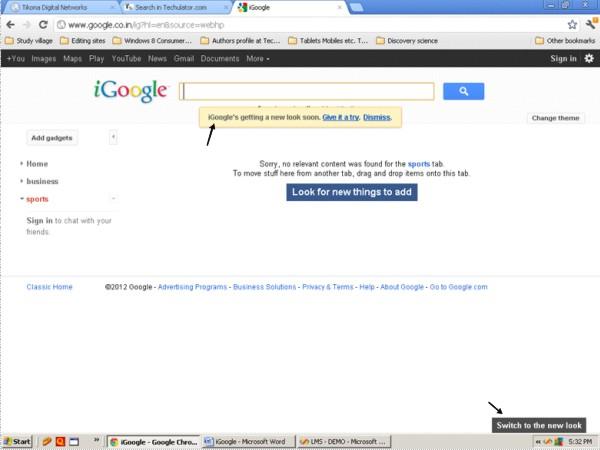 There are two option to switch to new iGoogle look provided in newly opened window. First at little upper-center location (with yellow background) with a message "iGoogle's getting a new look soon. Give it a try.Dismiss" and second at bottom-right corner 'Switch to the new look' option. Selecting any of above options you can switch to new look of iGoogle.

On clicking above specified option, you will find a new small window appears at the center of the screen as below: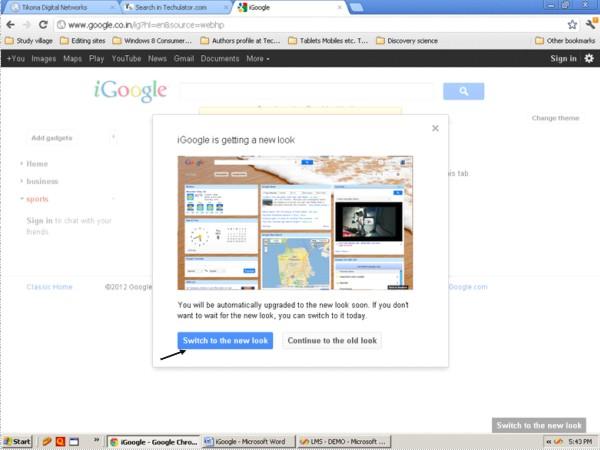 Here on clicking Switch to the new look button you will be upgraded to the new look of iGoogle and you will find the following screen:


Working with new look of iGoogle

On left hand side, there is a Sign in option to your gmail account for chatting, right to that you can find a drop down options list having two sub-sections. First section has default three tabs - Home, Business and Sports. More tabs can also be added to this list and selecting any one will switch you to that tabs screen.

Where the second section includes Add a tab, Edit this tab, Delete this tab, Share this tab sub-options whose work is self explanatory with their label.

On the right hand side, three picture buttons provided (shown by red arrows in above window). First for Adding gadgets, second for adding/changing themes and third to manage settings. You can watch these tooltips on navigating your mouse pointer to these buttons.

Adding new tabs to iGoogle:
Selecting above specified 'Add a tab' option of the second section's list opens a small window that asks you to input new Tab name (as shown below). It starts showing list names of available tabs (in matching alphabet sequence) automatically, as soon as you start typing tab name. Selecting any one and pressing Ok button add that tab to your tabs list.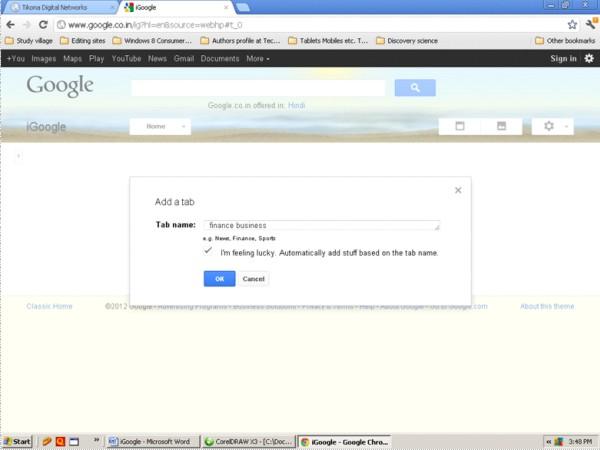 Another way is to select 'Look for new things to add' button for adding a new tab that also works as above.

Adding new Gadgets to iGoogle:
On clicking Add Gadgets picture button, you will be navigated to a new window (shown below) having a number of gadgets' links (click image of any gadget to explore it more deeply). Each of these gadgets has a button labeled 'Add it now', clicking to which the gadget shall be added to your iGoogle page. You can switch back to iGoogle by clicking 'Back to iGoogle' button appearing top left corner of the window. Not only this, the window contains many other most useful options like developer tools (top-right corner of the window) that I shall elaborate in my upcoming article.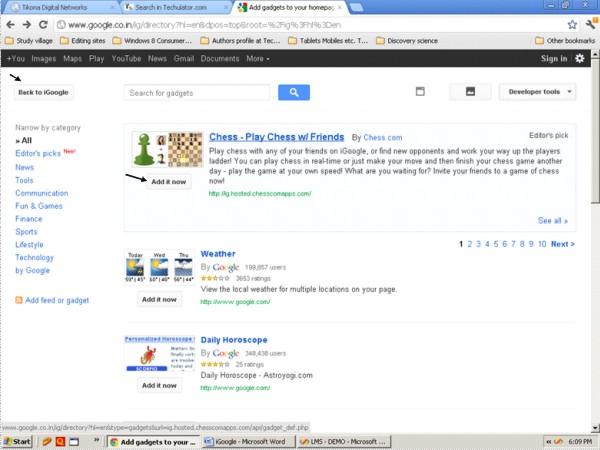 In below image you can see the newly added gadget to the sports tab: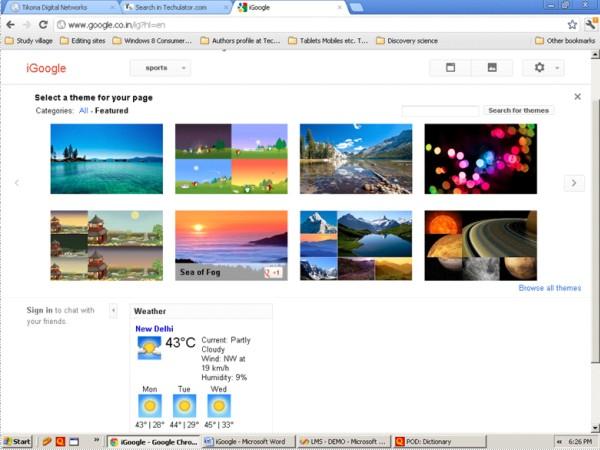 Changing Themes in iGoogle:
On selecting Change theme picture button you will be navigated to a new window having theme templates (shown above) and a 'Searching for themes' option also available for searching more themes. On selecting any one of available theme the background for that tab gets changed, automatically.

You can see the changed theme background and an added weather gadget to sports tab in below window image: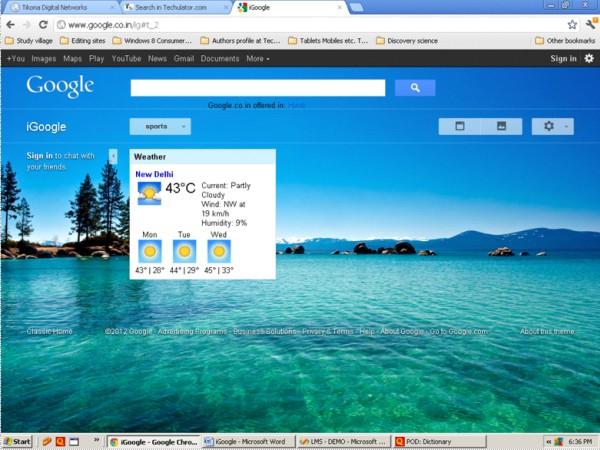 iGoogle Settings:
iGoogle settings has a number of sub-sections – iGoogle Setting, iGoogle help, Revert to the old look temporarily, Take a tour, Advance search, Language tools, Search settings and Classic home. Out of these, iGoogle Settings option is most important that enables user managing above specified settings directly and also setting unique layout for each tab.

Managing Gadgets in iGoogle:
For expanding large a gadget, you can click a bold tilt arrow on top-right corner of the gadget and again clicking the same (tilted downside now) will shrinks the gadget back. Many other options like – Edit settings, Delete this gadget, Minimize this Gadget, Share this gadgets, Like Gadget and about this Gadget provided to manage a gadget.

Conclusion:
Google keeps up updating its search engine not only through adding new technology but also by means of fascinated new look and features to attract users. Recently we found Google search engine updated with many new features such as Google play, Google's 3D Graphic calculator and many more. Revamping Google home page is another appreciable step by Google to magnetize its lovers to Google search platform.