Razer Project Fiona Windows 8 gaming tablet review hands-on

Read the review of the gaming tablet Razer under the Project Fiona running on Windows 8. Read the hands-on review of the tablet along with the features, price and specifications of the tablet. Read what all is hot in this Razer gaming tablet and whether it is worth loosening your pocket on


Razer is one of the leading brands in gaming. Razer was launched in 1998 in San Diego, California by CEO Min-Liang Tan and President Robert "Razerguy" Krakoff with a bunch of gamers in a gnomish shared office.
Their basic objective since the very start has been to become the world's greatest gaming brand name and create such gaming products those worldwide gamers can't even think

January 10th, 2012, became an eminent date in the history of gaming when Razer revealed its much awaited gaming tablet, "Project Fiona" at Consumer Electronics Show.
Especially designed for PC gamers, Project Fiona is a combination of high performance gaming hardware and advanced tablet design.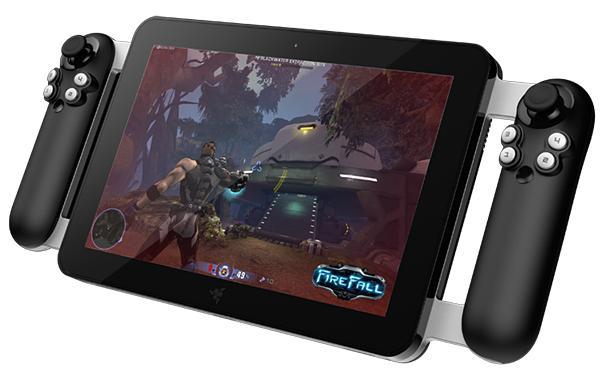 For serious gaming, according to many gamers, touch-screens are not the best option available. Hence, to give a diehard solution to this issue, this very Project Fiona has been equipped with two integrated analog controllers or joysticks in layman's terms, on both the sides of the tablet screens or better four buttons with navigational thumb sticks accompanied with multi-touch option. The analog sticks have been also rendered with force feedbacks.

The Razer gaming tablet is embedded with Intel's third-generation Core i7 Ivy Bridge processors and a windows operating system. Windows 8 operating system has been installed on it so as to not only play regular PC games but also to ensure an everlasting good experience.

With a 10.1 Inches and a 1200x800 touch-screen, also emphasizing on the audio quality of the tablet with a Dolby 7.1surround sound, sensors in the form of an accelerometer, magnetometer and a 3-axis gyroscopic sensor, the gaming experience through this very tablet becomes nonpareil.

Wireless connectivity option of this tablet include Wi-Fi 802.11 b/g/n and Bluetooth 3.0.

The tablets in the market are generally run on hardware designed for tablet PCs like ARM processor, combined with advantages like light weight, smaller size, along with a major disadvantage of only low power applications.
Whereas, when it comes to Razer Project Fiona Windows 8 tablet PC, the experience of gaming will be taken to a whole new zone or level. Project Fiona, unlike regular tablets PCs, instead it is a complete gaming computer.
Most of the windows games are developed to run on high power computers and not tablets. This requirement of a high power CPU, make many games fail to run on the regular PC tablets.

According to official claims from Razer Project Fiano can support a multitude of games natively which is sure to make many of the serious gamers and developers out there happy. This would annihilate the need to port over the game. For those accustomed to a mouse and keyboard (that means all serious gamers), Project Fiona has been provided with a excellent controller like interface.

Tablets have always been very favorites of gamers, as the best use of tablets is on the move. While in the car or on a plane, gamers like to play games, and hence usually carry their tablets. Easy to carry, very portable, easy to charge, tablets are the best options to carry in your back-pack when you are planning a trip or a holiday.

But what to do when your favorite game fails to run on your expensive imported PC tablet. Project Fiona comes to the rescue. Especially designed for high power gaming, armed with Windows 8, claiming to be gaming paradise, a heavenly experience for hobby gamers, according to me it's a great option. Project Fiona's innovative design that combines the power of Intel based gaming hardware in to a tablet computer is focused on serious PC gamers. Thousand of existing and pre-vision future games are claimed to be supported by the Project Fiona windows 8 gaming tablet.

Now coming to our pockets. In the January 2012, in Consumer Electronics Show, the project Fiona was expected to cost around $1,000/- in the market.
The big question is, should you pay a thousand dollars for just a gaming tablet?
I mean, there are several PC tablets available in the market for a price much less than that of Project Fiona. You can always go for them.
But then, on second thought, will other PC tablets claim to give you the best gaming experience of the world?

Do they do claim it? Isn't a great, serious lifetime experience of your favorite game worth a thousand dollars? The choice is yours.